2020 Women on Boards
Each year, the Gloria Cordes Larson Center for Women and Business (CWB) hosts an evening of networking and insightful conversation aimed at building awareness on the importance of board diversity. In partnership with 2020 Women on Boards, our goal is to urge companies to increase board diversity and inspire women and other unrepresented groups to actively pursue nonprofit and corporate board positions. The annual event includes a dynamic panel discussion, filled with diverse experiences and perspectives on board experience. Please visit this page again in June 2020 to learn more about plans for the November 2020 event. In the meantime, you can learn more about last year's event below.
View the latest findings on gender diversity in boards of directors
Vice President of Diversity, Inclusion and Community, Suffolk Construction
Linda Dorcena Forry is the Vice President of Diversity, Inclusion and Community at Suffolk Construction. She leads the design and implementation of Suffolk's national strategy to strengthen diversity, inclusion and employee engagement. Prior to joining Suffolk, Linda worked for over two decades in the public sector and served for 13 years as a member of the Massachusetts State Senate and House of Representatives. A native Bostonian and first-generation American of Haitian descent, Senator Forry made history by becoming the first women and person of color elected to the Senate's First Suffolk district. 
Linda has been a leading voice on numerous public policy issues focused on economic equality, affordable housing and business development.  She played a key leadership role in drafting and advocating for legislation to increase access and opportunity for small businesses owned by underrepresented groups.
Linda serves on numerous boards and civic organizations in the greater Boston area, including Eversource Energy Trustee, Boston Public Library Trustee, Greater Boston Chamber of Commerce, Edward M. Kennedy Institute Trustee, and Boys & Girls Clubs of Dorchester. She holds a Master's degree in Public Administration from Harvard Kennedy School of Government; and a Bachelor of Science from Boston College Carroll School of Management. Linda and her husband, Bill, are proud parents of four children and live in Dorchester.
Group Chief Information & Digital Officer, National Grid
Adriana (Andi) Karaboutis was appointed Group Chief Information & Digital Officer for National Grid in August, 2017. As a member of the company's Group Executive Committee, she is responsible for the development of an enterprise-wide digital strategy, delivery of information systems and services, digital security and risk, as well as overall security. Previously, Andi served as Executive Vice President for Technology, Business Solutions, and Corporate Affairs at Biogen. Prior to joining Biogen in 2014, Andi was Vice President and Global Chief Information Officer (CIO) of Dell, Inc. and previously spent more than 20 years at General Motors and Ford Motor Company in various international leadership positions.
Andi is on the board of directors of Perrigo Company plc, and Advance Auto Parts. Additionally, she has served as a board Member of Blue Cross Blue Shield of Massachusetts; president of the Michigan Council of Women in Technology (MCWT); a board member of the Manufacturing Executive Leadership; and on the Babson College advisory board for the Center for Women's Entrepreneurial Leadership (CWEL).
Andi received a Bachelor of Science degree in Computer Science from Wayne State University in Detroit, and was a Merit Scholar. Additionally, she completed an accelerated Marketing Strategy Program at Fuqua School of Business (Duke University).
Former CEO of Vistaprint; Member, Board of Directors, Ally Financial and TripAdvisor
Trynka Shineman is a member of the board of directors at Ally Financial, a leading digital financial services company, and TripAdvisor, the world's largest travel site. She also sits on the board of trustees of the Massachusetts Technology Leadership Council (MassTLC), the region's leading technology association.
She was the CEO of Vistaprint, a global company that helps millions of business owners each year promote their business. Trynka built a company culture centered around the customer, and was an integral part of the growth story from <$100m when she joined as a director of marketing to well over $1billion when she left as CEO in 2019.
Prior to Vistaprint, Trynka was a director and senior manager for PreVision Marketing, a boutique analytic and marketing agency. Trynka holds a B.A. in psychology from Cornell University and an MBA from Columbia Business School.
Corey Thomas is the CEO of Rapid7, as well as Chairman of its board of directors. In 2018, he was elected to the Cyber Threat Alliance (CTA) board of directors and the Massachusetts Cybersecurity Strategy Council. He also serves on the board of directors for LPL Financial, as well as Blue Cross Blue Shield of Massachusetts, sitting on its audit and health care quality and affordability committees. He previously served on the U.S. Commerce Department's Digital Economy Board of Advisors. Corey has extensive experience leading technology companies to the next stage of growth and innovation.
Prior to joining Rapid7, Corey was VP of marketing at Parallels, Inc., a virtualization technology company; group project manager of the Microsoft Server and Tools division, steering product planning for Microsoft's data platform; and a consultant at Deloitte Consulting. Corey received a B.E. in electrical engineering and computer science from Vanderbilt University and a MBA from Harvard Business School.
Sponsorship Opportunities
By sponsoring 2020, organizations demonstrate their commitment to enhancing board diversity. For sponsorship opportunities contact Melissa Spiers, Director, Strategic Accounts for External Relations and Center for Women and Business mspiers@bentley.edu or 781.216.7136.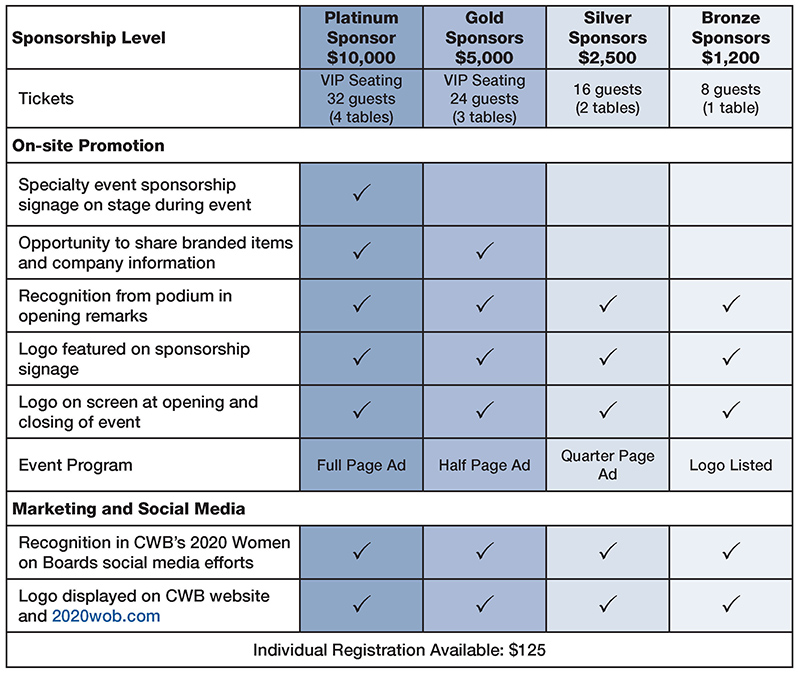 Bentley University Alumni can receive a discounted rate of $75. Offer only applies to individual tickets and cannot be combined with sponsorship packages.
2020 Women on Boards is a tax-exempt organization under Section 501(c)(3) of the Internal Revenue Code. Contributions are tax deductible to the extent allowed by law.
Venue and Parking
Bentley University LaCava Conference Center
Executive Dining Room
175 Forest Street Waltham MA 02452
Information on directions and nearby hotel accommodations.
Parking
Attendees can find parking in lots 1,2, or 6. Download a Bentley campus map for parking lot information.
Over the course of your career, you have to take risks and leverage opportunities to gain the leadership experience needed for a board.
CEO Valmo Ventures, 2018 Panelist
Diversity and Inclusion Insights and Interventions