The Gloria Cordes Larson Center for Women and Business offers programs and advises student organizations in an effort to promote intersectional gender equity on Bentley's campus. During our programs, students of all genders, graduate and undergraduate, engage with these topics in a safe and brave environment and learn strategies that transform their knowledge and beliefs into actionable allyship on campus and beyond. The CWB also collaborates with various departments within the Bentley community to deliver campus-wide workshops supporting our mission to advance intersectional gender equity from the classroom to the boardroom.
Signature Offerings
Upcoming Student Events
Women's History Month
March marks Women's History Month, which is a celebration of the past and current contributions from women on history, society, and culture. During this month, the CWB will provide programing and events highlighting:
Equal Pay Day (March 15)
International Women's Day (March 8)
Trans Day of Visibility (March 31)
Women's History Month Events Program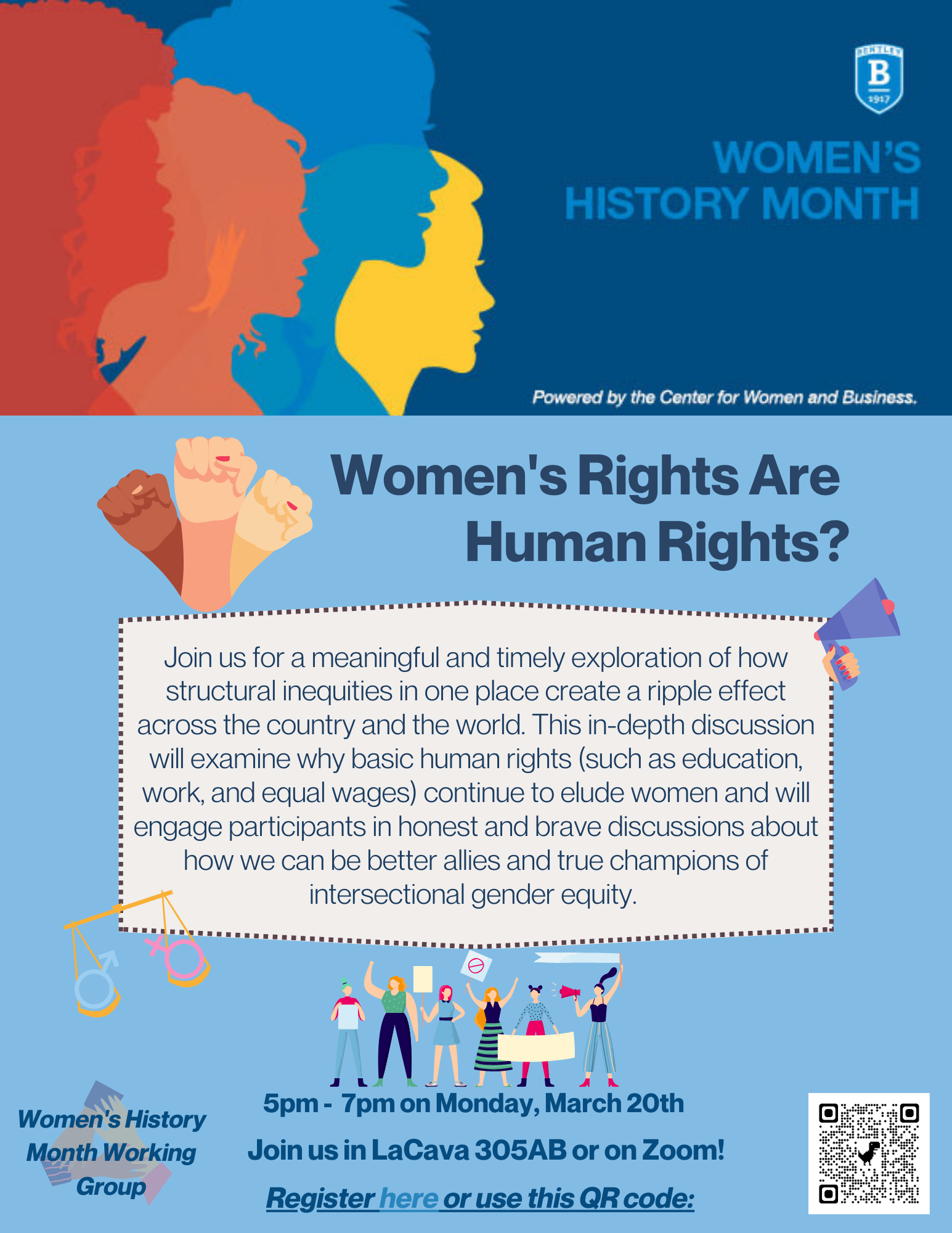 Monday, March 20
From 5-7 PM
LaCava 305AB or Zoom - Register for the Session in Eventbrite 
The Gloria Cordes Larson Center for Women and Business (CWB) invites you to the Women's Rights Are Human Rights panel as part of Bentley University's 2023 Women's History Month celebration. This panel features members of our esteemed faculty and will explore the interconnectedness of the global women's rights movement.
Wednesday, March 22
From 2 - 3:20PM
Back Bays C or via Zoom
The CWB & the Boston Women's Workforce Council will provide an in-depth and interactive look at Greater Boston's Wage Gap Measurement findings. This session will give attendees the opportunity to ask questions from experts, build understanding, and reflect on the implications of the data.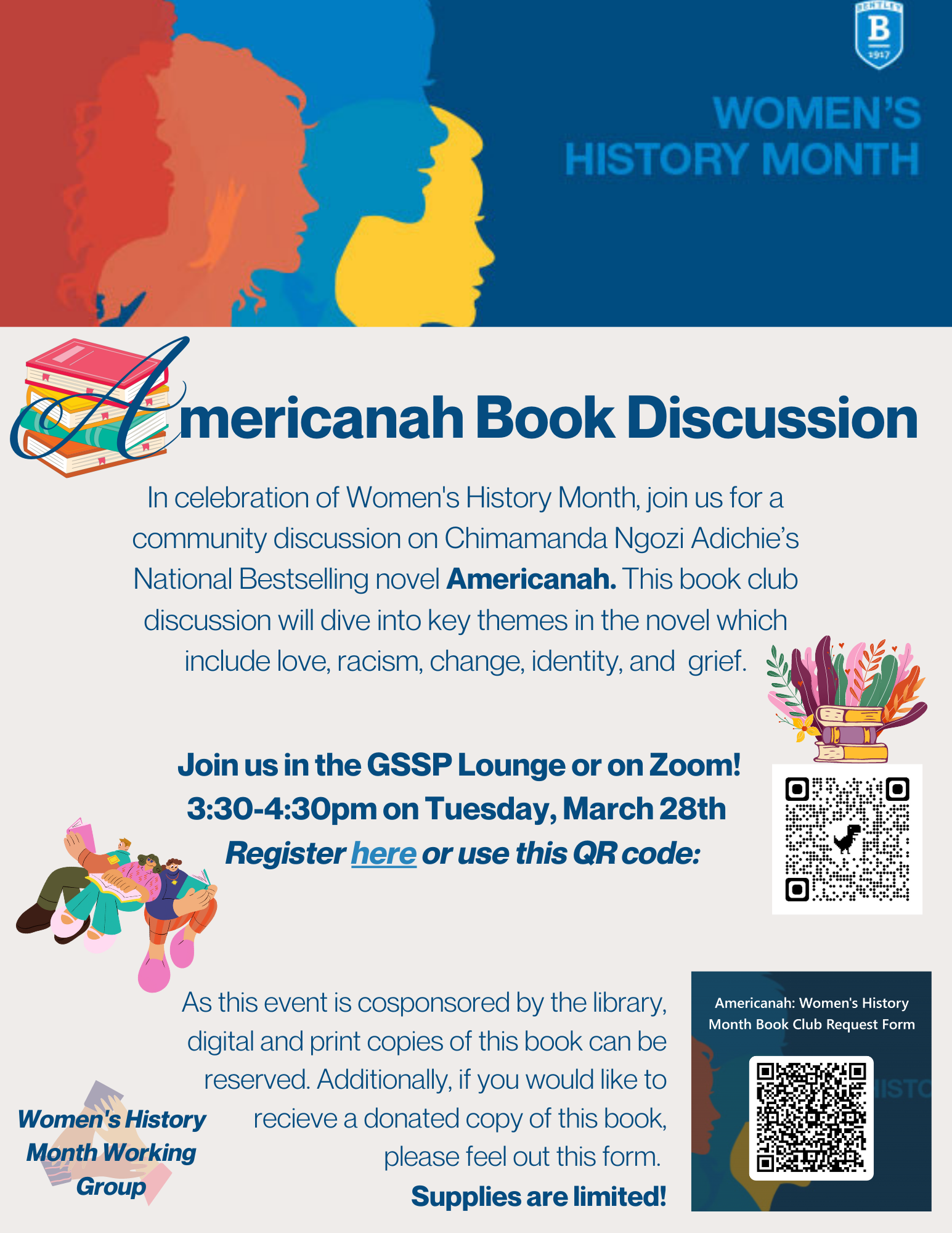 Tuesday, March 28
3:30 - 4:30 PM
GSSP Lounge (STU310A) or via Zoom
In celebration of Women's History Month, join us for a community discussion on Chimamanda Ngozi Adichie's National Bestselling novel Americanah. Sponsored by the Valente Center and the Global Studies Department, this discussion will be led by Professor Maricruz. 
Corporate Board Quotas and Gender Equality Policies in the Workplace - March 27th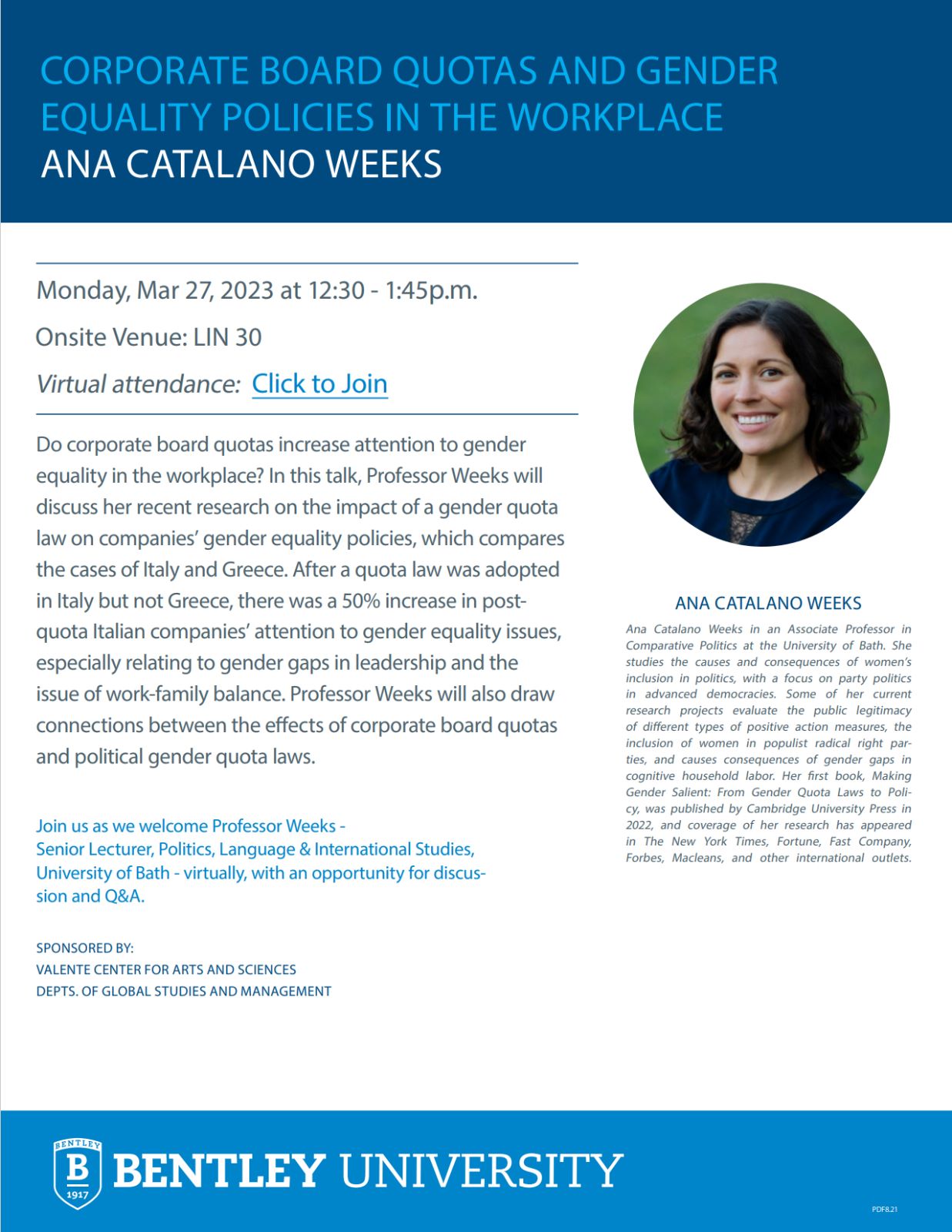 Monday, March 27 at
12:30-1:45PM
Lindsay 30
Virtual attendance: Click to Join 
In this talk, Professor Weeks will discuss her recent research on the impact of a gender quota law on companies' gender equality policies, which compares the cases of Italy and Greece,while also drawing connections between the effects of corporate board quotas and political gender quota laws.
Men as Allies - March 29th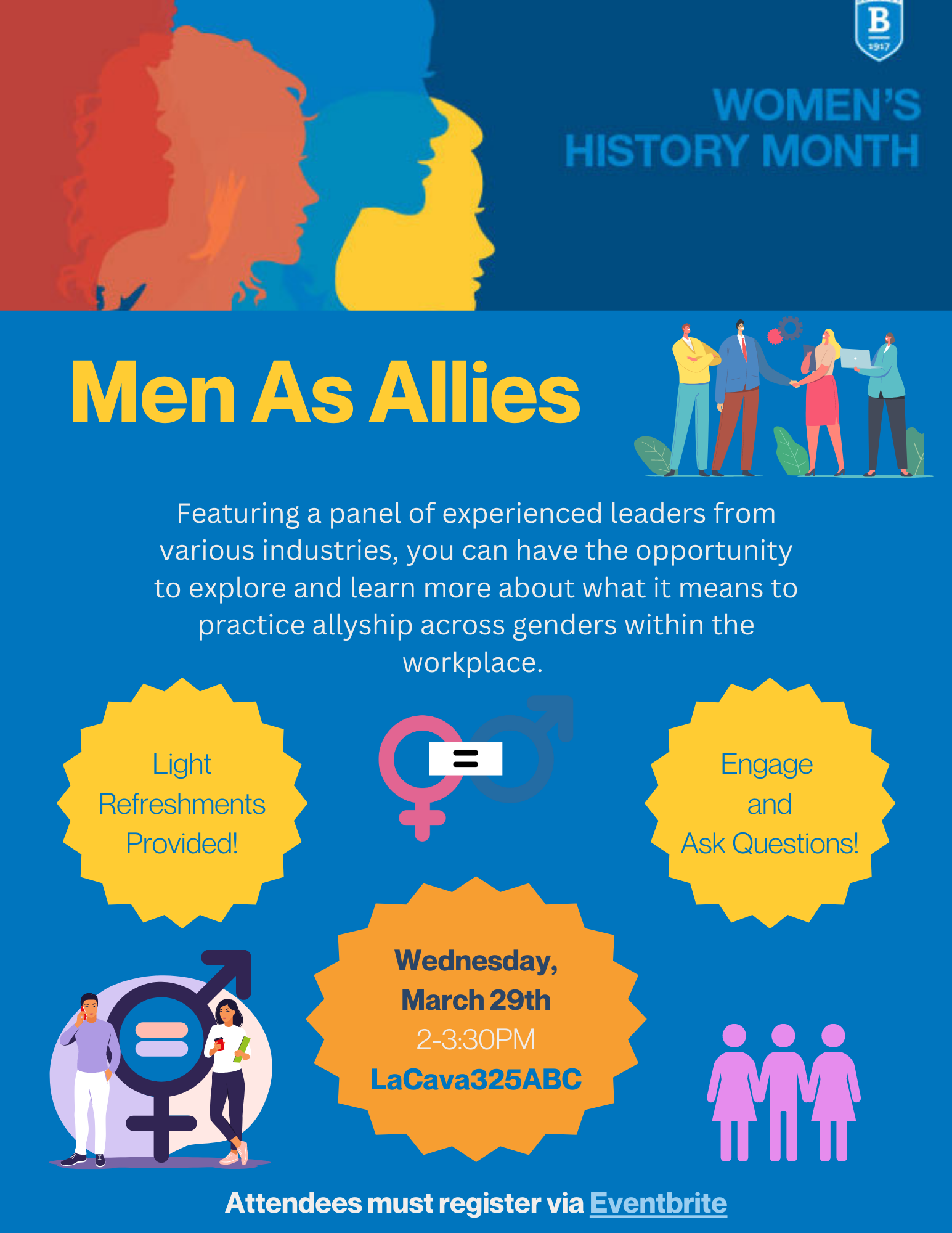 Wednesday, March 29th
2-3:30PM
LaCava 325ABC
The Office of Gender and Sexuality Student Programs (GSSP) is excited to host this year's annual Men as Allies Summit during Women's History Month. Featuring a panel of experienced leaders from various industries, students attending this year's Summit will have the opportunity to explore and learn more about what it means to practice allyship across genders within the workplace. We encourage students of all genders to attend and come ready to ask questions! Light refreshments will be provided, and all attendees must register to attend this event via Eventbrite.
Trans Day of Visibility - March 31st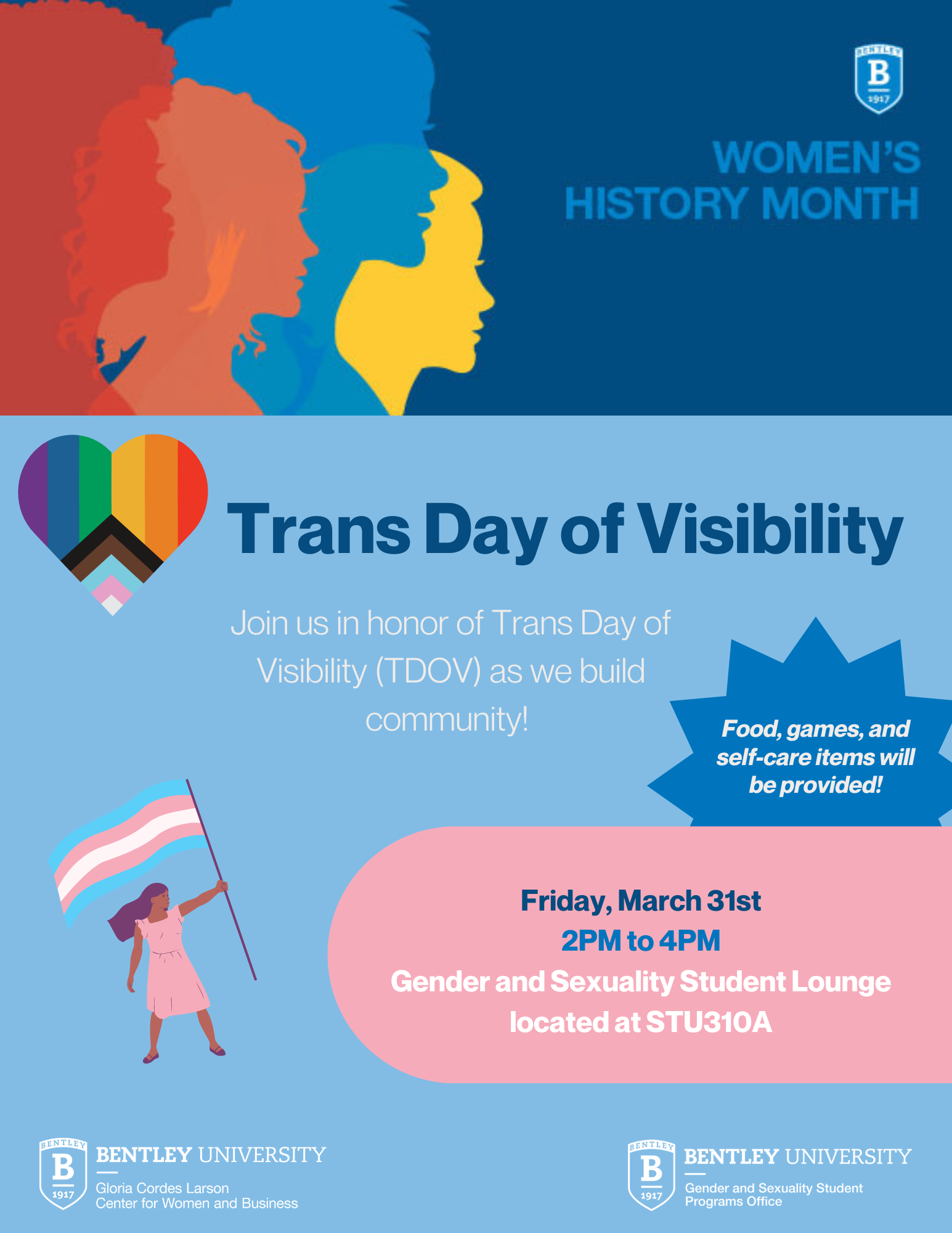 Friday, March 31st
2-4PM
GSSL Lounge (STU310A)
Join us in honor of Trans Day of Visibility (TDOV) as we build community! Food, games, and self-care items will be provided!
Women's History Month Closing Gathering - March 31st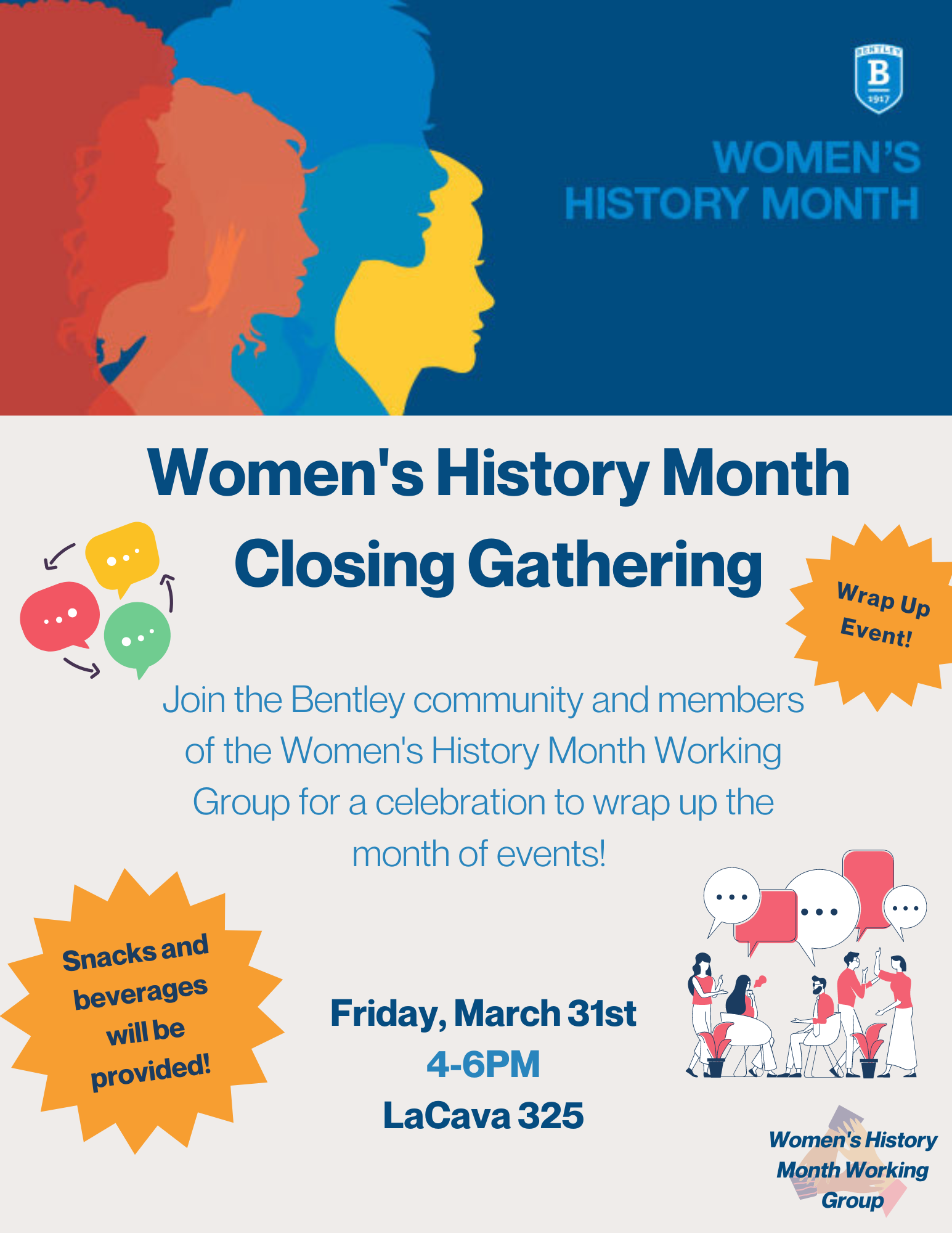 Friday, March 31st
4-6PM
LaCava 325
Join the Bentley community and members of the Women's History Month Working Group for a celebration to wrap up the month of events! Snacks and beverages will be provide!
International Film Series: "Global Women Warriors"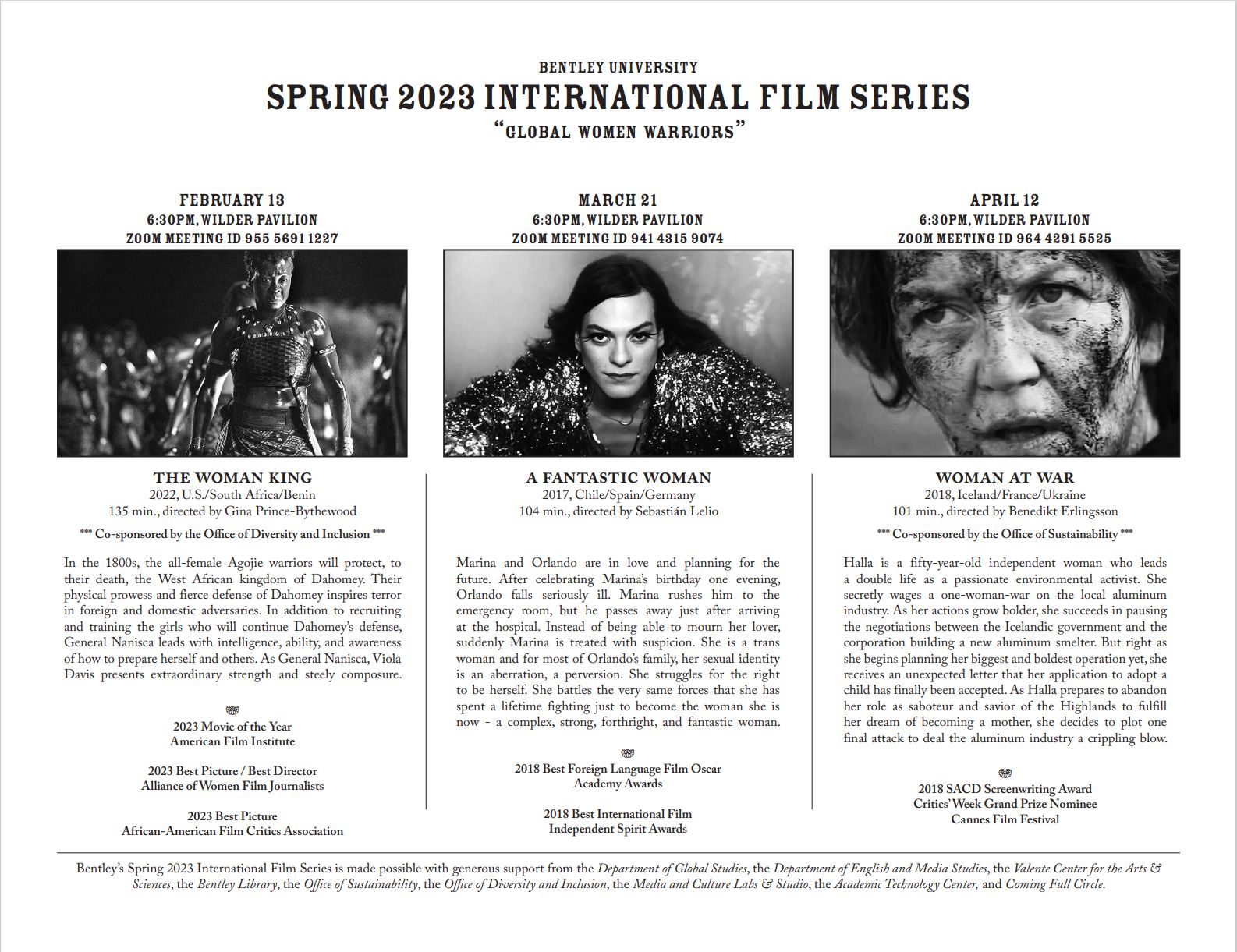 "The Woman King"
Monday, February 13th
Wilder Pavilion || 6:30PM
Zoom Meeting ID: 955 5691 1227
"A Fantastic Woman"
Tuesday, March 21st
Wilder Pavilion || 6:30PM
Zoom Meeting ID: 941 4315 9074
"Woman at War"
Wednesday, April 12th
Wilder Pavilion || 6:30PM
Zoom Meeting ID: 964 4291 5525
Do you have a sponsorship idea for the CWB?
Want to learn more about the CWB?
Committed to Inclusive Excellence
The Office of Diversity & Inclusion is responsible for fostering an inclusive community by leveraging interactions between offices, educating the entire community and working to increase the diversity at all levels of the University through university-wide, diversity-related programs and initiatives.
Gender and Sexuality Student Programs Office (GSSP) provides a welcoming and supportive environment for all students to engage with topics of gender and sexuality. We offer educational programs, dialogues, and campus-wide workshops to create a more inclusive, informed, and compassionate community. We welcome all members of campus and strive to develop inclusive student leaders who celebrate gender, sexuality, and their intersection with other dimensions of identity.