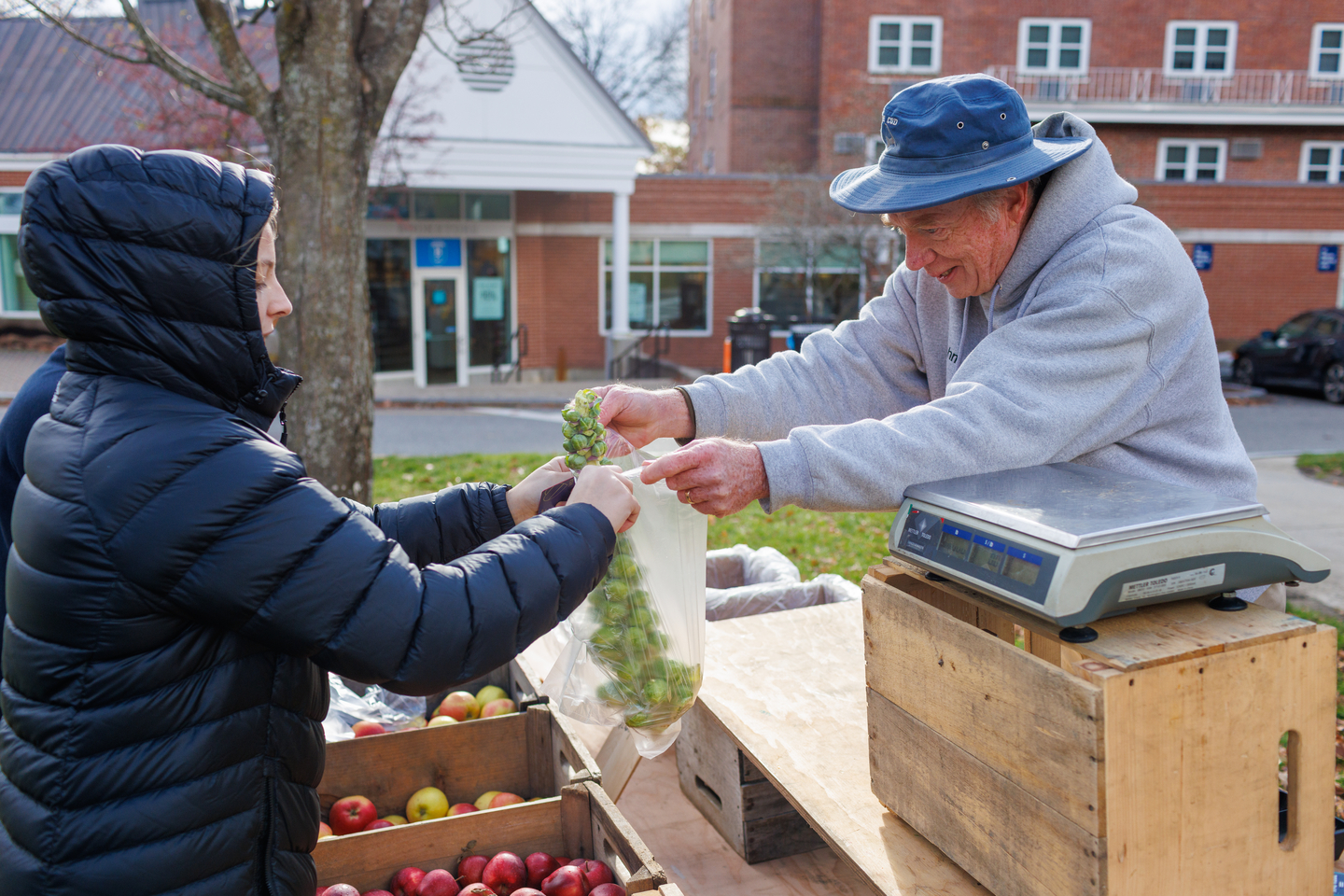 Photos by Kevin Maguire
Sustainability is on the Menu for "Friendsgiving" Celebrations
Students organize on-campus farmers' market to support local businesses
Friendsgiving celebrations are a popular tradition among college students the week before Thanksgiving, with many students improvising a full turkey dinner with takeout from their favorite restaurants or prepared foods from big supermarket chains. But in 2021, student leaders from the Bentley Service-Learning and Civic Engagement Center (BSLCE) decided to ditch big business and plastic takeout containers for more sustainable shopping that also supports local businesses by hosting an on-campus Friendsgiving Farmers' Market. This year's second-annual event attracted more than a dozen vendors. 
"We were excited last year when students approached us about organizing a Friendsgiving Farmers' Market," says Bria Milbery, BSLCE associate director of programs and initiatives. "This year we doubled the number of vendors and the types of products ranging from locally sourced honey, Peruvian pastries, fair trade coffee, vegan Mediterranean options and so much more. This event offers a great opportunity for people to learn about ethical and sustainable consumption, as well as the true history of the Thanksgiving holiday."  
The vendors included Del's Coffee Roasters, a fair-trade certified company that uses sustaina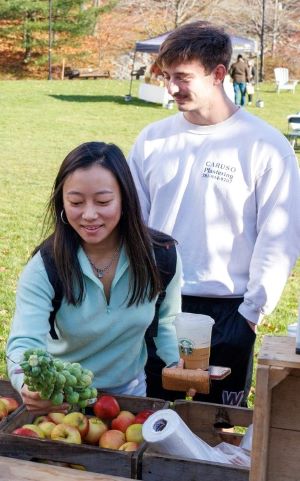 bly and ethically sourced coffee beans; Dick's Market Garden, a second-generation family farm that grows more than 95% of their fruits and vegetables; and Valicenti Pasta Farm, whose mission is "to grow, source, make and provide good, wholesome, locally made, real food." Bentley students chose from items like seasonal fruits and vegetables, homemade pasta and small batch sauces, hummus, baba ghanoush, pastries, jams, local honey and — always a crowd favorite — cider donuts. 
The idea for the farmers' market was first brought up in 2021 by Monica Manna '23, Annabelle Tran '23 and Aden Walker '22, MSF '23 on the newly formed BSLCE Sustainability Committee. 
"While most people associate sustainability with the environment, we believe sustainability resides within businesses of all kinds," Walker says of the committee's mission. "The Friendsgiving Farmers' Market initiative brings local vendors from the greater Boston area to campus; it gives them an environment to sell and share their stories without sacrificing any initial outlay of costs. This mutually beneficial event allowed students to try locally sourced goods at a fair price and engage Bentley University with the Waltham community." 
Manna, who is a BSLCE lead program manager and Marketing major, agrees. "The Friendsgiving aspect of the event was a perfect fit because it is something that resonates with college students; but instead of shopping at large supermarkets, purchasing unsustainably produced products, we encouraged the Bentley community to buy locally and sustainably from our vendors for their gatherings. We knew that a farmers' market took place in Waltham and were excited to connect with some of those sustainable, locally owned businesses and bridge them with the Bentley community."
While most people associate sustainability with the environment, we believe sustainability resides within businesses of all kinds.
To get the inaugural Friendsgiving Farmers' Market off the ground, the student trio worked with BSLCE Director Jonathan White, an associate professor of sociology, who was the staff liaison to the student committee at the time, and Milbery, who helped with ideation and logistics. Event planning included calls to local businesses and visits to the Waltham Farmers' Market.  
"On Saturdays, the three of us would put on our BSLCE shirts and head over to the market to connect and reconnect with new and old vendors," Manna recalls. "Bentley has really shown me all that goes into creating a successful business, which is incredibly challenging to build and sustain. Therefore, my respect for small businesses — especially those who are taking the longer and even more expensive route to ensure sustainable and ethical practices — has quadrupled." 
Tran agrees. "I recognize there can be a lot of food waste and support for large food corporations that may not practice ethically or sustainably. I'm so happy that I could be a part of increasing access to locally sourced food." 
A Finance major and BSLCE student civic engagement coordinator, Tran adds, "My motto has always been to leave things better than you found them. Whether that's a physical place or a community, it is so important for me to integrate that stewardship into my life."
RELATED: Fair Trade Fair advocates for ethical business models
CULTURAL ADVOCACY
Another important community component of the Friendsgiving Farmers' Market is taking a critical view of how the Thanksgiving holiday might impact indigenous communities, often considered a National Day of Mourning rather than a celebration of prosperity. 
"Sustainability is at the core of any injustice that you look at; it's connected to everything so it's important that we look at that interconnectedness," says Milbery. "A great example is adding the educational component highlighting the truth about Thanksgiving and why it's a problematic holiday for Indigenous people. It's really thinking about why we are celebrating this holiday and what it means." 
White says the Friendsgiving Farmers' Market is a great example of the civic problem-solving our students are doing through the BSLCE. "The students have created an event where the campus can come together to learn about shopping locally and more sustainably while having fun and celebrating community. And they are using the opportunity to educate folks about the cultural and physical genocide of Native American nations. Their hope is that the Bentley community comes away from the market with intentionality in assessing our role as conscious consumers and as individuals guided by a deepened conscience in confronting our history and practice." 
Thanksgiving and Native American Facts and Resources 
Bentley student-organizers of the Friendsgiving Farmer's Market developed a list of facts and resources about Thanksgiving and Native Americans. 
DID YOU KNOW? 
November is Native Heritage Month and Native American Heritage Day is celebrated annually the day after Thanksgiving. 
Bentley resides on the land where the Pawtucket and Massachusetts nations once lived.  
There are 4.5 million Native Americans and Alaska natives in the United States today, comprising 1.5% of the total population. 
The term 'Indian' originated from Christopher Columbus who erroneously thought his exploratory voyage had landed in the East Indies.  
Indigenous people in the United States prefer "American Indians" or "Native Americans" and indigenous people in Canada prefer "First Nations' or "Native Americans."  
The Trail of Tears, part of the Indian Removal Act, drove tens of thousands of Native Americans from their land and across the Mississippi to new territory, often referred to as the "Bad Lands," due to poor agricultural capacity. This brutal journey displaced tens of thousands. 
Many products and practices upon which the United States economy has been built – such as rubber, corn, kayaks and modern-day farming – have their roots in Native American knowledge. 
Today, Native Americans have twice the infant mortality rate than non-Hispanic white people, and 33% of all Native Americans live below the poverty line. 
Native Americans hiked over a land bridge from Asia to modern day Alaska thousands of years before Christopher Columbus "discovered" the Americas. 
There were over 10 million Native Americans living in present-day United States when European settlers arrived. By 1900, the estimated population was under 300,000. 
Blankets from smallpox patients were distributed to Native Americans by white settlers in order to intentionally spread the disease, knowing it would decimate the Native American population. Early government in the colonies also paid European settlers a fee for each Native American they killed. 
It wasn't until 1924 that Native Americans were granted citizenship after Congress enacted the Indian Citizenship Act. While Native Americans also won the right to vote in 1924, it took another 40 years for all 50 states to allow them to exercise their voting rights.
BOOKS 
"The Only Good Indians" by Stephen Graham Jones 
"An Indigenous Peoples' History of the United States" by Roxanne Dunbar-Ortiz 
"Bury My Heart at Wounded Knee" by Dee Brown 
"In the Spirit of Crazy Horse" by Peter Mattniessen 
"Ojibwa Warrior: Dennis Banks & the Rise of the American Indian Movement" by Dennis Banks 
"Lies My Teacher Told Me" by James Loewen 
"This Land is Their Land: The Wampanoag Indians, Plymouth Colony & the Troubled History of Thanksgiving" by David J. Silverman 
MOVIES 
"The Spirit of Crazy Horse: PBS Frontline" 
"We Shall Remain: American Experience" 
"In Whose Honor?: American Indian Mascots in Sports"