Photos by Kevin Maguire
Bentley Fair Trade Fair Advocates for Ethical Business Models
The LaCava Tent this week doubled as an outdoor market, with vendors greeting customers — students, faculty and staff — who came to sample a variety of goods, including crafts, clothing, jewelry, personal care products, ice cream, chocolate, coffee, tea and other foodstuffs. The eighth annual Bentley Fair Trade Fair drew 20 certified fair-trade vendors committed to an ethical business model that focuses on the sustainability of people and the planet. Approximately 800 people attended, learning about fair trade from businesses like Ben & Jerry's Ice Cream, Birds & Beans Coffee, Divine Chocolate and Women's Peace Collection. The event was sponsored by the Bentley Service-Learning and Civic Engagement Center (BSLCE) and co-sponsored by the Office of Sustainability (OOS).  
"Fair trade companies work directly with the producers or farmers to ensure that they are getting paid fair wages and have decent working conditions," says Bria Milbery, BSLCE associate director of programs and initiatives. In 2014, she organized Bentley's first Fair Trade Fair. "By utilizing third-party monitoring systems, such as Fair Trade certification, consumers can feel confident that their products are not being produced using slave labor, including child labor. This means children are able to pursue an education and that communities are able to lift themselves out of poverty."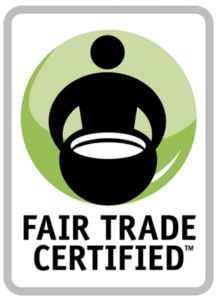 According to Fair Trade USA, "Fair Trade Certified™ is a rigorous and globally recognized sustainable sourcing model that improves livelihoods, protects the environment and builds resilient, transparent supply chains." 
Students and vendors at the fair were overheard engaged in dialogue about the products and their ethical sourcing, production and marketing. Some student attendees earned extra credit for various courses by interviewing business representatives about ethical business practices. A voter registration table tied into the event's social responsibility theme and featured the #BentleyVotes campaign, an initiative sponsored by the BSLCE and the OOS, and co-sponsored by the Dean of Arts and Sciences, the Dean of Business and the Office of the Provost. This year, students of Assistant Professor of Global Studies Maricruz Ariana Osorio are also supporting the cause as part of embedded service-learning in her Introduction to American Government (GLS100) course.
Bentley Alumni Committed to Fair-Trade Careers 
Allyson Myers '93, director of marketing and customer experience at Lake Champlain Chocolates, has been with the company since she graduated from Bentley. In the late 1990s, she led the effort to secure fair trade certification for the company's first group of products, a line of hot chocolate mixes. 
"It's been so rewarding for me to see the momentum the fair-trade movement has made over the last 25+ years," says Myers. "A few years ago, I was able to visit our cocoa farmers in the Dominican Republic and see firsthand the community development projects they have taken on. I visited a school and a community center that hosted a technology room and witnessed the benefit of clean drinking water sources." 
As Del's Coffee Roasters founder Paul Delmonico '92 offered coffee samples to fair attendees, he shared the history behind his business model.  
"I originally started the company in 2020 because of my love for specialty coffee and passion for home roasting unique coffee beans from around the world," he says. "When the business grew to the point that I was roasting full time at my facility in Waltham, I recognized the importance of making sure that the beans I roasted came from certified fair trade and organic farms."  
Many of the farms and communities that grow specialty coffee throughout the world, he says, rely on hardworking individuals to hand pick, sort and process the coffee. "This work is physically taxing and labor intensive, but the fair-trade certification means that these individuals have their basic needs covered, ensuring and supporting an existence worthy of human dignity." 
Jonathan White, BSLCE director and associate professor of sociology, says that approximately 10% of people in the world, 770 million people, live on less than $1.90 a day. "People are living in desperate poverty and their life expectancy is lowered, with many dying of hunger and hunger-related diseases. So, when we are speaking about a company making the decision to fairly pay its employees, we are indicating that it is both life-changing now and maybe even offers hope to the next generation."
We're all members of the global economy; we're making purchases every day that directly impact someone else somewhere in the world.
Students Continue the Charge for Change 
Cassie Dubitsky '24 was among a core group of BSLCE student leaders— including Caroline Bushnell '25, Luke Andris '25 and Trevor Hodgson '25 — who worked closely with Milbery to plan this year's Fair Trade Fair. Though she grew up with parents who were committed to purchasing fair trade products, Dubitsky says that it wasn't until she met Milbery and White in the BSLCE that "an incredible passion" developed.
"I was shocked as to how much I didn't understand; it's not just about chocolate and coffee," says Dubitsky, a Global Management major and BSLCE lead program manager who helps develop and implement Bentley community projects and programs in the Greater Waltham area. "Fair trade is about all consumer products and how they connect us to the world. We're all members of the global economy; we're making purchases every day that directly impact someone else somewhere in the world." 
Being a part of the fair is one way that Dubitsky can help raise awareness. "A big thing for Bentley students to understand, and what I'm passionate about getting out into the Bentley community, is that fair trade is not a charity; it's a way of doing business. We're all business students, and here's this model of doing business in a much better way that promotes sustainable and equitable trading practices. It's about empowerment and basic human dignity." 
Five Ways to Shop Ethically
1. Shop less.  Every purchase we make has a potential impact on the planet, so make sure that the product is something you need. 
2. Shop fair trade.  Look for labels that certify that a product is fair trade, such as Fair Trade Federation, Fair Labor Association, Worker Rights Consortium, Fair for Life, Fair Trade USA, World Fair Trade Federation and Fair Trade International. 
3. Shop sustainably.  Look for certification labels such as Organic, Certified BCorps, 1% for the Planet, FSC, Energy Star and Rainforest Alliance. 
4. Shop for second-hand, reused, recycled and upcycled products. 
5. Shop at stores that carry ethical products. By giving them your business, you are encouraging other stores to stock more ethical products.