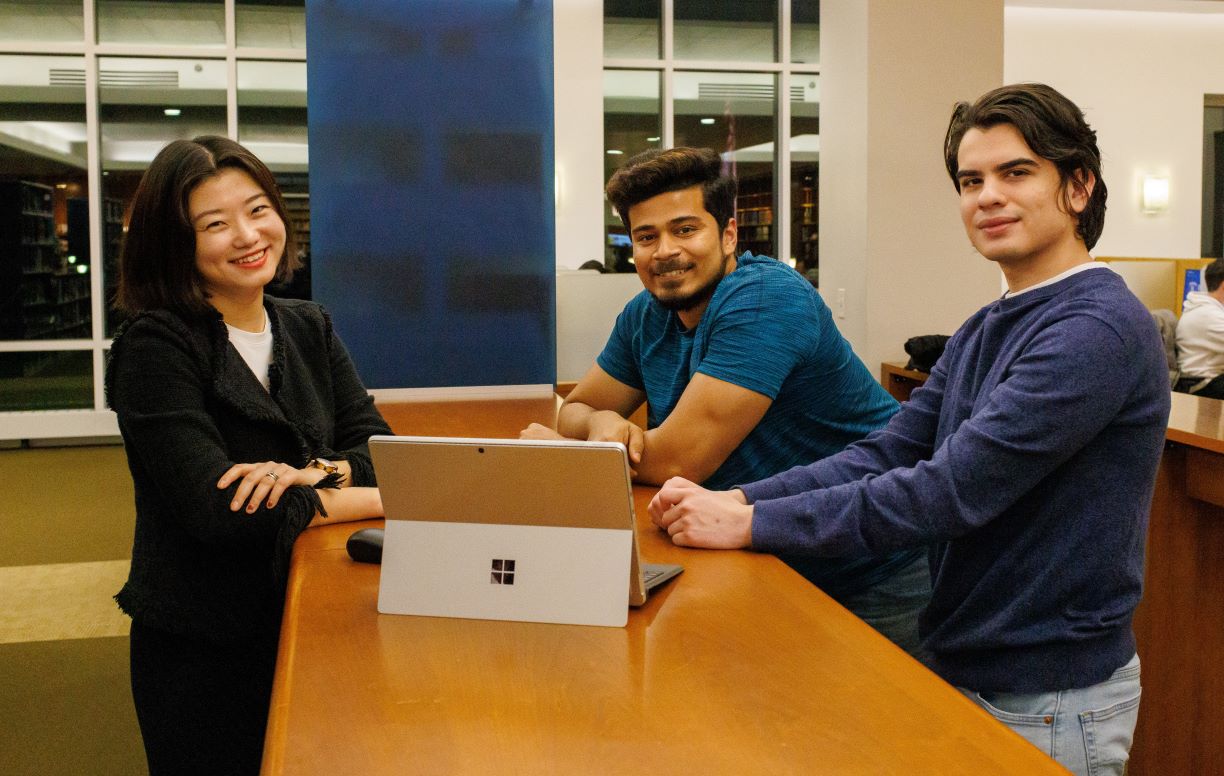 From left: Graduate students Alice Zhang, Abhijit Chandrasekhar and Jose Ordaz in the Bentley Library. (Photo by Kevin Maguire)
Using Data to Make a Difference
Graduate students place third in national Data Analytics for Good competition
Alice (Binbin) Zhang MSBA '23 understands firsthand how business can be a force for good. 
Before enrolling in Bentley's Master's in Business Analytics (MSBA) program, she consulted for a Chinese tech company working to create educational robots for autistic children. The interactive teaching tools, which help children with special needs become more confident and competent, are a prime example, Zhang says, of how "technology can enrich our lives." 
Buoyed by this belief, Zhang eagerly signed on to participate in Data Analytics for Good, a national case competition jointly sponsored by Perdue University, Microsoft, SIL International and INFORMS, an international association of analytics experts. Along with teammates Abhijit Chandrasekhar MBA '24 MSBA '24 and Jose Ordaz '22 MSF '24, Zhang beat out more than 170 teams from other American universities to place third overall and win a $2,000 cash prize.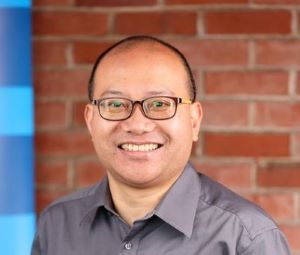 All teams were tasked with providing solutions to enhance image captioning models, which use AI algorithms to generate the textual descriptions that accompany digital pictures. As Tony Ng, a professor of Mathematical Sciences who advised the Bentley team, explains, existing models offer captions in only a handful of languages, resulting in a lack of linguistic diversity that puts businesses at a disadvantage in an ever-growing global marketplace.  
Chandrasekhar, Ordaz and Zhang worked together to create a new image captioning model capable of generating descriptions in three different languages — Hausa, which has 77 million speakers in Burkina Faso, Niger and Nigeria; Kyrgyz, with 5 million speakers in Afghanistan, China, Kyrgyzstan and Tajikistan; and Thai, with 61 million speakers in Thailand and Cambodia — specifically chosen for both their geographic diversity and the variety of their language scripts. 
The trio felt challenged from the outset, as none of them spoke the three specified languages and only one team member, Ordaz, had prior experience coding in AIML (Artificial Intelligence Markup Language) — and limited experience at that. "There were many aspects of the project I didn't know clearly how to tackle," explains Ordaz, who received a degree in Finance from Bentley last year and is now pursuing a Master's in Finance with a concentration in Financial Analytics. But he rose to the challenge, "forcing my brain to acquire two months' worth of coding knowledge in just two weeks. It was an exhausting learning process, but well worth it in the end."  
While Ordaz focused on coding, Chandrasekhar and Zhang worked on their group presentation, which they delivered to a panel of judges at Purdue University in December. In addition to explaining the particulars of their model, the trio discussed broader applications for image captioning, such as providing more accurate and descriptive image information for the visually challenged and helping children utilize educational platforms not designed in their primary languages. 
The latter example, says Chandrasekhar, who is simultaneously pursuing a Master's in Business Analytics and an MBA, is something all three of them feel strongly about, and made sure to emphasize during their presentation: "Growing up, we all had friends who were very intelligent but found it difficult to perform well on tests because the mode of communication was not of their mother tongue." By providing equal access to information, image captioning systems and other data-driven technologies can help address these educational inequities, he says, "creating an inclusive space where people from various backgrounds can come together and learn."   
RELATED: Annual sales competition offers students professional, life lessons