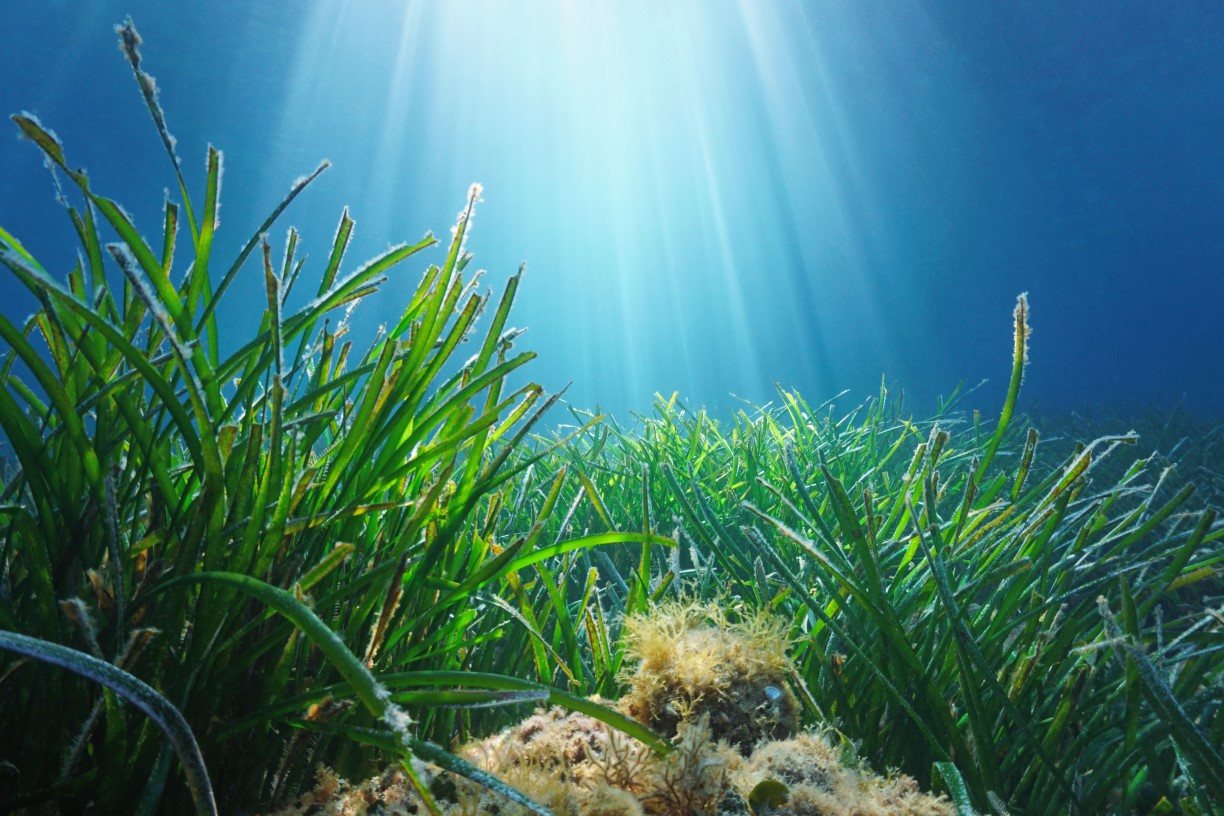 Where the (Sea)Grass is Greener
Professor awarded National Science Foundation grant to explore "ecological memory" in Bahamas
With their powder-soft white sand and astonishingly clear turquoise waters, the beaches of the Bahamas have long enticed visitors to lounge on their tranquil shores. But when Betsy Stoner heads to the Caribbean island nation next spring, she'll be focused on research, not rest and relaxation: The assistant professor of environmental science recently received a $676,239, three-year grant from the National Science Foundation to investigate the role of "ecological memory" in seagrass beds bordering the Bahamian coast.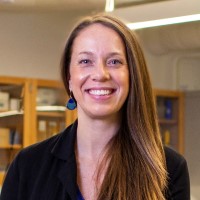 A marine ecologist, Stoner has been exploring aquatic environments in the Bahamas since 2008. Much of her research has focused on seagrass — the only flowering plants that grow underwater — and the critical role these flora play in creating and maintaining the diversity of coastal ecosystems.  
Seagrass grows in dense meadows in shallow water, Stoner explains, providing food and shelter for a variety of marine life. Their root systems help stabilize the environment by resisting erosion and absorbing energy from ocean waves. The plants are also natural climate change combatants, absorbing carbon an estimated 35 times faster than rain forest vegetation.  
Unfortunately, Stoner notes, these exceptional marine environments are also "among the most threatened ecosystems on the planet." Many of the risks they face are manmade, including physical damage from boat propellers and anchors and chemical runoff from pesticides. Global warming is also a threat; as Stoner notes, "the frequency of hurricanes reaching categories 4 and 5 in severity is increasing" as greenhouse gas emissions rise ever higher. 
Related: Diving into the 'Dolphin Tank'
LOOKING TO THE PAST TO PREDICT THE FUTURE 
Through her latest research, Stoner hopes to turn the tide. Working with colleagues from Florida International University (FIU) and the Louisiana Universities Marine Consortium (LUMCON), she'll not only explore how Bahamian seagrass beds respond to various environmental stressors, but also ensure this knowledge can be used to boost global conservation and restoration efforts. 
Specifically, Stoner will be investigating ecological memory — that is, how prior disturbances experienced by an ecosystem affect its response to present and future events. "Ecosystems are inherently dynamic," she explains. "They continually adapt to environmental changes, often evolving in positive ways over generations." As an example, she points to forest fires. "During the regrowth process, a forest ecosystem may self-select seeds that are more heat resistant. Over time, this can create a natural resilience to future fires."  
For their seagrass studies, Stoner and her co-researchers will monitor coastal beds in the Abaco Islands. Located in northern Bahamas, the area was devastated in 2019 by Hurrican Dorian, a Category 5 storm that brought torrential rains and sustained winds of more than 150 mph. As the strongest hurricane ever to make landfall in the Bahamas, Dorian wreaked havoc on land and sea alike. But as Stoner's team discovered during subsequent seagrass surveys, while some beds were severely impacted by the storm, others were minimally affected — a disparity offering ideal conditions for ecological memory experiments.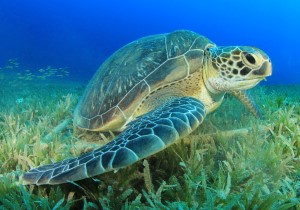 Over the next three years, Stoner and her team will observe how seagrass in both severe- and low-impact sites respond to two specific (and simulated) environmental stressors: physical damage from boat propellers and overgrazing by green sea turtles. Through samples taken at quarterly intervals, they'll determine how the seagrass in each area — and the diverse array of marine life that depend upon the plants — respond to these disturbances.
I truly believe that businesses have the capacity to address the significant environmental problems facing our planet. By offering Bentley students the chance to participate in research like this, we can empower them to be part of those solutions.
Assistant Professor of Environmental Science
BEYOND THE OCEAN FLOOR 
While Stoner is undeniably excited about the research outcomes, she's equally passionate about the project's broader impact. That's because researchers won't be conducting experiments on their own: students from Bentley, FIU and LUMCON will participate in week-long field courses in Abaco each spring. 
Stoner's team is also partnering with Friends of the Environment, a local nonprofit that provides hands-on educational programs for K-12 Bahamian students, many of whom are from communities of color. "Because so many Abaco schools were devasted by Hurricane Dorian, thousands of students were forced to find alternate education in other Caribbean islands and in the U.S.," she explains. "This grant will help rebuild STEM education experiences in the Bahamas." In fact, local high schoolers will work with — and learn from — their collegiate counterparts during each field course. 
Stoner is confident Bentley students' business backgrounds will bring an invaluable perspective. "Scientific research can't exist in silo," she says. "Discoveries need to be communicated broadly in order to make an impact. 
"I truly believe that businesses have the capacity to address the significant environmental problems facing our planet," she continues. "And by offering Bentley students the chance to participate in research like this, we can empower them to be part of those solutions." 
Related: Why Bentley students are becoming sustainability champions