Going Beyond Going Green
How Bentley students are harnessing the power of business to make real changes in sustainability
These days, sustainability is in the spotlight like never before, with the impacts of climate change being felt across the United States. As a business university, Bentley approaches sustainability in a way that goes way beyond simple feel-good PR campaigns to take care of Mother Earth.  
The university established the Office of Sustainability (OOS) in 2010, and offers a major in Sustainability Science, a Liberal Studies Major in Earth, Environment and Global Sustainability, and minors in Earth, Environment and Global Sustainability and Sustainable Investing. The common thread that runs through it all is a commitment to people and the planet as well as profit. It's a distinctively Bentley approach to sustainability that hopes to change the way people think of saving the world. 
A big part of this challenge lies with the Office of Sustainability's six-person team of Student Sustainability Leaders, a group created in 2018 to help execute and oversee the campus-wide initiatives that help Bentley get closer to its sustainability goals. 
"We are a business school," says Sophie Rodgers '20, a former OOS student leader who now works in the office as manager of sustainability. "So we want to harness the intelligence of our students in order to support more than just going out and spreading the word of sustainability." 
That means recruiting, hiring and training the student leaders, pulling them together as a team, and then giving them the freedom to come up with priorities and solutions for each academic year. 
"We have amazing students who are looking for experience," says Rodgers. "So by bringing them into our office they not only support our work but we support their growth and professional development. We allow them the opportunity to experiment, taking their learning in the classroom and applying to a real-world experience, whether they're a student who is specifically studying sustainability at Bentley or someone just interested in learning about sustainability as a lens in order to help them thrive in an ever-changing business world when they graduate."  
To understand sustainability isn't to understand that, 'Oh, climate change is a bad thing.' People already know that. It's all about understanding issues for how much bigger they actually are.
PEOPLE, PLANET, PROFIT
Gia Hoa Lam '22 always wanted to help people. He just couldn't figure out how until he got to Bentley. The Torrington, Conn., native originally thought he'd be a psychologist, but soon realized he'd get too emotionally invested to be any good at it. He turned to sustainable finance and impact investing as a way to make a difference through business, only to discover he didn't really like finance. 
"On my first day as a freshman here at Bentley, the Office of Sustainability was doing a presentation about what happens with sustainability at Bentley," he explains. "They were talking about what they do, this marriage of people, planet and profit, and I thought, 'THIS, this is what I've been wanting to do my entire life, this is the type of stuff I could see myself doing forever.' The presentation was on a Tuesday and I applied for the student leader job on Wednesday."  
Lam dove in with both feet, despite not knowing much about sustainability. He did a lot of googling, grilled his first-year seminar professor, David Szymanski, who specializes in natural and applied sciences, and soon realized the Bentley approach to using business as a force for change was exactly what he believed in all along. 
"The thing that really attracted me was this idea that we need to be thinking about business leadership as more than just profits," says Lam. "It's not us trying to be ethical. It's us making business sense, and it's us supporting the society that we want to create through sound business decisions and leadership."  
Capeless Crusaders: The Business of Doing Good
SEEING THE BIG PICTURE
Each team of Student Sustainability Leaders includes an OOS assistant project manager (Lam's most recent job), a public relations coordinator and content creator who handle social media and marketing, a social justice coordinator, and two events coordinators.  
Rodgers says that, while the team is given freedom to explore topics and initiatives that interest them each year (last year's key focus was on sustainability as a tool for racial justice), the OOS has three overarching goals when it comes to their student partners: Cultivate their professional skills, provide them with experiential learning opportunities, and enhance their knowledge of sustainability and climate change, to better prepare them to work in a world where those ideas are more and more of a focus.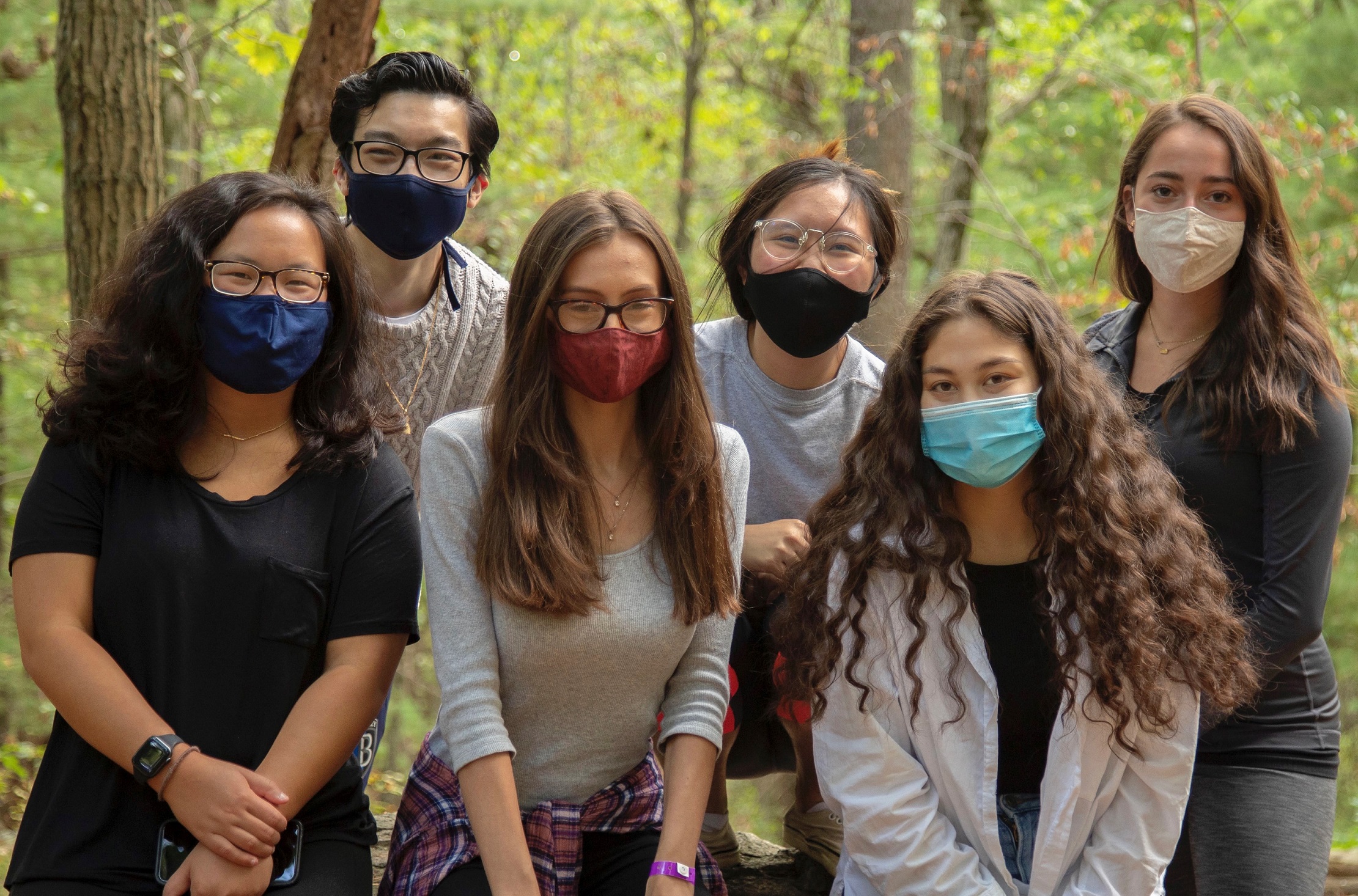 "The students are learning how to create an effective team," she says, "where they have to learn how to effectively communicate and lean on one other based on their strengths — just as you would in any organization." 
After three years on the Student Sustainability Leaders team, Lam is moving on to more of a campus advocacy role in the fall, hoping to push Bentley toward divesting its endowment from fossil fuel–related companies. He'll graduate with a double major in Economics-Finance and Earth, Environment, and Global Sustainability, and wants to go into sustainability consulting.  
"To understand sustainability isn't to understand that, 'Oh, climate change is a bad thing.' People already know that," says Lam. "It goes a lot beyond that, to understanding a systems approach to problems. You have to understand who the key stakeholders are in each situation, what are the intentions behind why people want something like a fossil fuel–based economy. How do we grab people out of that, how do we move toward a future that's low-carbon equitably, taking into account people who are going to be losing jobs from fossil fuel sectors or taking on the burden?  
"It's all about understanding issues for how much bigger they actually are, and not seeing them as all of these isolated components. It's that integrated approach that you learn through doing business alongside sustainability: Who is missing from the room? What resources are we not accounting for? And how do we solve things more creatively?" 
Lam credits the chances he was allowed to take in the Sustainability Office as the key to turning his once vague vision of saving the world into a career that will make a real difference. 
"I think it's so important that you give students the opportunity to do risky things, be independent, and apply the work they're doing," he says. "It's taking your education beyond theory in the classroom into something real." 
What does sustainability at a business university look like?