Capeless Crusaders: The Business of Doing Good
Pilot course demonstrates how business leaders can become sustainability champions
Liz Brown wants Bentley students to know that true heroes don't always wear capes. In fact, when it comes to implementing sustainability solutions that benefit people and the planet, today's heroes are increasingly likely to wear business suits. 
Last fall, the associate professor of Law offered an innovative pilot course emphasizing how business leaders have the power to change the world. Appropriately titled "Heroes and CEOs," it was inspired by Brown's involvement in a series of pop-up panels offered on campus the previous year.  
The panels, which addressed pressing topics such as America's opioid epidemic and e-cigarette use, brought together faculty members from multiple disciplines to share insights about each topic from their respective areas of expertise. "These events not only provided an opportunity to explore of-the-moment issues our students care about," Brown explains, "but allowed us to do so in a holistic way, offering a variety of perspectives to enhance their knowledge and understanding."  
The positive response to these community events left Brown wondering if the same approach could be applied in the classroom. Sustainability seemed a natural area of focus. "Too often, business students leave college with little idea of how companies can go beyond CSR [Corporate Social Responsibility] or business ethics to address and improve economic, environmental and social inequities," Brown says. "With this course, I wanted students to understand that complex sustainability problems require multi-faceted solutions and, in order to find them, we need to look for partnerships or synergies among various fields of study." 
Change the world for the better with a Sustainability Science degree
"One of Bentley's strengths is the breadth of its faculty expertise," adds Brown. So when it came time to create the course syllabus, she reached out to colleagues across campus. Ultimately, she enlisted 14 faculty and staff members from nine different departments and two university centers (the Service-Learning and Civic Engagement Center and Center for Women and Business) as guest lecturers.  
Each led one or more (virtual) sessions within one of the course's four distinct yet complementary modules: First, an introduction to basic sustainability concepts and creative problem-solving approaches, then in-depth explorations of three specific global issues — plastics in the ocean, climate change, and gender inequality. The course culminated with an independent research project and presentation, where students outlined potential solutions for a sustainability challenge of their choosing. 
Understanding how business and arts and science disciplines complement each other helps students think more creatively and inclusively about how to solve the specific sustainability problems facing our planet.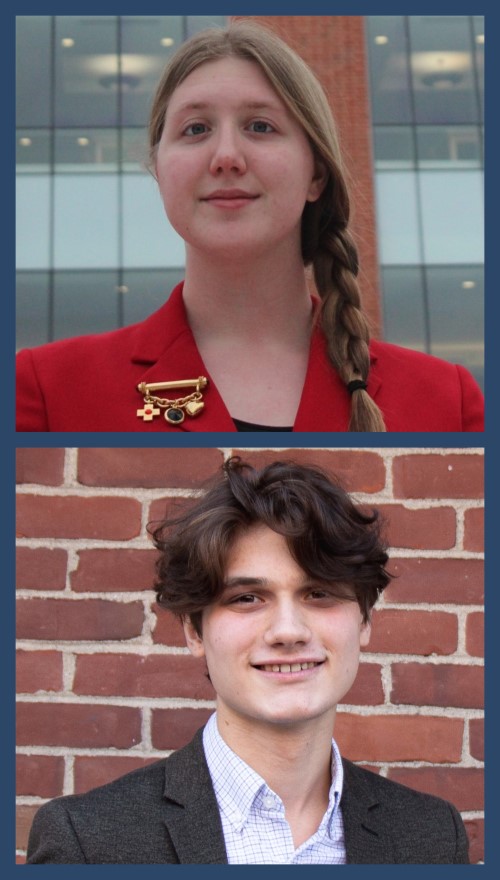 The team-teaching approach proved a resounding success with students. "It was so engaging to have someone new teach us something different in every class," says Halle Katz '24. As a first-year student (and prospective Marketing major), she particularly appreciated meeting professors from a variety of disciplines she might not otherwise consider. In fact, after getting to know guest lecturer Roland Hübscher, associate professor and department chair for Information Design and Corporate Communication, Katz registered for a class with him the following semester.  
For Ian Mail '23, a Philosophy major, "Heroes and CEOs" gave him a deeper appreciation of business disciplines. "The biggest surprise for me was the vital role accounting plays when it comes to making sustainability decisions," he explains. "To create effective solutions for global warming, for example, we need to translate less-than-tangible factors like environmental damage into dollars and cents." This newfound awareness, Mail says, helped him draw parallels between Accounting and his own field of study. "Before this class, accounting seemed to me a strictly quantitative field, but it actually involves a lot of value judgements that hinge upon deeply philosophical questions." 
Connections like these are precisely what Brown had in mind when she conceived the course. "By better understanding how business and arts and science disciplines complement each other," she says, "students leave with a bigger and more integrated toolbox at their disposal. They're not only able to think more creatively and inclusively about the specific sustainability problems facing our planet, but also have a greater sense of their own responsibility, as individuals and business leaders, in taking action to solve them." 
Brown is hopeful that the enthusiastic response, from both students and colleagues, will help "Heroes and CEOs" transition from pilot course to permanent offering. Her former students agree. "It's eye-opening to learn that businesses can also be profitable while prioritizing the environment and society," Katz says. She thinks the class should always be an option, especially for first-year students just starting out on their academic journeys. 
For Mail, the lessons learned extended beyond business and sustainability to encompass life outside the classroom. "For me, this class was all about making connections, both among different academic disciplines and with my guest professors and fellow students," he says. "But in a larger sense, examining the world through this course's interdisciplinary lens helped me see where I fit into it." 
Diving into the Dolphin Tank: Students pitch sustainability solutions