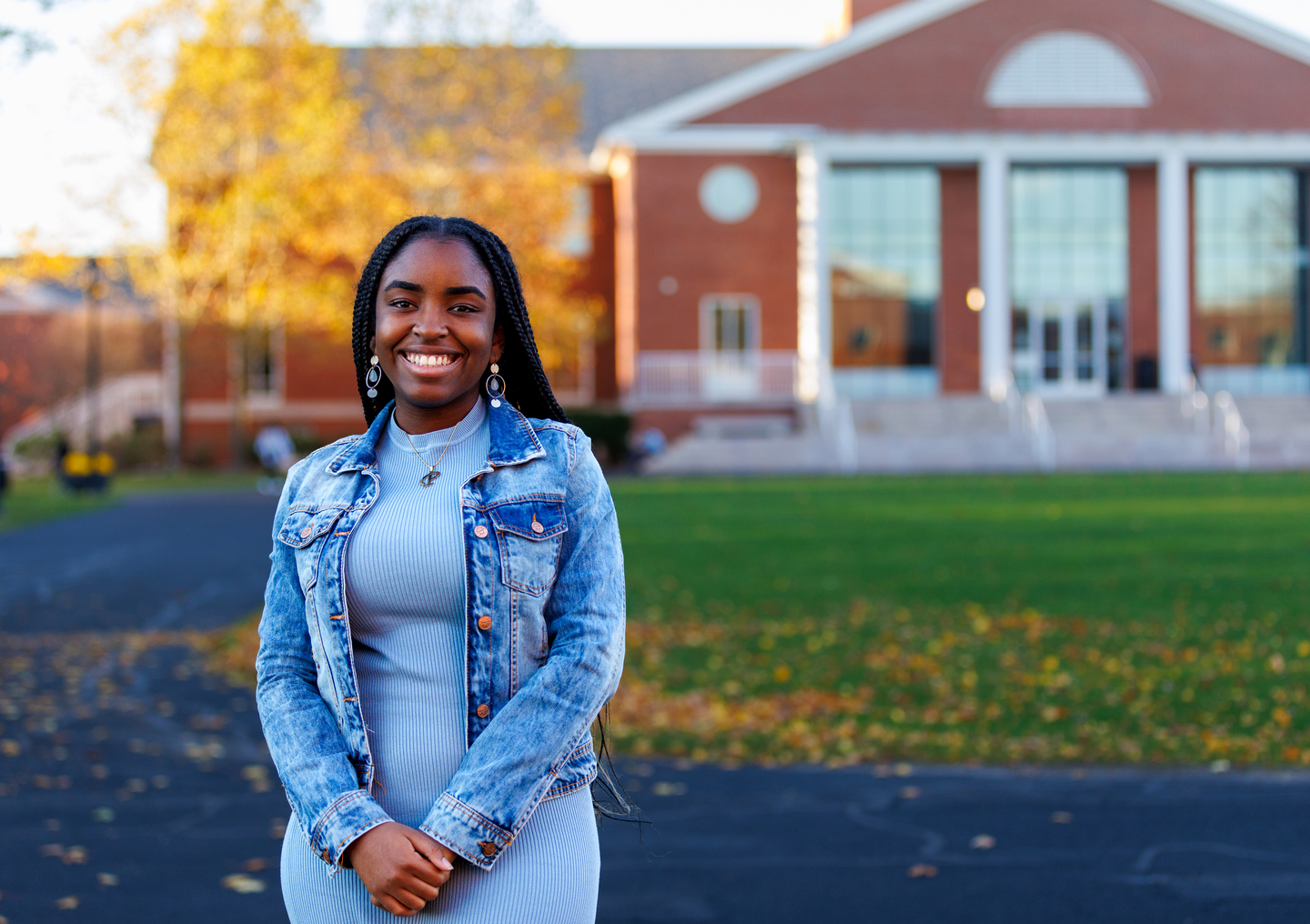 Photos by Kevin Maguire
'The World Beyond Me'
Pearl Opara '23 believes in the power of business economics to solve problems
When Pearl Opara '23 was growing up, she and her mother would make a point to sit down and watch the news together at least one day a week. Opara would follow up with questions, and conversations would often carry on long after the television news segment ended.   
"My mom has always been interested in making me globally conscious about the world beyond me," says Opara, who grew up in Lagos, Nigeria. "I remember driving by a billboard and asking her, 'What's a diplomat?' After she explained it to me, I thought, 'Oh that sounds like a cool job. I want to do that someday.' I was probably about 10 years old." 
Given her developing passion for global citizenship, it's not surprising that Opara jumped on a plane and traveled more than 5,000 miles to attend Bentley — her sights at first set on an International Affairs major. But then, Opara's curious nature got the best of her again.  
"I realized that I wanted more of a blend between quantitative and qualitative learning, and the Business Economics major provided that," Opara recalls. "Economics is at the heart of everything we do. As a society and as individuals we have to navigate putting our limited resources to optimal use. Economics guides that process so we may come up with viable solutions."
Economics is at the heart of everything we do. As a society and as individuals we have to navigate putting our limited resources to optimal use.
The final project in the course The Economics of Race and Gender (EC317) is a case in point. Opara was charged with identifying a socio-economic issue and recommending viable policy solutions; she began digging through literature and was shocked by some health economics data.  
"The U.S. is actually one of the few developed countries where maternal mortality has increased in the past 20 to 30 years," Opara says. "There's also this large disparity between white women and their Black counterparts: A Black woman is three times more likely to die from pregnancy-related complications than a white woman is." 
Opara chose to address disparities in maternal mortality for her project. One of her policy recommendations related to climate: providing funding for pregnant residents in at-risk zones to acquire heating and cooling systems that would mitigate the effects of extreme temperatures. A second focused on funding for community health centers and mobile midwife programs in rural areas to provide access to care for those with transportation issues.     
"The course opened up my understanding of the disparity between genders and races and various aspects of society — and how the effect of legislation and available resources bleeds into so many aspects of people's lives that we wouldn't even think about," she says. 
RELATED: Economics of Race and Gender course emphasizes equity
CURIOSITY IN ACTION 
Opara's inquisitive nature is not the sole characteristic of her success; she's also motivated to action, getting out in the field to put her skills to work. As a program manager in the Bentley Service-Learning and Civic Engagement Center, she provides academic support to elementary-school aged students attending the Prospect Hill Afterschool Program in Waltham. Through the Bentley Office of International Education, she took part in Emzingo U's Global Innovation Internship, which paired her with We Can Be Heroes, a Peruvian nonprofit. Opara contributed to the organization's mission of conservation in the Amazon by updating its eligible grant database and provided operational solutions for its business plan. She followed that with an internship at Massachusetts Office for Refugees and Immigrants (MORI) in fall 2021.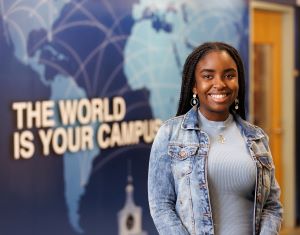 "As an international student, I can empathize with the plight of starting a new journey in a new country," Opara says of her work at MORI, which included developing website content and data visualization charts for the organization's annual report. 
She then rounded out her nonprofit and state government experience with a corporate internship, which she landed at Pacific Investment Management Company (PIMCO) investment management firm. "The chance to gain exposure to financial markets, product development and portfolio analysis sounded exciting," she says. 
The summer 2022 internship coincided with a quarter end, so Opara gained experience analyzing deals by credit type, country and industry exposure, developing case studies for quarterly investment reports and updating marketing material.  
CONNECTIONS COUNT 
Amid the work crunch at PIMCO, networking was on Opara's agenda. The skills she learned in Bentley's Career Development Introduction course (CDI 101), she says, "came rushing back."  
"I did my best to make first impressions count — being smartly dressed, giving a firm handshake and maintaining eye contact," Opara says, noting that she prepared questions beforehand and sent out thank you notes after coffee chats. "Bentley is big on teamwork, and so is PIMCO. It was intrinsic to my success that I already knew how to manage expectations and effectively handle giving and receiving feedback." 
Opara also puts her networking skills to work as a resident assistant (RA) at Bentley. "My first year, I spent a good amount of time reflecting on how I wanted college to go and what I could do to contribute to making Bentley great. I wanted to be a resource to others and make other Falcons feel like they belonged here. Being an RA has allowed me to connect with so many students and staff as we go about our mission of making this campus a fun, inclusive space for all students." 
That kind of philosophy would fit the bill for a diplomat, who is charged with working with people from diverse cultures, political beliefs and values systems. With so many different experiences now under her belt, Opara has a wide range of career options in front of her, but she says, "I want to use my business education in professional positions that advocate for social justice, especially among minority groups." And she's not ruling out a diplomat career track: "I'm figuring it out one step at a time; but you never know."
I want to use my business education in professional positions that advocate for social justice, especially among minority groups.