Undergraduate Resources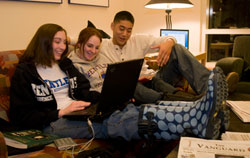 The Free Application for Federal Student Aid (FAFSA) and CSS PROFILE are available online as of October 1, 2018 and will be completed using 2017 tax information.

We will also collect 2017 federal tax returns and W-2 forms. Students should still continue to monitor their email, mail, and MyBentley accounts as additional documents may be required.

The new priority deadline for continuing student applications is April 19, 2019.
Application Process
Continuing undergraduate students must reapply for financial aid each year. All application materials are due March 29. You can check the status of your financial aid application on the Finances Tab of your MyBentley account. Please follow these instructions on how to complete your application. Be aware that additional information may be required after your information is initially submitted and reviewed.
Financial Aid Awards
If your financial aid application and all supporting documents have been received by our office, you will receive an email when your award is ready to view. To view your award letter log into your MyBentley account. We begin posting awards at the end of June each year. For more information about your financial aid package click here to view the 2018-2019 Bentley Financial Aid Guide for Continuing Students.