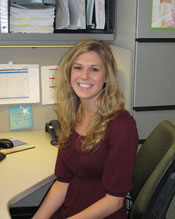 Bentley has many opportunities for on-campus employment. However, students with a Federal Work-Study award are given preference in applying for positions on campus and in select off-campus sites. Bentley also offers institutional employment funded by the university to provide additional employment opportunities for students not eligible for Federal Work-Study funds. The Student Employment Office (SEO) advertises positions online at the start of each semester and summer session. You will receive more information about the process if you decide to attend Bentley.
At Bentley, we do not assign jobs to students with Federal Work-Study. Rather, we offer you the opportunity to apply and interview for on-campus positions that interest you and fit into your class schedule. If you have a Federal Work-Study award and want to work, we are committed to helping you find a job. However, you should plan to start your job prior to the start of the academic year. If you encounter any difficulties along the way, you should seek the help of the SEO as soon as possible. Our options for assisting you with the process become more limited as the academic year progresses and jobs are filled by continuing students or those without Federal Work-Study eligibility.
On-campus wage rates currently start at $11 per hour. First-Years typically earn wages on the lower end of the scale. Work funds earned, either Federal Work-Study or the Bentley Work Program, are not credited to your student account. You will receive a biweekly paycheck for hours worked.
The SEO also provides access to job opportunities offered by the local business community. All currently enrolled Bentley University students may take advantage of the off-campus job postings.