The Bentley Shuttles are a great resource for exploring the local area, as well as getting around campus. With three routes that cover campus, Waltham, Waverly Square (Belmont) and Harvard Square (Cambridge), you also have easy access to MBTA buses, subway, and commuter rail lines. You can catch all three lines at the LaCava Shuttle Hub.  The TransLoc Rider mobile app provides live tracking, bus capacity, and arrival times, as well as important schedule updates. See schedules and additional shuttle details below.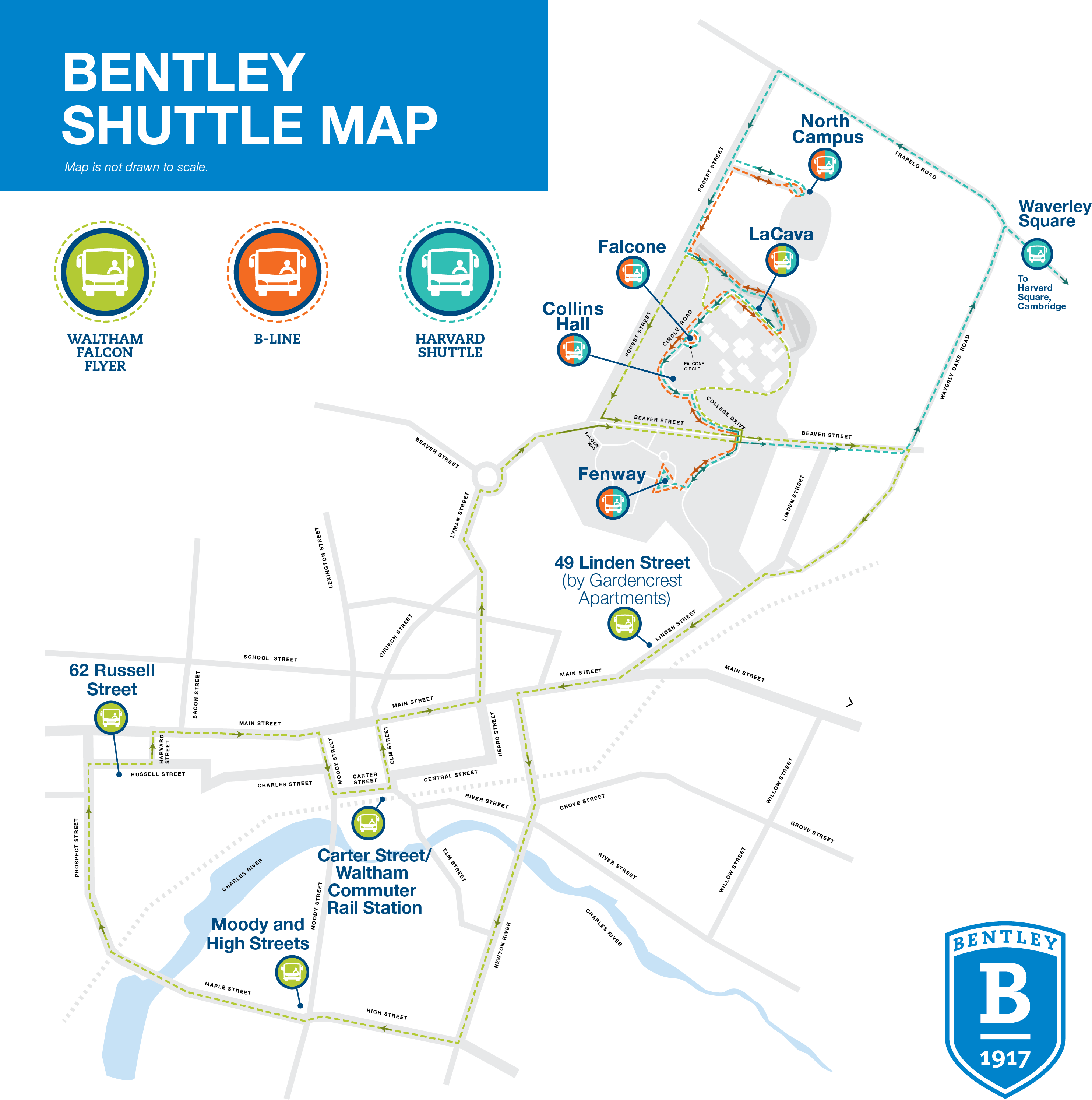 Live Bus Tracking
The Campus Mobility Application, TransLoc Rider, provides live tracking of the Bentley shuttles, bus capacity and arrival times. Updates and information will be broadcast through the application. Feedback and concerns can also be received via the application.
Information may be found at Bentley.transloc.com. For best user experience, we recommend downloading the app on your Apple or Android device.
Inclement Weather
The Bentley Community will receive an email with any schedule changes due to inclement weather. Also, schedule changes will be noted on the Transloc Rider app. All inclement weather-related policies can be found on the University Police site. 
Reminders 
All Bentley Shuttles are free. You need a CharlieCard or Cash when traveling from Waverly Square or Harvard Square to your next destination.

You must show a Bentley ID when boarding all Bentley shuttles.

No smoking, alcohol, food, or drink on the Bentley shuttle.

All departure times are approximate. Please arrive at designated bus stop at least 5 minutes before times shown on

bentley.transloc.com

.
Have other transportation needs?
Who do I contact if I have a concern about the shuttle?
For non-emergency situations:
For emergency situations you can:
Call 911
Contact Campus Police at: 781.891.3131 (emergency line)
Download the Rave application: You can call or chat with Campus Police through the app.
Who can use the Bentley Campus Shuttle?
The Bentley shuttle is for students, faculty and staff with a valid Bentley ID. A Bentley rider may bring a guest, who must also show a valid ID. The Bentley rider is responsible for their guest's behavior while on the shuttle.
How much does the Bentley shuttle cost?
The Bentley shuttle is free for those in the campus community.
Where does the shuttle stop?
The B-Line Shuttle (Campus Loop) stops at North Campus, Falcone Apartments, Collins Hall and Fenway Hall.
The Harvard Square Shuttle also stops at the above locations well at Waverley Square in Belmont and Harvard Square in Cambridge.
What is the schedule?
You can find the schedule here.
How do I track the bus?
You can track the bus using the TransLoc app.
Do I need my ID to ride?
Yes, please show your Bentley ID to the driver upon boarding the bus.
If I need an accommodation on the shuttle who do I contact?
Bentley University strives to make the shuttle accessible to all users. If you are having difficulty accessing them and need an accommodation, please contact Procurement and Campus Services at SM_Campusservices@bentley.edu.
Can I use the shuttle on Game Day?
Yes, the shuttle can help you get to the arena or fields during game day.  During hockey games the shuttle will make an extra stop outside the Bentley Arena.
Where do I find information on MBTA service interruptions?