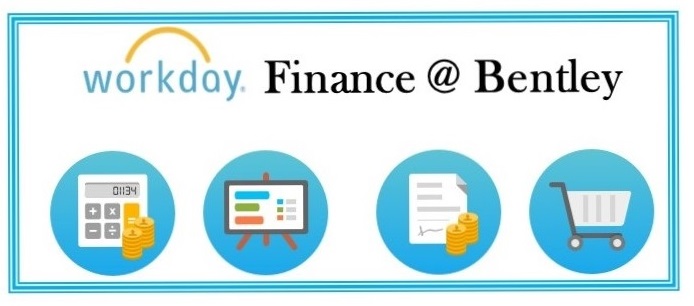 If you have any additional questions, please send them to GA_WorkDayTraining@bentley.edu
The Workday Financials Project is Underway!
As you know, Bentley's initial rollout of Workday in January 2017 included Human Resources and Payroll processes. Bentley is now focused on the second phase – the rollout of Workday Financials, which will go-live in December 2017.
This University-wide effort is working to replace the existing Banner financial system with Workday Financials, a modern, cloud-based system
The Vision
Streamlined and simplified financial business processes
Creation and approval of expense authorizations, reimbursement requests, and purchase requisitions online or via mobile device
A flexible Financial Data Model (FDM) that supports the entire University
Budget preparation and analysis using real-time financial data
In Scope
Budget Monitoring and Reporting
Online Requisitioning and Approvals
Purchase and Travel Card Integration
Expense Reimbursement Requests Online and Mobile
Endowments
Project Tracking and Business Assets
Financial Accounting
Banking & Settlement