Jack Casey: HCBE's Inaugural Executive Fellow
John L. Casey was the Advisory Managing Director of Scudder, Stevens and Clark and the author of Ethics in the Financial Marketplace and Values Added: Making Ethical Decisions in the Financial Marketplace. He published several articles on business ethics and lectured internationally on ethics, banking and finance.
Biography
After graduating from Harvard College and serving as a Communications Officer on a Destroyer in the Pacific during World War II, Mr. Casey graduated from Harvard Law School in 1948 and went straight to work for Simpson Thacher & Bartlett, one of the largest Wall Street law firms. He specialized in litigation until he was appointed Law Assistant to the Surrogates' Court for New York County where he served form 1954-1956, returning to Simpson Thacher & Bartlett. In 1961 he joined Scudder, Stevens & Clark, one of the Country's oldest and largest independent investment managers, where he managed client investments, directed the Legal and Public Relations Departments, played a key role in incorporation and restructuring of the firm, served as an officer and director of investment companies and held industry leadership roles. In 1971 he was appointed a general partner and in 1985 a managing director.
He was the director, president, and chairman of the Investment Counsel Association of America; a member of the U.S. Secretary of Labor's Advisory Council on Employee Welfare and Pension Benefit Plans; chairman of the Investment Committee of the Association of the Bar of the City of New York; chairman of the Investment Management Committee of the Federal Bar.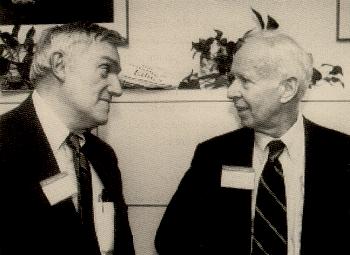 Ernest A. Kallman (l.), with John L. Casey, Bentley's first executive fellow.