Resources
Promoting Ethical Collaboration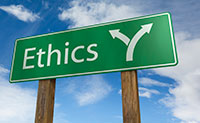 The W. Michael Hoffman Center for Business Ethics sees great opportunities in collaborative efforts to promote ethical business practices, and to this end, provides to its visitors and the public a rich collection of resources.
HCBE's online resources include:
• Surveys and studies
• Codes of conduct
• CSR reports
Business and Society Review is the academic journal of the HCBE. It is published quarterly and covers the latest in scholarly research in business ethics. 
HCBE has an extensive multimedia library that contains one of the largest collections in the United States of business ethics books, journals, videos, and resources for practitioners. Our collection of books includes the hard-to-find proceedings of HCBE's original conferences on business ethics from the 1970's and 1980's, which were some of the first conferences on business ethics in the world.

In the early days of the field, scholars associated with HCBE produced a number of path-breaking books, including The Ethical Edge (1995), Values Added (1997), and Ethics Matters (2000). In recent years, Wiley's Foundations of Business Ethics series has been under the general editorship of W. Michael Hoffman and Robert Frederick. Together with Mark Schwartz, Hoffman and Frederick collaborated on a textbook, Business Ethics: Readings and Cases in Corporate Morality, now in its 5th edition, and also published by Wiley.