The Business of Beauty
Vittoria Baracchi '14 on Finding her Passion in Marketing for L'Oréal
(Above: Vittoria Baracchi at the Colosseum in Rome, her hometown.)
L'Oréal is synonymous with makeup and beauty products around the world. But when Vittoria Baracchi ˊ14 joined the company's Milan, Italy, office as a social and content media manager in 2018, she admits she knew very little about makeup. "I had no idea what the difference between primer and powder was. When I got married, I wasn't even wearing lipstick," she jokes.
But that knowledge changed quickly. On her first day on the job, Baracchi was learning about the different kinds of mascara brushes. She immediately started following makeup artists, influencers and competitors on social media. 
"It was crucial for me to know everything about makeup. As consumers are at the heart of our business, I had to know who they were, what language they spoke, who they followed, what social network they used and so forth," says Baracchi, who was born and raised in Rome. "After a few months, I was so into makeup and so proud of myself. I could tell what foundation shade was right for someone or what makeup to use based on their Instagram picture."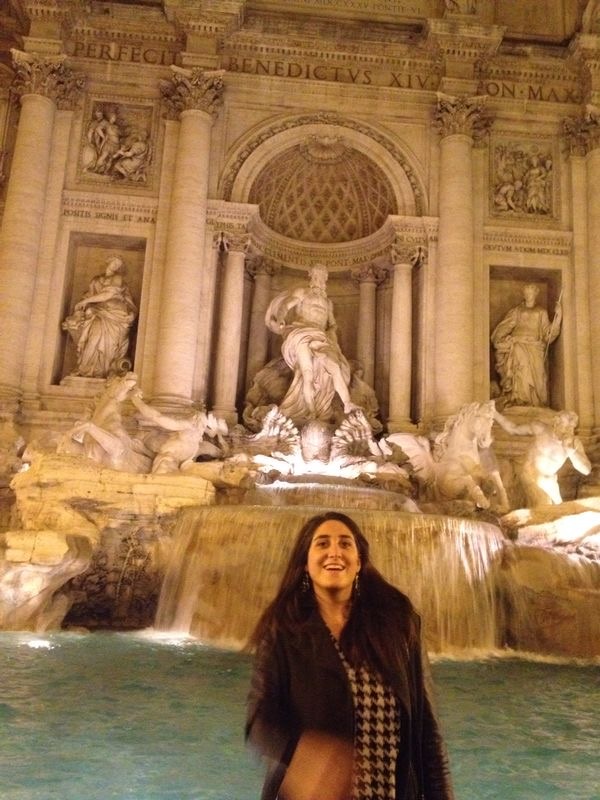 Her hard work paid off. In just two years, Baracchi worked up to her current role of digital marketing and e-commerce manager for Maybelline NY and Essie (nail brand). She is responsible for all digital media campaigns, social and influencer activations and promotional plans for e-commerce launches and big events (such as Prime Day, Black Friday and Christmas). 
"It's the unknown surrounding digital that fascinates me. If you think about it, no company really nailed it or knows the answer to a perfect digital strategy -- probably because there is not one solution but infinite."
Baracchi recently transitioned to an even bigger role, moving from the Consumer Product Division to the Professional Division as e-commerce merchandising manager for all the brands in the division: Kerastase, L'Oréal Professional, Redken, Matrix, Biolage and Shu Uemura. She will manage e-commerce strategy related to promotional plans, assortment and pricing in order to reach sales goals. She is excited to see how the new role aligns with her interests.
"I've always been passionate about professional hair products, whereas the makeup side of the business required a learning curve" Baracchi says. "Now that I have this new job in a division where I love the products personally so much, will be interesting to see the difference it will make."
Baracchi believes that passion and desire are the strongest drivers in life. "Personally, I would not be able to work if I was not passionate about what I am doing."           
Emily Larson '20 Finds Fashion and Freedom in Florence
Passion is what landed her at another big-name business: Disney. It was 2014, and Baracchi was looking for a full-time job but wanted it to be the right fit. "The first question I asked myself was, 'Where do you see yourself waking up every morning and working for a product/service you love?' The answer was Disney."
She scoured the Disney website and LinkedIn for Italy-based job postings and came up empty. Next, she searched for Disney employees on LinkedIn. "I found a profile in Italy, quite high level in The Walt Disney Company Italy, who had attended my high school. That was it."
The pair connected, Baracchi made her pitch and her name was in the pool when a position for a digital marketing coordinator opened up. "He told me how impressed he was, how my persistence in getting a job in Disney despite no job postings really demonstrated my interest and passion for the company and the industry."
The highlight of her experience: meeting filmmakers and cast members when they came to Italy for movie premieres. "As I was in the digital theatrical team, and I had a good English level, I was the one interviewing them to get material for our social media accounts."
Passion is what drove Baracchi's path at Bentley as well. "I studied what I loved. I came to Bentley to study corporate finance and accounting, copying exactly what my successful older brother did. However, after my first course in finance I understood it was not for me. So, I experimented, I tried taking different courses until I found what I really loved."
That turned out to be a Marketing major with a Liberal Studies Major in communication; the latter added following an internship at a video production agency in Italy. "I wanted to add a creative aspect to my degree. I discovered LSMs, opted for Media, Arts and Society, and started taking all the courses on cinematography and absolutely loved it."
Explore a Liberal Studies Major at Bentley
After that milestone, Baracchi decided to do an internship every semester. "I wanted to understand if what I studied in theory, was as I imagined in real life," she recalls. During an internship at Fox25, she successfully pitched Bentley for the TV station's "College Tour" and also appeared on camera for the "Snack Attack" segment. Baracchi was alongside the owner of Toscanini's ice cream creating a concoction with Nutella and Teddie's Peanut Butter.
Though she admits to being someone who gets easily bored, that isn't happening now. "I am never bored, I've seen different companies, different worlds, lived in different cities and experienced the ongoing changes in digital."
On a typical morning (pre-COVID), Baracchi meets with colleagues in the company's café, sipping a cappuccino ("only in the morning for us, not after lunch"). Then it's either tackling projects at her desk, filming makeup tutorials for L'Oréal-owned platforms with influencers or working with the supply team to build offers for Amazon.
And, unlike when she started, her bathroom is now "full of makeup."