Faculty Recognized for Outstanding Scholarly Contributions
From ethical decision-making in the boardroom to indigenous history in the Bangladeshi borderlands, professors' research has far-ranging impact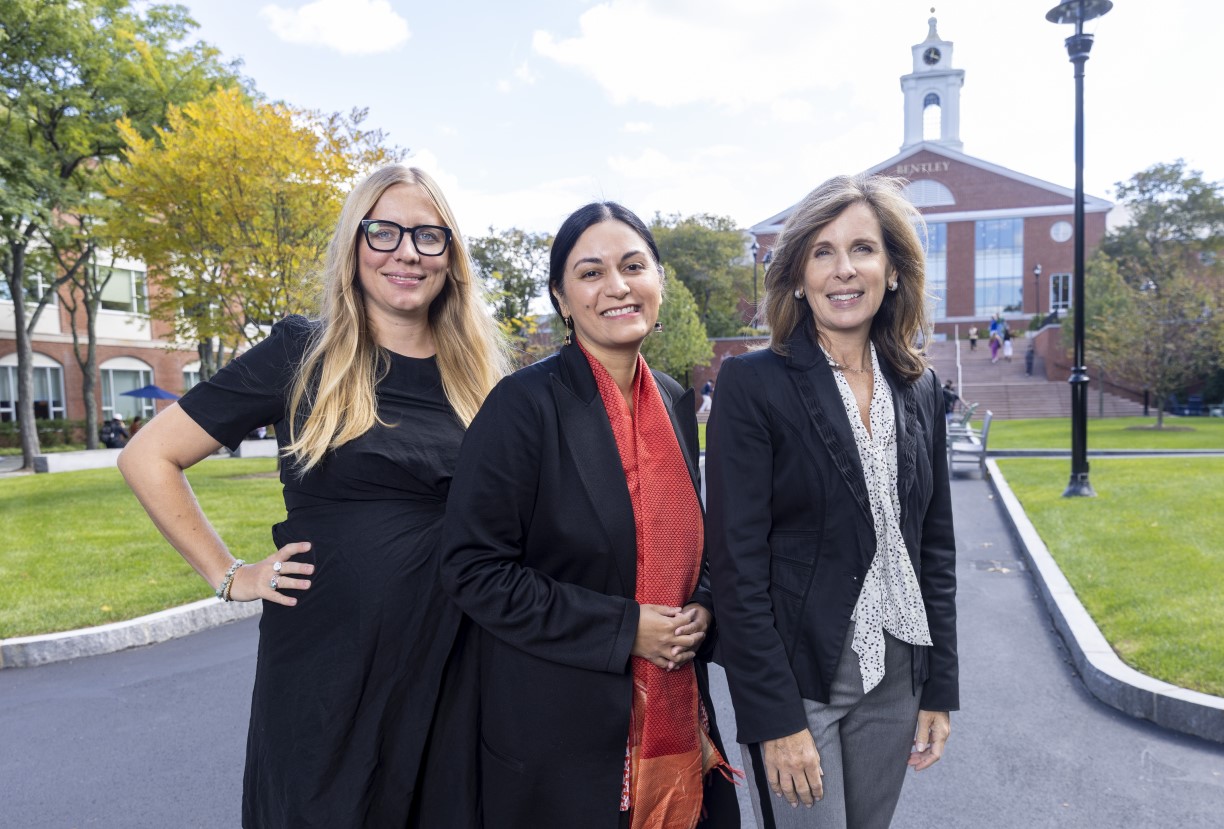 Photos by Kevin Maguire
Each year, Bentley recognizes a select group of faculty members for their innovative and impactful research with Outstanding Scholarly Contribution Awards. Honorees are nominated by members of the Bentley community for research conducted within the past three calendar years, and recipients are chosen by fellow faculty members on the Teaching and Scholarly Activities Committee. The committee considers the quality and reputation of the publisher and outlet in which the scholarly work appeared, as well as external recognitions, demonstrated public interest and the impact of the research in each scholar's respective field.  
Read on to learn more about Bentley's 2022 recipients: 
Cynthia E. Clark, Management
Cynthia Clark is passionate about bridging the gap between research and practice. Indeed, the desire to distill actionable knowledge from abstract academic theories is what inspired the Management professor to leave a successful Wall Street career and pursue her PhD. Working with C-suite executives and board members awakened her passion for corporate governance, Clark explains, but she was frustrated to discover contemporary academic research on the topic focuses almost exclusively on theory instead of practice. "Most researchers were simply observing trends in existing data, rather than consulting directly with board members," she says. "I wanted to change that."
Mission accomplished: Since joining Bentley's faculty in 2006, Clark has become an internationally recognized expert on corporate governance, ethical decision-making and shareholder activism. Founding director of Bentley's Harold S. Geneen Institute of Corporate Governance, she is the author of two books, 32 journal articles and several groundbreaking industry reports — including the annual Census of Women Directors and Executive Officers in Massachusetts Public Companies, a comprehensive report tracking the progress of women in corporate leadership positions — all resulting from primary research undertaken with serving board members.
"When I left Wall Street, I kept in touch with various board members I knew and reached out to them consistently to understand how they engage in decision-making in the boardroom," Clark explains. And she's extended her network further through frequent speaking engagements with Fortune 500 companies, such as Morgan Stanley and KPMG, and professional associations and advocacy groups, including the National Association of Corporate Directors and 50/50 Women on Boards. As a result, Clark's research is enviable for its impact; engaging directly with practitioners allows her to not only understand their most pressing issues, but also to provide real-time, evidence-based strategies for resolving them.
Clark's newest book, "Giving Voice to Values in the Boardroom" (2021) — a finalist for the 2022 Responsible Research in Business and Management Best Book Award — perfectly illustrates this principle. A practical guide to decision-making, the book features a series of exercises that encourage readers to contemplate how they would respond to various governance challenges, such as strategic planning and monitoring, director independence and selection, privacy and data usage, executive compensation and CEO succession strategy. "Boards must focus on the moral element as well as the legal aspect of their work," Clark explains, noting that the book's exercises are specifically designed to help members develop what she calls "moral muscle memory" — that is, the ability to respond effectively and ethically when conflicts inevitably arise.
"Moral muscle, and the knowledge that you possess it, is one of those skills we all need to function well in a complex workplace," Clark says. And it's imperative in the boardroom: "As boards of directors are in a unique position to affect change in the business world, it's essential that members develop the competence and confidence to voice their values, even when forces might compel them otherwise."
Explore more of Professor Clark's research
"Business and history are inevitably intertwined," says Angma Jhala. "Understanding the nature of historical change — how economic events are shaped; how financial institutions and corporations are created and managed; how political, religious and cultural realities shape our circumstances and our choices — is essential for those engaging in business decisions." 
This belief, along with the desire to "teach a diverse and engaged group of students from the U.S. and around the world," is what brought the History professor to Bentley in 2008, shortly after receiving a doctorate in modern history from Oxford University and a Master of Divinity from Harvard University, and following a year of teaching at Tufts University. And it continues to inform her scholarship, which focuses on the history, culture, religion and politics of South Asia.  
Since coming to Bentley, Jhala has authored three books — as well as several scholarly articles in such esteemed publications as Modern Asian Studies and the Indian Economic and Social History Review — exploring various aspects of South Asian colonial and post-colonial history. Her earlier research focused on the legal, socio-political, material and aesthetic contributions of Indian "courtly women," many of whom lived in the gender-segregated zenana (women's quarters) of Indian palaces.  
Jhala's latest book, "An Endangered History: Indigeneity, Religion and Politics on the Borders of India, Burma, and Bangladesh" (2019), focuses on the diverse indigenous groups that inhabited an area known as the Chittagong Hill Tracts, a region spanning the borders of present-day India, Myanmar and Bangladesh. The area came under the influence of the English East India Company and, later, the British Crown, during the late-18th through mid-20th centuries.   
A region of "rich religious and cultural hybridity," the Chittagong Hill Tracts fascinated British colonial administrators, who felt compelled to catalogue their experiences, Jhala explains. Their archives — which include personal diaries, letters and memoirs; poetry, fiction, photographs and drawings; and census reports and geographic and ethnographic surveys — thus "provide a significant window" into the cultural, political and geographical histories of the region. "From East India Company botanists to the pukka sahibs [civil servants] of the British Raj, colonial administrators not only patrolled and policed the region, but also recorded and romanticized it," she notes. In so doing, they "created new intellectual practices, literary genres and disciplines" through the integration of European knowledge systems and South Asian cultural traditions. 
Despite the voluminosity of these colonial archives, the history of the Chittagong Hill Tracts has long been overlooked in broader histories of the region; attention has focused instead on post-colonial Partition and the emergence of nation-states. But Jhala is hoping to change that by bringing attention to the long-forgotten history of this diverse and dynamic border area.  
"Slowly but surely," she says, "indigenous voices are entering into mainstream national historiography" — a welcome inclusion that can only serve to "illuminate our dynamic and interconnected global history."   
 
Explore more of Professor Jhala's research
Mareike Möhlmann, Information and Process Management
When it comes to scholarship, you might say Mareike Möhlmann has experienced an "Uber" successful year.  
That's because the assistant professor of Information and Process Management — a discipline exploring the systems and technologies that enable organizations to sustain value creation and profitability — recently published influential research examining how employees feel about working for online labor platforms (OLPs), which rely on computer algorithms instead of humans to manage personnel. For their study, Möhlmann and her co-researchers focused exclusively on workers of a certain well-known ride-hailing service: Uber.  
The resulting paper, "Algorithmic Management of Work on Online Labor Platforms: When Matching Meets Control," was published in the prestigious journal MIS Quarterly last December. It quickly garnered international attention, including a front-page story in The Times of London and coverage in more than 200 press and TV outlets worldwide, and prompted a series of Harvard Business Review articles about ethical management in algorithmically administered work environments. 
Essentially, Möhlmann's team found that algorithmic management via the Uber app resulted in "frustration and confusion" among drivers, in particular "tensions relating to work execution, compensation and belonging when working 'for' algorithms" instead of people. More specifically, drivers resented the constant surveillance of the Uber app, which not only tracks their location, traveling speeds and client acceptance rates, but also provides instructions on how to reach a client's stated destination. The Uber algorithm thus severely limits worker autonomy; as Möhlmann notes, "drivers can be penalized or even banned from the platform if they diverge from the app's instructions."  
Drivers were further frustrated by the algorithm's lack of transparency — especially regarding job allocation, performance ratings and payment structure— and reported feeling "lonely, isolated and dehumanized" by the inability to develop personal relationships with a (human) supervisor. As a result, Möhlmann says, Uber employees have found creative ways to "game the system," including platform switching (alternating weeks driving for Uber with working for competitors like Juno and Lyft) and artificially creating "surge pricing" (i.e., logging on and off the Uber app at strategic times to create more demand for rides, and thus higher fares). 
Möhlmann appreciates the frustration of Uber employees and other gig economy workers, who often choose freelance work because they want greater autonomy only to find their efforts stymied by a "platform programmed to always be in control." Yet, she also believes that OLPs like Uber are here to stay. "Given the rapid pace of technological progress, and the tempting economic benefits for companies, algorithmic management will become even more common in the coming years," Möhlmann says. "As more companies manage their labor force in this way — and as they incur the anger of the workforce that makes their core offerings possible — it becomes more incumbent upon them to find a better balance between their own organizational needs and the well-being of their workers." 
Explore more of Professor Möhlmann's research
RELATED: 2021 Outstanding Scholarly Contribution Awards