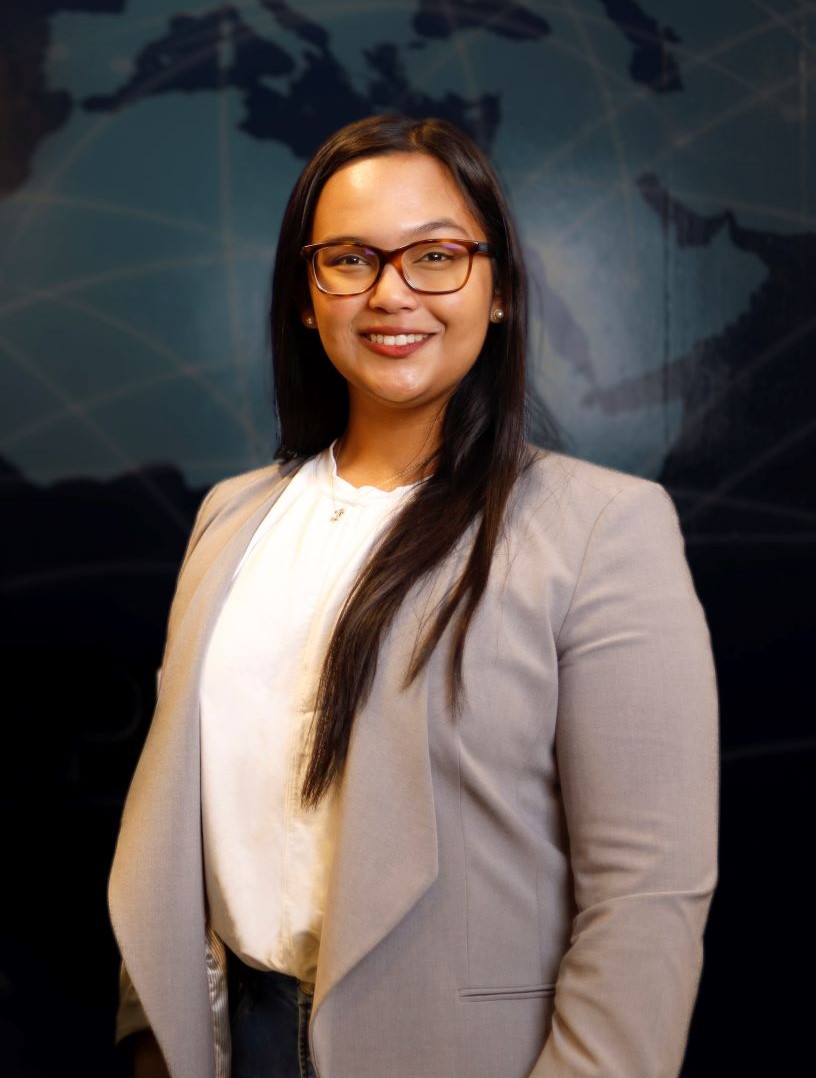 Photo by Marie Tarot
Global Storyteller
Kerisse Seepersad '22 brings data to life
The stack of books on her nightstand is evidence that Kerisse Seepersad '22 loves reading. But she also loves storytelling — and believes that stories can be strengthened through data analytics and research. She's learned this firsthand how to use data to present compelling narratives on topics she's passionate about, like the religion and colonization of communities such as the Republic of Trinidad and Tobago, her home country.   
"I love numbers, but I also love liberal arts," Seepersad says. "The beauty of a Data Analytics major is that it combines quantitative skills with qualitative skills: analyzing numbers and presenting results through visualization charts, for example."  
For Seepersad, the thought of number-crunching is never dull. In fact, she prefers a challenge. As a sophomore, she added an Actuarial Science minor and in summer 2021 was ready for an internship at NGL Insurance Brokers in Port-of-Spain, Trinidad and Tobago. Seepersad led quantitative, analytical research projects to bid for large clients and advise on investment opportunities. For her next internship, she set her sights on working in Sweden, a leading European technological hub.
I love numbers, but I also love liberal arts. The beauty of a Data Analytics major is that it combines quantitative skills with qualitative skills.
"I really wanted experience in the tech sector; it is the way the world works and progresses," Seepersad says. After meeting with a co-founder of Divly in Stockholm, she says, "I knew I wanted to be there. Divly is a startup with a lot of dynamic conversations going on."  
But with a dynamic culture comes a need for adaptability — and that includes Divly interns like Seepersad.   
"I went in expecting to do visualizations and when I got there, they needed my coding skills," she recalls. "I don't think I'm necessarily good at coding, but I had a foundation from my classes at Bentley and there was a demand for those skills."  
Seepersad pivoted on the spot, using high-level programming languages like Python and visualization software like Tableau and Google Data Studio to problem-solve. "I had to learn on the go; it required self-management, self-motivation and a drive to see what I could do with my own capabilities. The experience wasn't easy, but I recognize now that it also taught me soft skills."  
CULTURAL IMMERSION  
It wasn't all about coding and technology in the Scandinavian country — which was new territory for Seepersad. Coastal islands and inland lakes spoke to her love of water. Local people spoke to her passion for cultural connections.    
"When I'm in a new place, I always start off exploring the culture," Seepersad says. "I like to go to museums; through history, I learn what the society looks like and why it looks the way that it does."  
During a three-hour train ride to Gothenburg, a city situated on the country's west coast, Seepersad sat next to a family from northern Sweden. "Just speaking with native people and getting to hear about their experiences, I learned about the healthcare of Sweden, family leave, the infrastructure. I also began to understand why people are so reserved and how they interact with their families. You never know what you will learn from hearing peoples' stories."  
That kind of immersion into a new culture is something Seepersad has experienced as an international student at Bentley as she balanced maintaining her sense of self with her new campus community.  
"The International Student Association connected me with students who had experienced the challenges of adjusting to the American educational system and society, and that was comforting to me," Seepersad says. 
For her Honors Program capstone project, Seepersad researched the colonization of her home country, a nation consisting primarily of two Caribbean islands just off the northeastern coast of Venezuela.   
"As twin islands colonized by European powers between the 15th and 20th century, Trinidad and Tobago's population mirrors the transnational connections formed through the migration (forced or otherwise) of persons from across the world," she explains. "Its social landscape is framed by the arrival of multiple ethnic, racial and religious groups across centuries, causing contemporary Trinidad and Tobago to be an amalgamation of global cultures. Historical movements of persons from Africa, Europe and Asia to Trinidad and Tobago have molded religious structures that impact modern day society, cultural interactions and inter-religious, interpersonal relationships."  
Seepersad was moved when, during her capstone presentation in April 2022, she noticed people in tears. "I didn't expect that to elicit an emotional response but talking about the pain of immigration and bondage connected with a lot of people in the audience. No matter your background, if you look back on your history you have some kind of story that connects with the pain of losing that culture and heritage.   
"Not everyone is like me at Bentley, but something in my story could connect with all of these people and their stories," she continues. "I was proud of myself for that."
Not everyone is like me at Bentley, but something in my story could connect with all of these people and their stories.
With a gift to connect to others through storytelling and empathy, Seepersad fits the role of advocate, including on the ISA executive board and as a member of Students Advocating Gender Equality. She was also a career colleague in the Pulsifer Career Development Center and has specifically helped implement on-campus programming with international alumni who got jobs in the U.S. and employers who hire international students.  
"There's a massive gap for international students to find internships and jobs in the U.S. because of visa requirements and cultural differences," Seepersad says. Spearheading programs to help address that for international students at Bentley, she says, was "a big highlight for me because I feel like I enacted change."  
Seepersad continues to work toward her career goals. She has passed two actuarial exams, completed an internship at Plymouth Rock Assurance in fall 2022. She is joining the actuarial team at Chubb in Philadelphia in January 2023 for a full-time role after she graduates in December. She will continue to tell stories through her work.   
"Everyone needs someone to analyze and make sense out of data," she says. "And it's a lot easier when you tell that through a story rather than just presenting facts."
RELATED: Cem Özsümer '23 demonstrates how coding can impact business