Unraveling the 'Wicked' Web of Sustainability
National Science Foundation Awards $1.4 Million to Combine STEM and Business Learning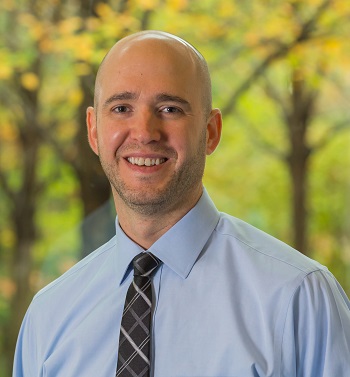 Ask Dave Szymanski to describe sustainability, and he'll tell you it's a "super wicked problem" facing our global economy. But the Associate Professor of Geology isn't just using geographically appropriate slang. In the realm of applied science and public policy, "wicked" is used to describe an issue so complex, there is no simple solution — or even a single way of defining the problem.
While others might be daunted by the prospect of solving the seemingly unsolvable, Szymanski, together with Dean of Arts and Sciences Rick Oches and Associate Dean of Business Otgo Erhemjamts, thinks Bentley has found an ideal framework to study and teach sustainability: A new curriculum that combines STEM (science, technology, engineering and math) with business education to help tomorrow's business leaders think about sustainability today.
The National Science Foundation thinks Bentley is on the right track, too. It recently awarded the university a five-year, $1.4 million grant to develop, implement and evaluate curricula for college students that combine STEM and business, with an eye toward unraveling the "wicked" web of sustainability wrought by poverty, hunger, gender equality, climate change, energy use and other complex global issues. As lead principal investigator for the project, Szymanski will coordinate the efforts of 30 faculty members from Bentley and two other universities: Wittenberg University, a small, private liberal arts college in Springfield, Ohio, and Northern Illinois University, a large, public research institution in DeKalb.
According to Susan Richman, director of foundation relations and sponsored programs, the award is the largest federal grant Bentley has received. "It's very difficult for a university to get funding from the NSF, especially a business school," she says, noting that most grants go to larger schools with more established federal research programs.
Research with Real-World Impact
This new grant builds upon the success of an earlier NSF-funded project at Bentley. In 2010, Oches was awarded $130,000 for a pilot study that integrated STEM and business education. He brought together faculty from various departments to design courses to explore a single sustainability issue — specifically, American use of the biofuel corn ethanol — from multiple perspectives.
All of the students involved in the project first reviewed U.S. Department of Agriculture statistics from the 1960s through today, plotting data and observing trends. Then they participated in exercises specific to their field of study, such as producing corn ethanol in lab experiments in Environmental Chemistry courses and analyzing cost-benefit considerations of growing corn for food vs. fuel in Economics classes. As a result, students were able to see firsthand how the relationships among science, economics and government combine to complicate sustainability solutions.
Szymanski notes that the project was "remarkably successful" — and not just for the students involved. "We found it had a transformative effect on faculty members, too," he explains. "This project really helped break down the silos, encouraging faculty to think outside their disciplines. They became more engaged, both with the subject matter itself and with each other."
Students Study Geological Changes on Cape Cod
The success of the first project became the driving force for the new NSF-funded research, which will follow the same classroom model. However, the emphasis now is as much on faculty collaboration as course content. "Our vision is to fundamentally transform the way institutions of higher education think about how and what they're teaching their students," Szymanski says, noting that the project could pave the way for universities across the country to offer courses that integrate STEM and business.
As Szymanski sees it, Bentley is uniquely positioned to equip a 21st-century workforce to untangle the "wicked" web of sustainability issues created by the competing demands of people, profit and the planet: "At Bentley, we educate business leaders who are at the front of the pack in terms of their ability to recognize and address complex global problems. The combination of business and STEM is central both to our students and a sustainable future."