Saving the World One Sip at a Time
Shannon Fairweather '20 and Daniel Linger '17 Bring Sustainable Sippin' to Bentley
Above: Sustainable Sippin' co-founder Shannon Fairweather '20 with one of the company's reusable straws.
ABC Shark Tank investor Kevin O'Leary (aka Mr. Wonderful) is known for meting out tough advice to aspiring business startups. So when Sustainable Sippin' co-founders Shannon Fairweather '20 and Daniel Linger '17 got his shout-out for their brandable, stainless steel, reusable straws, they knew they were onto something. 
"Just like Mr. Wonderful said: 'It's a good idea,'" Linger notes with a smile, going on to cite the company's serious mission: reducing the 500 million-plus plastic straws used each day in the United States. "We want to start a public movement toward reusable straws. It's one simple but incredibly effective step we can all take to help turn the tide of human pollution." 
Hear what 'Mr. Wonderful' says about the company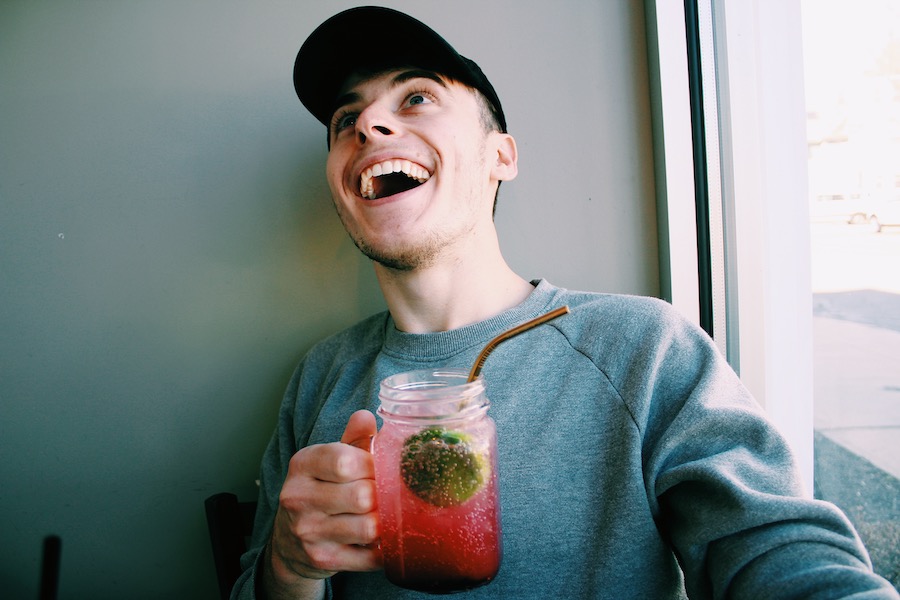 Fairweather and Linger launched Sustainable Sippin' in August 2018. They had been waiting for the right opportunity to start an ecommerce business rooted in their shared passion for sustainability; stainless steel straws fit the bill. Their product's differentiating factor is customization: Companies and organizations can have a branded message engraved on straws. Moreover, each sale will contribute to the greater good.
"A strategic goal of ours is to produce enough sales revenue to give back to charities committed to cleaning up oceans," explains Fairweather, who majored in Information Design and Corporate Communication. "It's our job to be a socially responsible business."
Fairweather and Linger met in an industrial ecology course at Bentley.  He was a "science kid" who grew up digging rocks and loving the outdoors. She was a "beach kid" who enjoyed the sea and sand during family vacations in Florida and on Cape Cod. 
"It always broke my heart to see trash on the beaches, and I grew particularly concerned about how it was affecting sea turtles," Fairweather recalls. "Since my parents worked in the restaurant industry, I was also very aware of the huge amount of plastic straws being used."
She learned even more through sustainability courses at Bentley. "From that knowledge came a passion to do something about it. Then I met Daniel."
It's our job to be a socially responsible business.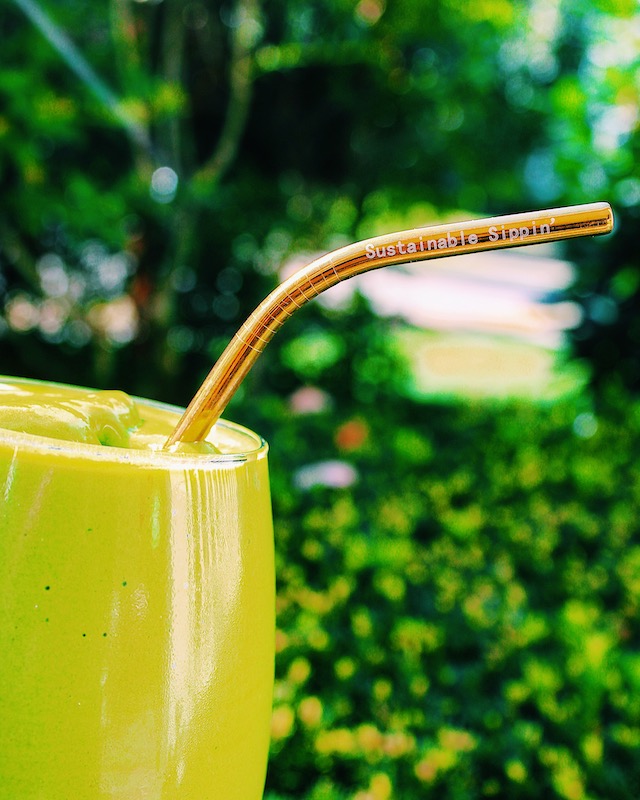 Their allegiance to sustainability and business created an instant connection. In class they worked together on group projects, but their conversations often came back to launching an ecommerce business.   
"At Bentley we were surrounded by people talking about entrepreneurship," says Linger, who combined a Marketing major with a Liberal Studies major in Earth, Environment and Sustainability. "To be around that energy all the time is very powerful. You can't help but gain confidence about starting your own company."
So, when Fairweather proposed selling reusable straws, Linger didn't hesitate. At the time, he was building a website for an energy developer, so ecommerce was "an easy transition." 
From a makeshift office in Linger's home, they started working on supply chain management and using social media to market the business. It gathered Instagram followers and, in 2019, Sustainable Sippin' got its first bulk order — from University of Connecticut GIVE, an online fundraising program to support the university.
Both founders are designated as company CEOs and jump in on whatever needs to be done. Their official division of labor is online marketing lead generation, Facebook and Instagram advertising, and back-end website software (for Linger) and social media, customer service and order processing (Fairweather).
Surrounded by people talking about entrepreneurship, you can't help but gain confidence about starting your own.
Launching the business as a college junior found Fairweather juggling CEO duties with academics, internships and study abroad in Dublin, Ireland. The challenges felt familiar, though. During high school, she had created Dirty Water Media, a teen-focused entertainment website that falls under the umbrella of her parents' media company. And being at a business school made it easy to connect academic lessons to life outside the classroom. 
Fairweather credits her professors for their enthusiasm and support. For example, one management professor invited her talk to the class about Sustainable Sippin' and create its business plan as her final project for the course. In fact, she was sitting in a management class during a pivotal day for the young company.
"A massive amount of orders started coming in," recalls Fairweather. "I'm not going to lie: I started fulfilling them right then and there."
Since then, business continues to grow. The product line has expanded to include stainless steel travel mugs, a clothing line and a reusable tote bag. In November 2019, Sustainable Sippin' partnered with Dune Jewelry to create eco-friendly gift sets.
The company will have a homecoming of sorts in fall 2020. Through a partnership with Sodexo, the university's food service provider, Sustainable Sippin' straws will be available for purchase in Bentley's dining halls and at the bookstore. The co-founders are happy to help eliminate the use of plastic straws at the place where their venture began and to support Sodexo's efforts to promote sustainability on campus and around the globe. 
"There's something unique about Bentley," Linger says. "It's one thing to learn in the classroom while reading a textbook or taking a test, but another thing to take that information and put it into something that makes a difference."
Fairweather agrees. "Bentley has given us the opportunity to go out in the world and use our knowledge for something much greater."
Bentley students study sustainability during two weeks in Iceland