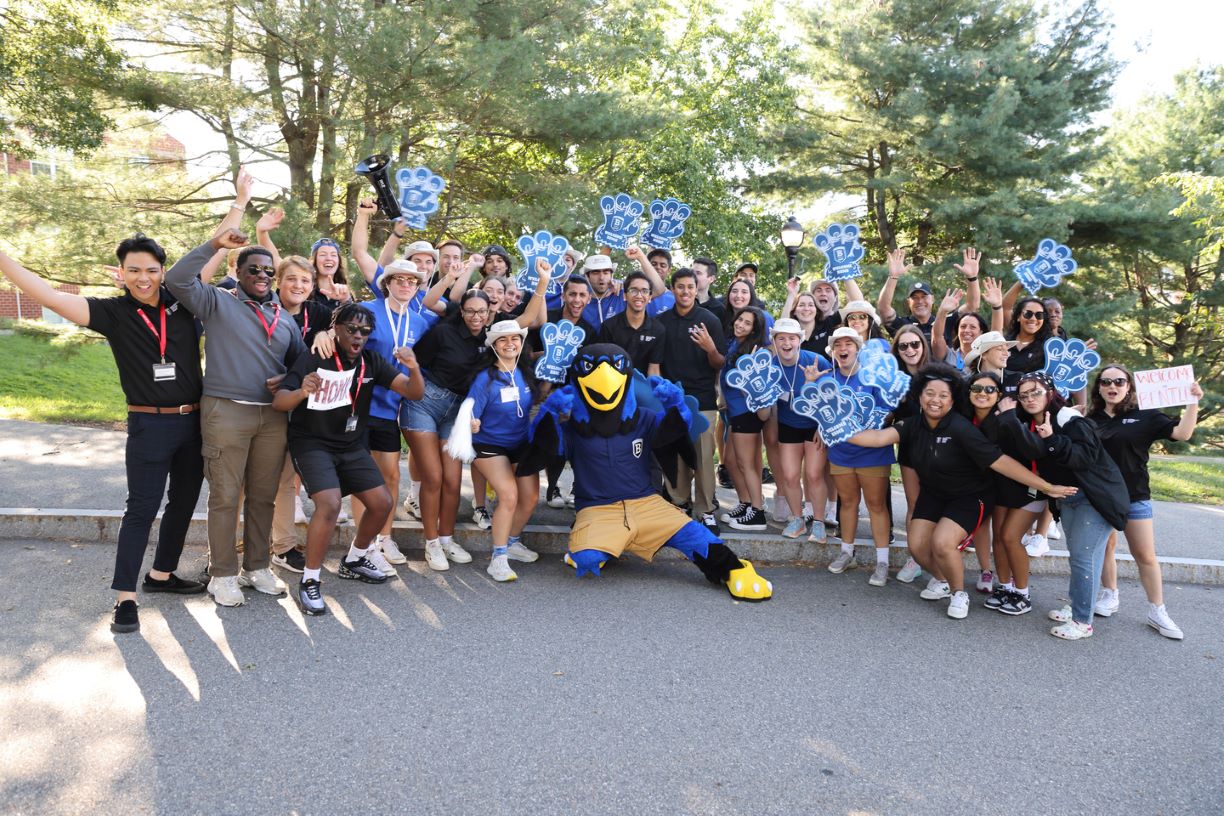 Photos by Maddie Schroeder and Jamison Wexler | Video by Caleb Gowett
A Spirited Welcome to Campus for Bentley's Class of 2027
Amid a mix of sunshine, a light breeze and a sea of "Bentley blue" t-shirts, Bentley's weeklong move-in festivities kicked off with high energy as the university welcomed the Class of 2027. The 1,138 students in the entering class — including 23% who are the first generation in their families to attend college — arrived on campus with an impressive list of accomplishments. Among them: a technophile who builds PCs from scratch, an "extra" actor on HBO, a licensed livestock agent, a mogul skier ranked in the top 10 in the world, an excavator of ancient tombs in Greece, a volunteer who teaches math to children in orphanages, an American Ninja Warrior and an inventor of a device to save lives during heart surgery.
As they arrived on campus and began their journey as official members of the Bentley community, students were met with cheers, high fives, fist bumps and even a few dance moves from orientation leaders and student volunteers who led them to residence halls where large rolling carts were ready to be filled with twin XL sheets, shower caddies, posters, power strips and comforting reminders of home. A small stuffed goat that sits on first-year student Bella Elguezabal's bed, for example, is a memento of the "GOAT" nickname her friends gave her in high school.
Throughout the day, the buzz of first-time greetings between new roommates, last-minute advice from family members, music playing from dorm room windows and activities on the campus green space reflected the day's excitement.
"My main goal is to make new students feel as welcome as possible and let them know they made the right choice," says Evelyn Fuentes '25, a Management major and orientation leader who was waving and cheering loudly as students entered campus. "This school is full of opportunities; my advice is to try new things and take advantage of those opportunities, but always be true to yourself."
Elguezabal, who is from Londonderry, New Hampshire, is excited to be part of the Women's Leadership Program. Her roommate Faith Hoover '27, from Salem, New Hampshire, has plans for the Women's Club Ice Hockey team. Their floormate Emily Confoey '27, from Westwood, Massachusetts, is hoping to learn about sustainability opportunities on campus.
"We've met so many people on our floor already," Hoover says. "Everyone is so friendly."
Move-in week began on August 28 with the MOSAIC Experience, a pre-orientation program for students of color and their allies, followed by the arrival of international students.
"I landed in Boston for the first time at 8:30 a.m. on Monday and took a taxi directly to Bentley for the MOSAIC program," says Lio Oms '27, who came from Bangkok, Thailand. "I was visibly confused when I got out of the taxi but a group of people immediately came over and helped me." 
Oms met his roommate Eli Baruchin '27 — who is from Hoboken, New Jersey, and settled into his dorm room by pulling out his guitar — when remaining first-year and transfer students arrived on campus the morning of August 31 for the university's official orientation program.
Later that afternoon, students and their families gathered in the Bentley Arena for Convocation, a longstanding Bentley tradition to welcome new students to campus in a formal ceremony. A new addition to the program was the Falcon Walk, a procession of the Class of 2027 from the Bentley green space to the Arena led by the university's beloved Flex the Falcon mascot and accompanied by a festive bagpipe performance.
Students took their places in the arena and listened to words of wisdom from speakers, including Jordyn Garrett '24 and Student Government Association President Hayden Shattuck '25, followed by Bentley University President E. LaBrent Chrite, who highlighted some of the opportunities that lay ahead of students over their next four years. 
"We'll work with you to develop the requisite analytical and technical fluencies needed in 21st-century marketplace, while also challenging you to develop your moral core and integrity, which will serve as your north star in navigating life's journey," Chrite said as he addressed the crowd in person and through a livestream video for those unable to attend. "We have very high expectations of you. We expect you to become principled and impactful leaders for a 21st-century economy; leaders who recognize that with the privilege of this wonderful education comes a responsibility to a greater good. We have no interest in educating the mind at the expense of the heart."
The ceremony featured a highlight video of campus activities from the past year, tips from fellow Falcons and stats about the Class of 2027. Students in the incoming class arrived from 33 states and 51 countries and territories; 32% identify as Black, Hispanic, Asian, Native American or multi-racial; and 15% are international (or non-US citizens or permanent residents).   
"At Bentley, we are proud to bring together students with diverse backgrounds, beliefs, experiences and opinions," Chrite told students. "On our campus, we welcome and celebrate an inclusive community. This focus on inclusivity is intentional. Our differences help us recognize how much we need community... As you begin your journey here at Bentley University, I encourage you to appreciate the transformational possibilities that result from sustained exposure to differing points of view."
Orientation, which runs from August 31 to September 4, includes informational and social activities such as a welcome for students in the Honors Program, an academic resource fair, a block party, a bingo night and a scavenger hunt. Programming will continue throughout the fall semester, including a student organization activities fair, a private concert for students, a Summerfest event with axe-throwing, a rock wall and a paint splatter room in September and a recognition event for first-generation students in October.
"Everyone is so friendly here. When I walked in, everyone was waving, cheerful, and smiling. It's such a great thing to have a strong community, and it's one of the reasons I'm here," says Sneha Mulpuri '27, from New Jersey. She and roommate Katie Sim '27, from Orange, Connecticut, had just met for the first time after Facetimes and virtual messages. 
"Everyone was super energetic," Sim adds. "I was pretty nervous coming to campus today, but now I'm excited for the rest of the day."
Her mother, Karen Sim, was emotional yet excited as she helped unpack in the dorm room. "What has impressed me the most about move-in day is the energy we saw, how organized it was. I'm super excited to have my daughter start here at Bentley. There are so many activities, they don't have time to be homesick. The only advice I have is to have fun and enjoy every minute of it."