'We Have to Rise Together'
Professor Explores Roots and Realities of Racism in America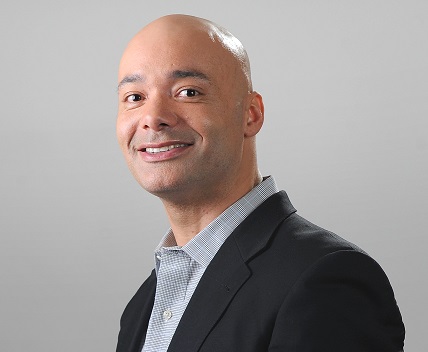 For Marcus Stewart '92, MBA '95, diversity and inclusion are academic — and then some. 
The associate professor of Management has devoted his professional life to teaching about and researching organizational diversity, cross-cultural skill building and social justice. The lessons reach outside Bentley classrooms, to diversity training workshops he runs for Fortune 100 companies and government agencies. 
Then there's his lived experience: The son of a white mother and Black father, Stewart calls himself "a mixed person who identifies as African-American" — and has experienced racism and prejudice firsthand. 
Most recently, Stewart shared his expertise and insights about race, culture and identity with members of the Bentley community during a livestreamed discussion sponsored by the Office of Alumni and Family Engagement. After the webinar, participants were invited to join Stewart for a three-part series of interactive discussions centered around Max Klau's book, Race and Social Change.
Missed our 'Advancing our View of Race and Social Change' webinar?
"We often think of prejudice as a white-people-versus-other-people thing," Stewart said in opening the webinar. "But it's a human thing."
He cited two psychological studies — the Robbers Cave experiment (1954), which divided a group of adolescent boys into two opposing teams, and the Stanford Prison experiment (1971), which cast undergraduate students as either prisoners or guards — that demonstrate how competition for resources and power imbalances give rise to discrimination and abuse.
These experiments, he said, show "the power of tribal identity and how it can create divisiveness and hostility even among people of the same ethnicity." 
Referencing the documentary series "Race: The Power of an Illusion," Stewart emphasized that race is not an immutable category based in biology, but rather a cultural construction used to create and enforce social divisions. That makes race a relatively recent invention — and one strongly associated with America. For example, while slavery was prevalent in many ancient cultures, servitude and conflict stemmed also from religious, cultural or economic differences, not only physical characteristics. In America, after indentured servitude, skin color become the basis for human bondage. 
Even though race may be a fabricated concept, it still holds tremendous power. Stewart pointed to times in American history, including decades of slavery and Jim Crow segregation, where race was used to create and perpetuate social and economic inequities between white and Black Americans. 
He also singled out the Servicemen's Readjustment Act of 1944, better known as the GI Bill. The legislation aimed to help World War II veterans readjust to civilian life, with federal subsidies for college tuition and low-interest loans for housing. However, since payments were state administered, existing Jim Crow laws were manipulated to deny benefits to nearly 1.2 million Black veterans. The result was significant racial disparities in education, employment and income — inequities that persist to this day.
New Racial Justice Task Force Begins
A Double Falcon with a BS in Marketing and an MBA, Stewart also reflected on his experience as a student. As an undergraduate, he said, "I found the campus was fairly shocked whenever Black students called out racial and socioeconomic privilege, elitism and the like."  
The largely incredulous reaction suggests that Bentley "has never fully taken on the task of diversifying," said Stewart, who is the first and thus far only tenured Black member of Bentley's business faculty. "Universities are in a unique position — as employers, deliverers of formal education and centers of socialization — to lead the fight for equity."  
This belief is one reason why Stewart signed on as a member of Bentley's new Racial Justice Task Force. Announced in June, the 114-member group of faculty, staff, students and alumni is working to identify, investigate and eliminate practices at Bentley that sustain systemic racism.  
"All of us are in the same situation — that is, ignorant — regarding various dimensions of diversity and the human experience," Stewart said, noting the critical challenge of listening to one another and "expressing differences of opinion in a civil manner with an eye toward learning and awakening and mutual support.   
"Life is not a zero-sum game where, in order for some to advance, others must lose. We have to rise together."
Want to Learn More About Racism in America? Prof. Stewart Recommends:
Race and Social Change: A Quest, A Study, A Call to Action
"This book is current, well-written and a relatively easy read. While laying bare the realities of key racial experiences and dynamics past and present — such as slavery, Jim Crow, apartheid and police brutality — it doesn't take aim at a specific racial, political or social group. Rather, Klau provides a focused and well-developed analysis regarding the variety of factors that have contributed to our current situations."  
 
Our Separate Ways: Black and White Women and the Struggle for Professional Identity
by Ella. L.J. Bell & Stella M. Nkomo
"So enlightening! This book focuses on the differing experiences of white and Black women in corporate America. The authors do a wonderful job explaining how race, class and gender stereotypes combine to create a truly formidable glass ceiling."  
Privilege, Power, and Difference (2nd Edition)
"This book does a great job with privilege. I use it in my undergraduate diversity courses along with the Max Klau book. Ironically, this author is also a white male and I feel as though this book at times becomes redundant and fairly transparent in calling out white men. But if you can endure those passages, there are incredibly insightful analysis pertaining to privilege!" 
Before the Mayflower: A History of Black America
"The richest and most powerful treatment of the African American experience I've ever read. It highlights the many contributions made by Black/African Americans to society, science and industry — achievements often accompanied by tragedy (e.g., the burning of Black Wall Street, dismantling of the Negro Leagues, the senseless deaths of Dr. Charles Drew and others). I've read the entire book at least three times."