Ally in Blackboard and Microsoft Accessibility Checker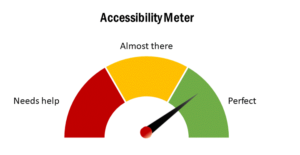 Ally is an integrated tool in the Blackboard Learning Management System (LMS) to help fix digital documents to ensure your course content is accessible for all students. Ally is a "diagnostic" tool which displays a dashboard gauge in red, yellow or green as to the accessibility of a document. Whether the document is created in MS Word, PowerPoint, Excel or a scanned document as a PDF, Ally checks the document for issues and makes suggestions to fix the document.  The goal is to make sure documents can be accessed and understood regardless if a person has a visual disability or impairment or not.
Use Cases
Determine alternate text to unidentified images, logos or pictures
Determine the reading order of tables
Identify hierarchical styles for better reading
Recommend color choices and fonts
Suggest common names for URLs/websites
To get started with Ally and Microsoft Accessibility Checker:
To participate in a one hour workshop, please contact Debra Mascott dmascott@bentley.edu or to discuss ways to remediate/fix documents, contact her at 781-891-3108.
Best Practices to Support Digital Accessibility
Images
Images and photos should have a descriptive test.
This is called ALT+text. This helps assistive technologies for visually impaired to read a description of the image.
In Blackboard it is helpful to describe photographs of a woman typing on a laptop. Likewise, if you have a pie chart be sure to describe the slices and percentages of the pie.
Fonts
Use fonts that are easy to read and large enough to view.
Arial, Calibri, Century Gothic, Helvetica, Tahoma, or Verdana: A dark color font is used for easy to read content on a white background.
Don't use highlighting or red text to call out due dates or other important information.
Avoid using a font to convey meaning. For example; avoid the use of "all items in RED are required."
Color Contrast
Best practices include black text on white backgrounds.
Be sure to avoid colors which do not have enough contrast. For example, yellow on light blue or green and red combinations do not have enough contrast to distinguish the content.
Hyperlinks
When inserting hyperlinks into documents or presentations, be sure to use a display text that identifies the URL.
When linking to other websites, insert a description in the link itself to provide a clear description of the page that will load when clicked.
Instructions such as "Click here" will not be effective for students and will slow down their navigation of a course page.
Need Help?
Contact ATC at atc@bentley.edu or email Debra Mascott dmascott@bentley.edu.