How often do you lose track of time while scrolling through endless social media feeds? You say, "5 more minutes and then I'll get back to writing my paper" but the next thing you know, you have spent an hour watching random videos – an hour you would have rather spent doing something productive.
Many people today are unhappy with how much time they spend using technology. Sometimes, it's out of boredom, habit, or fear of missing out while, sometimes, it's out of necessity such as while working remotely because of the Covid-19 pandemic.
Overuse of technology has been linked to medical issues such as vision problems, neck strain, and even heart problems from sitting for long periods of time. It has also been shown to negatively affect mental health and lead to general dissatisfaction stress and depression.
In recent times, the concept of Digital Wellbeing has been gaining traction as more and more people are realizing that it is just as important as our physical or mental wellbeing. Digital Wellbeing can be thought of as the quality of your relationship with technology and how you balance your "real" and "digital" lives. It encompasses a wide range of issues. Some issues are smaller and more personal, for example, time management issues due to unwanted screen time. But digital wellbeing also encompasses problems with global implications, such as fake news.
In this article, we focus on screen-time and how we, as designers, can play a part in improving our users' digital wellbeing in this area. A good place to start is by studying existing applications and principles employed to help people manage and monitor their screen time.
Principle 1: Monitoring and Restricting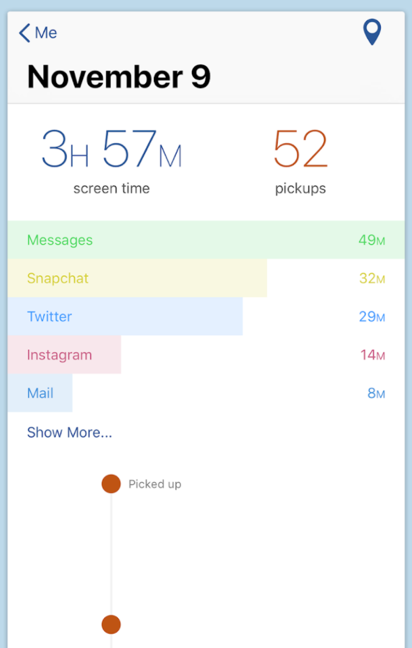 One way to help people decrease their screen-time is by providing them a way to monitor how much time they spend on different applications or allow them to better manage their time by restricting the usage of certain applications or features.
There are a few apps that help smartphone users manage their screen time by:
Blocking notifications during certain hours to minimize distractions

Providing a log of time spent on different activities to help users be more mindful of how they spend their time

Restricting access to certain types of apps during a set time
One example is the Moment app for Android smartphones, which helps users by:
- showing them their total screen time and the number of times they picked up their phone
- providing a breakdown of time spent on each app to help users understand which apps are taking up most of their time
- providing guided coaching sessions to train people to use their phones less.
In a similar vein, Apple's Screen Time feature and Google's digital wellbeing app monitor how people use their devices and generate charts to illustrate data such as time spent on different app categories. They also let users set daily / weekly limits on how much time they can spend on specific app categories.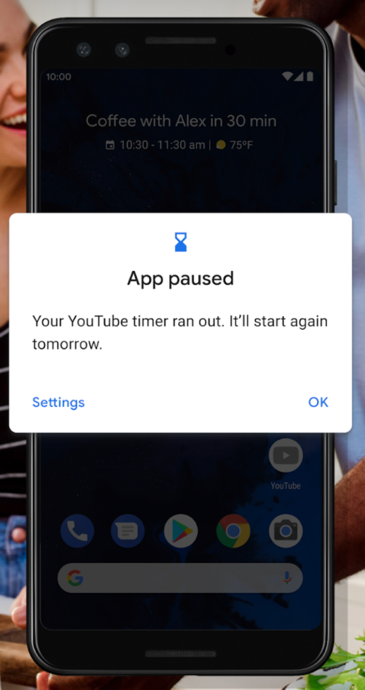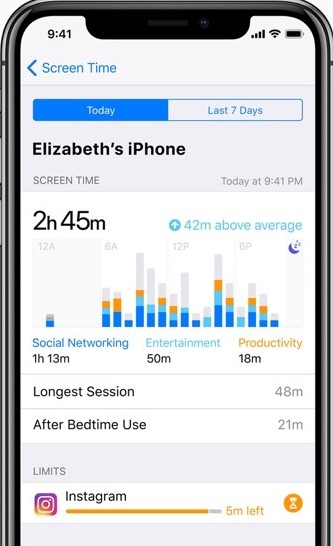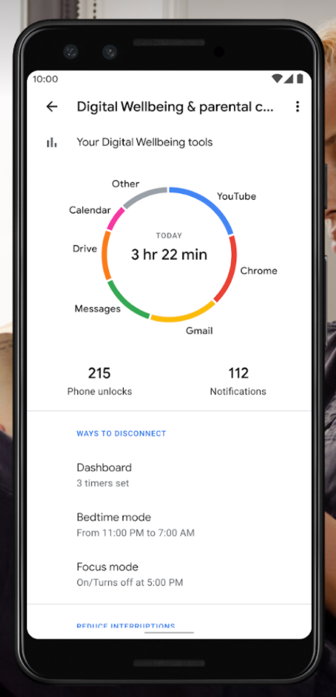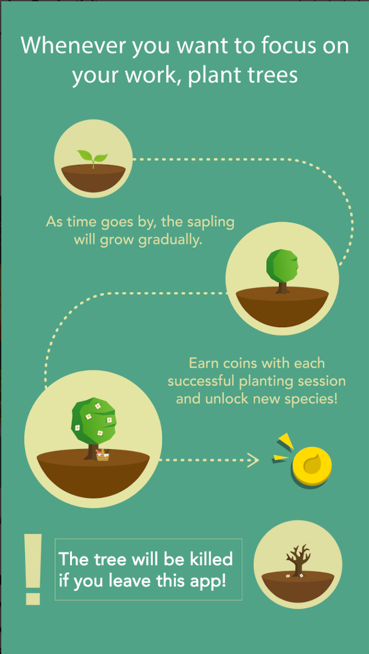 Principle 2: Rewards for Non-Use
Although the features discussed help track and control screen time, they assume that the user is motivated by the benefits of having technology-free time. However, for some users, this may not be sufficient; they may benefit from having an additional reward.
Many productivity apps use this principle to help people stay focused on their work. One example is the Forest app (Android), which involves a gamified timer. A virtual seed is planted, which grows into a tree while you focus on your work and withers and dies if you use your phone.
The sense of achievement and responsibility is expected to encourage users to focus on work and stay away from their phones. Such reward-based mechanisms may prove to be helpful in reducing screen time.

Principle 3: Reminders and Controls
Some apps and devices have introduced features that nudge users to take a break from technology. For example, Instagram introduced the "You're all caught up!" message that helps curb endless scrolling. Similarly, YouTube now allows users to disable Autoplay. These minor changes help users gain some control over their app usage.
In our current remote working situation, we are spending more time on our laptops and in virtual meetings. It would be beneficial if commonly used remote working tools and devices introduced features to remind people to take frequent breaks or reduce screen time in any other manner.
Conclusion
As designers, we need to inform ourselves of the potential harms that may result from overuse of applications we design; we should be responsible enough to inform our users of these harms and help them gain control. Therefore, while designing a new concept, ask yourself whether your product has the potential to distract, overwhelm, or harm users. You may not have complete control over the product but being mindful of the implications and making minor changes could go a long way!
Think of the 3 principles discussed in this article:
1. Restricting Access
2. Rewards for non-use
3. Reminders and controls
Keeping these principles in mind, brainstorm ways in which your product can be modified to empower your users and safeguard their digital wellbeing.
References and Helpful links
https://www.unicef-irc.org/publications/pdf/Children-digital-technology-wellbeing.pdf
Prithvi Kudva is a Research Associate at the User Experience Center. Prior to joining the UXC, she worked as a UX Researcher at Lollypop UX/UI Design Studio, where she planned and conducted user research studies for clients across domains. She also has experience working with Adobe as a consultant in Quality Assurance.
Prithvi holds a Bachelor of Engineering degree from BMS College of Engineering, where she majored in Information Science and Engineering and a Master of Design degree from National Institute of Design, Bangalore where she majored in Interaction Design. She is currently pursuing her Master of Science in Human Factors in Information Design at Bentley University.
Let's start a conversation
Get in touch to learn more about Bentley UX consulting services and how we can help your organization.