The Face of Finance NYC conference, organized by the Bentley User Experience Center and hosted by Pace University, brought together user experience (UX) design and research practitioners of all levels, along with academics from Bentley University, NYU Stern and Pace University to discuss the latest best practices and innovations in user experience, design and research for financial systems and the field of finance.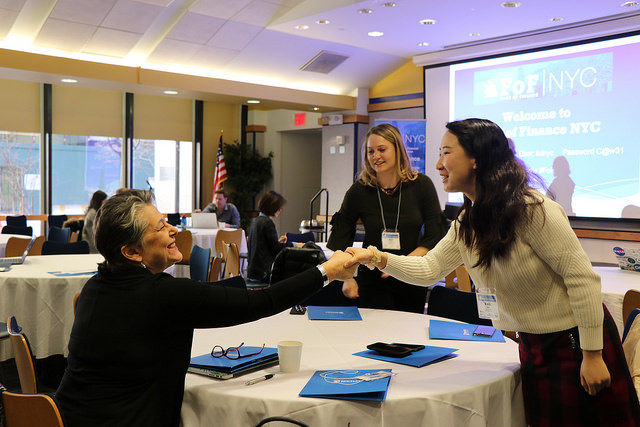 The one day conference was held in downtown Manhattan, steps away from Wall Street, and focused on the research and design that makes financial systems successful. Fortune 500 companies including Mastercard, Goldman-Sachs, Bloomberg, UBS, Boston Federal Reserve Bank, and the Center for Plain Language participated in a variety of ways which included sharing best practices, theories, case studies, firsthand experiences in the form meaningful stories, and use cases.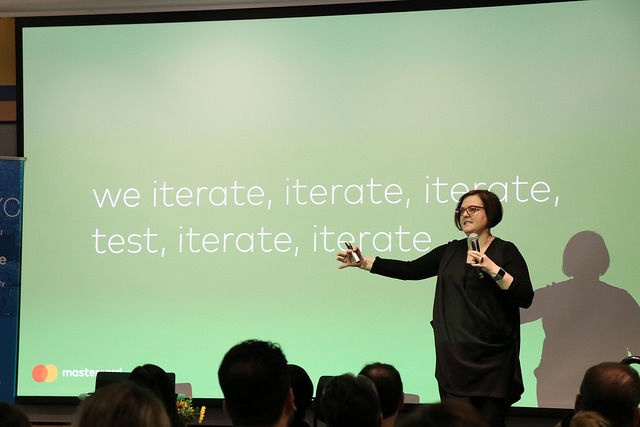 Face of Finance opened with a keynote from Karen Pascoe, SVP Mastercard (pictured at right) who discussed the importance of design in financial experiences. The impact of newly designed financial experiences has helped Mastercard deliver more successful experiences for their customers. Karen's inspirational message about creating change through design in large organizations was a recurring theme that threaded through the conference. 
The Boston Federal Reserve and Center for Plain Language got everyone excited about the impact of plain language and design on the experience for consumers using financial systems, while design discussions from Motivate Design and Bentley User Experience Center brought out design thinkers to put the big picture together. We'd like to share a few selected highlights from the Face of Finance NYC including sessions on Blockchain, UX Design, Plain Language, and Innovation: 
Blockchain

Although we have all been hearing about cryptocurrency and blockchain, many of us are still trying to figure out if this is a passing trend or something that we need to pay attention to now.  To help us sort it all out, we heard the talk 'Blockchain Revolution without the Blockchain', from Professor Hanna Halaburda (pictured at right) from NYU Stern and the Bank of Canada which was based on her book Beyond Bitcoin. https://www.palgrave.com/us/book/9781137506412 Prof. Halaburda explained why blockchain's distributed ledger will create a paradigm shift in cryptocurrencies since they are not centralized, and thus controlled by one entity. The connection to UX was described in terms of how the use of cryptocurrencies are directly related to their value.
The focus on blockchain was reinforced by Paul Brassil, from the Federal Reserve Bank of Boston (pictured at right), whose talk Demystifying the Blockchain: DLT Research at the Boston Fed explained why the Boston Fed is interested in cryptocurrencies and blockchain and how they are building a proof-of-concept to research important issues, especially as they related to UX.
UX Design: Fireside Chat

Mona Patel and Elizabeth Rosenzweig (pictured left to right) shared stories of an innovative Kodak camera project they worked on together in 2000. They described how it started with a very cumbersome prototype of the first digital camera with GPS and a company that was not receptive to new ideas.
This first digital camera with GPS was a precursor to today's mobile phone/cameras. Mona and Elizabeth walked through the development process they used way back then and shared the lessons they learned, took forward, and still use today.  In order to get stakeholder buy-in, they successfully used stories to illustrate concepts and design ideas. These stories ultimately allowed them to sell UX design and research at Kodak by illustrating the importance of testing early, even if the prototype was big and hard to manage.
Exceptional UX Begins with Words: Plain Language in the Financial Sector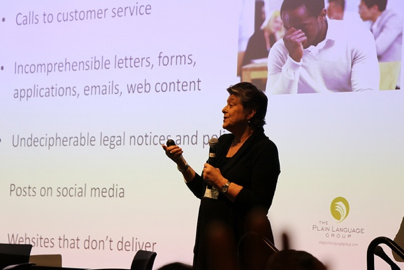 Deb Bosley (pictured at left) explained how much time and money is wasted in corporations as a result of bad design and unclear communication. $396 billion is lost annually in the financial sector, through calls to customer service, incomprehensive letters, forms, applications, policies, websites that do not deliver and posts on social media exposing problems. Ms. Bosley outlined the challenges that content presents and showed the benefits of using plain language and good text design to make financial information more understandable. The many examples and simple rules provided very practical take-aways that we all could use to make information more accessible.
How Successful Applications are Actually Made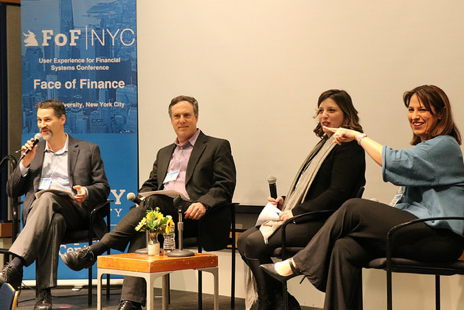 A great panel presentation discussed and moderated by Mark Safire with Gloria Petron, Stacey Sarris, Bill Albert, focused on developing and bringing a successful application to market and how it involves principles of user-centered design, innovation, and feats of diplomacy. The panel shared their personal experiences of incorporating UCD principles into the development process, ideas about knowing when and how to innovate, and the leadership skills that it takes to navigate inter-team politics and getting your application out the door (Pictured left to right: Mark Safire, Bill Albert, Stacey Sarris, Gloria Petron).
Craft, Innovation and Design

Our closing plenary presentation Craft, Innovation and Design by Steve Turbek (pictured at left) was inspiring and left us on a high note. Steve's premise was that Financial Service companies and becoming Financial experience companies and that has impact on the customer. He argued that in order to differentiate themselves. UX professionals needed to help answer questions such as "Is the idea any good". This could be accomplished through a lean process iterating on design mockups that included usability testing done quickly and integrating findings back into the design- almost as a single piece of work not separate and time consuming. In addition, UX designers needed to develop their craft so it works better for the project and the business. That the craft of UX must evolve so it meets the needs of the companies who want to integrate it. Steve left us with many great inspiring ideas.
The Face of Finance NYC included a balance of presentations demonstrating, through case studies and thought provoking discussions how the UX field can help create financial systems that work better for people. Financial systems are the engine that drive our economy and the UX of those systems influence people's relationship to their finances. Change of how financial systems are designed has the ability to enhance the quality of life and increase emotional engagement and to more often meet the needs of consumers and empower lives. 
As professionals from a variety of industries, academics, and those focused on User Experience the Face of Finance provided a forum to discuss how we can use what we know about User Experience to inform the design of financial systems that will help people gain trust in technology, support financial independent and confidence and hopefully make interacting with money a better experience.
The User Experience Center is thankful for the many varied and meaningful contributions of the attendees and speakers of Face of Finance NYC 2018. Thank you to our gracious hosts at Pace University especially Stacey Sarris and Rick Kline. We look forward to the next Face of Finance conference that brings us all together again. Look for an announcement with the date coming soon.
Get in touch with us and view more pictures from the Face of Finance NYC  https://www.flickr.com/photos/pace_seidenberg/albums/72157694184707974 All photos copyright Rachel Gonzalez, Pace University graduate student.
Elizabeth is a Principal UX Consultant at the User Experience Center. She has worked as a consultant and employee in several major corporations for more than 28 years. Her experience includes design and development, ranging from website and applications to hardware products and technology development. Elizabeth has completed projects for many major corporations and academic institutions. She holds four patents in intelligent user interface design.
Elizabeth is Founder and Director of World Usability Day, which she started in 2005 after her term as President of Usability Professionals Association was completed. World Usability Day has grown to include 44 countries with more than 180 events. Elizabeth was recognized for this work through the UPA Lifetime Achievement Award in 2009.
Elizabeth is the author of the book Successful User Experience: Strategies and Roadmaps published by Morgan Kaufman and frequently publishes in industry journals, has written chapters in three published books and presents lectures at conferences around the world.
Elizabeth holds a Bachelor of Arts in Fine Art Photography and Printing Technologies from Goddard College and a Master of Science in Visual Studies (User Interface Design and Computer Output) from the Media Lab at MIT
Lupe is the Executive Program Coordinator at the User Experience Center.Lupe provides marketing, program and business development support to the UX Certificate and user Experience Center. Prior to joining UXC, Lupe worked as Account Manager of Verizon Business successfully managing B2B clients across multiple industries. Lupe has served as the VP of Programming for the American Marketing Association, Boston chapter. She also enjoys providing insightful and innovative marketing strategies to startup companies working in the B2C space and has a passion for experiential event marketing. Lupe holds a Bachelors of Science in Marketing and is currently pursuing a Masters in Business Administration at Bentley University. 
Check out some other posts from the UXC blog including:
Blockchain Needs Service Design to Succeed
10 Blogs to Keep Your Finger on the Pulse of UX
Design for Digital Habits