Podcasts You Need to Check Out For UX
Published April 10, 2017 by Danika Teverovsky
Podcasts are a fascinating form of media – they're audio-based, on demand, and free! Here's a curated list of the top podcasts I'd recommend to UX practitioners and enthusiasts. It's not your conventional UX podcast list – these podcasts have informed my experience in the UX world from a variety of perspectives. They cover UX-related topics ranging from design, human behavior, and culture to innovation and storytelling:
Design & Architecture

User Experience & Methodology
Human Behavior, Psychology, & Culture
Storytelling
Looking to learn more about how to find podcasts that interest you?
Podcasts cover a wide range of topics – if you are interested in learning more about a topic, there is almost certainly a related podcast.
There are many ways to learn new things, but podcasts are nice because you can take them on the go, listen while you commute or exercise, or you can even listen to them with others. Many tell stories and address different issues from multiple perspectives, which is a great way to consume ideas and broaden your mind. This is key for UX – thinking about new ways to build empathy, build connections, and to learn can be essential in the multidisciplinary and evolving UX practice.
There are podcasts about UX specifically, such as UX Podcast, and podcasts about related topics tangential to UX, like human behavior, design, digital trends, language, culture, and much more (see above recommendations).
One hurdle for people engaging with podcasts is finding the right one. Here are a few tips about how to find podcasts and choose one to listen to.
Discovering and organizing podcasts
There are many ways to find podcasts. They are almost always free, so all you need is an internet connection to browse topics you like, and then you can either stream or download to a mobile device. There are helpful best of lists online like UX podcasts from User Testing or Best Podcasts of 2016 to start looking.
There are also podcast-specific apps that have both discovery and browsing features as well as podcast library organization features. These tools keep all the podcasts you're listening to in one place and make it easy to follow different podcasts or edit your collection. Some common apps for Android, iOS, or online are:
Podcasts are also available on Spotify, iTunes, or Google Play.
Some podcasts are part of an overarching podcast network. If you like a podcast in a specific network, you may enjoy other podcasts in that network as well. Some popular networks include:
Ask your friends, co-workers, and family about any podcasts they listen to! This is an easy and fun way to find interesting podcasts.
In the end, podcasts are another form of media that UX practitioners can consume. Many podcasts release new episodes frequently, and are up to date on current trends in design, human behavior, and innovation. Podcasts are an excellent addition to the UX enthusiast's toolkit for learning and discovering.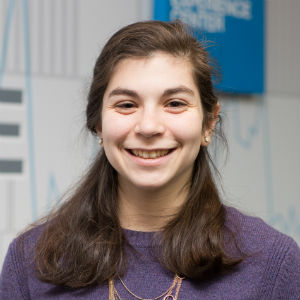 Danika Teverovsky is a Research Associate at the User Experience Center. She is passionate about creating meaningful user-centered experiences, and learning and empathizing with people from all walks of life. She loves exploring the relationships between people's brains and the world around them.
She holds a Bachelor of Science degree from the University of Rochester where she majored in Brain & Cognitive Sciences and minored in Psychology and Music. She is currently pursuing her Master of Science in Human Factors in Information Design at Bentley University.
Danika would love to hear from you about UX, design, the brain, or podcasts! Contact her at danika.teverovsky@gmail.com or at LinkedIn.
Let's start a conversation
Get in touch to learn more about Bentley UX consulting services and how we can help your organization.