Student Research Assistantships (SRA)
The Student Research Assistantship program provides an opportunity for talented, industrious undergraduate students to work closely with faculty members in an area of special interest. Research assistantships are selected students who will work exclusively on research projects. Your work-study eligibility will not be affected; however, you will have to report what you earn to the IRS as taxable income. Please note that no students, regardless of work-study status, are permitted to work more than 20 hours a week. 
2021-2022 Valente Center Undergraduate Student Research Assistantships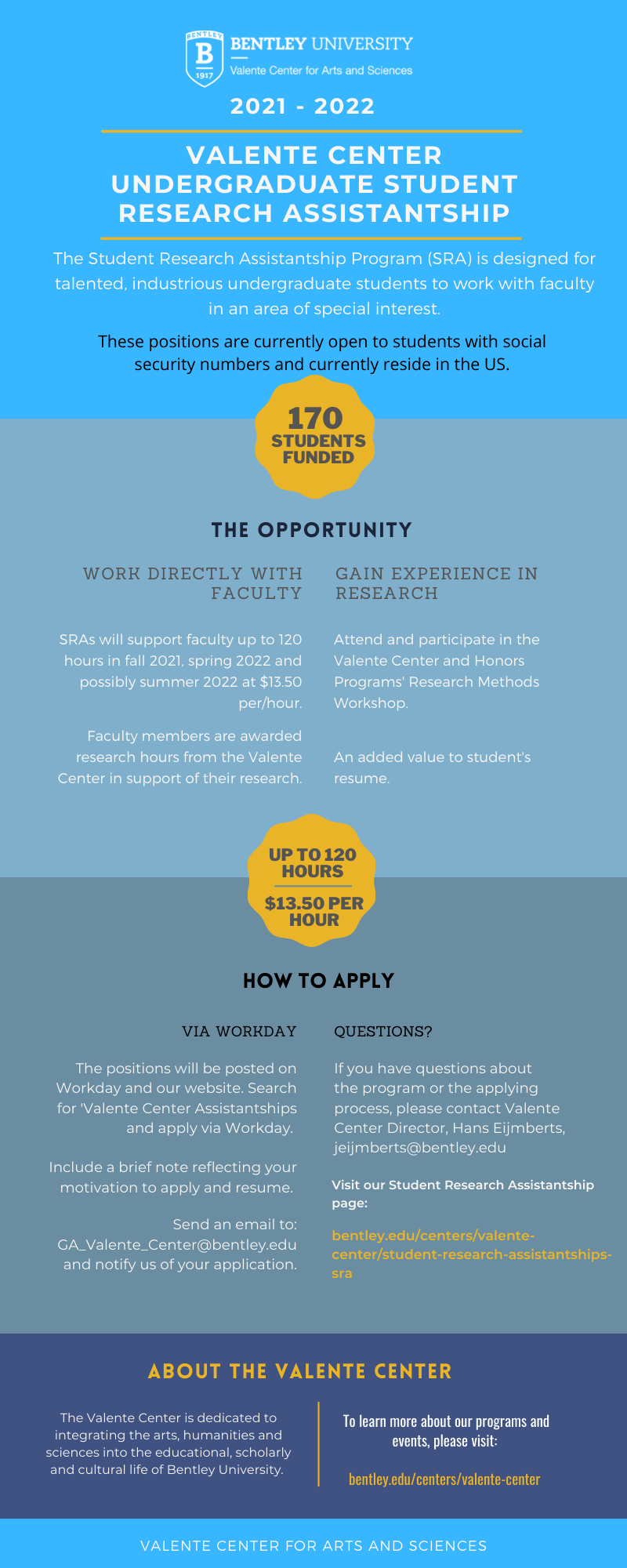 The Valente Center for Arts & Sciences fosters research at Bentley university via assistantships, workshops & seminars and provides opportunities for rich exchanges of ideas in the Arts & Sciences. The center partners with many university departments to provide research opportunities to undergraduate students. The Student Research Assistantship Program (SRA) is designed to provide an opportunity for talented, industrious undergraduate students to work closely with faculty members in an area of special interest. These positions give SRAs the opportunity to engage in research activities and support faculty members who have been awarded such positions during the academic year 2021-2022. This research experience will be a valuable addition to student's resumes. The Valente Center offers support and training to the SRAs by organizing a yearly research boot camp and meetings with the Center's research program manager.
How to apply
Each position will be posted on Workday and on our website soon. We invite students to apply for positions via Workday. SRAs will support faculty members in Fall 2021 and Spring 2022 and possibly summer 2021, up to 120 hours. The Valente Center pays $13.50 per/hour to the Student Research Assistant. 
If you're interested in one of these positions, please,
*    log into Workday and search for the Valente Center Assistantships (via the job requisition number and follow the instructions to apply through this system). Please include the project title, short note reflecting your motivation to apply and resume. 
 
The Valente Center for Arts & Sciences will propose your application to the faculty members that have been awarded student research assistantships. Faculty members will reach out to applicants for an interview and when an agreement is reached, the Valente Center will coordinate the hiring process through Workday. SRAs are not work-study positions. The pay received from the Valente Center will not affect the financial aid or work-study eligibility of Student Research Assistants, although they will be required to report it as taxable income and may not work more than 20 hours a week during the fall and springs trimesters and upto 40 hours in the summer trimester.
Archive: Sample Research Projects and Topics
2019 - 2020
Multilinguism in French Film & History
Migration/Population impact on Malaria Transmission
Ecological Riole of Jellyfish
The Business Cycle & Fertility
Intersectionality at Business Schools
Improving Resident Wellbeing through Focus on Positive Interactions
Public Attitudes Toward Wind Energy Using Immersive Media
Agenda Setting & Policy Change on Climate Adaptation
Congressional Campaign Media Expenditures
How Touch Affects Art Perception 
For Quantitative analysis of text data in education research
Failure of Family Owned Businesses
Boston in 100 Words: the Business of a Non-Profit Arts Organization
2018 - 2019
Ministers and Subcabinet Political Appointments: Do female ministers bring more women along?
Environmentally benign symergistric insect replllents: Fusion of public health, green chemistry, and product development
Open source sensing for energy and sustainability
Measuring the effectiveness of acupuncture
Case studies in business ethics
Predicting Pharmacogenetic Associations in Opiod Addiction Patients using Machine Learning
An Intersectionality Perspective of the Experiences of Students in Business Schools
Plastic Jellyfish? Evaluating the Uptake of Microplastics by Gelatinous Zooplankton
Artistic production and audience reception in post-revolutionary Tunisia 
Distributed Ledger Technology: A Multi-Disciplinary Study on the Broader Implications for Business, Government, and Society
Eagle Scout CEOs: The Effect of Early Life Experiences on Corporate Social Responsibility
"Boston in 100 Words: Building a Public Arts Project for the 21st Century"
Contact the Valente Center for more information