A Bentley Graduate Education with Focus on Experiential Learning
One of the great benefits of earning your graduate degree at Bentley University is the ability to gain practical, hands-on experience and connect with external partners. Whether you are enrolled in our MBA program or one of our specialized MS offerings, here you will find examples of how Bentley integrates corporate partnerships and modern resources for students to gain real-world exposure as part of their graduate school journey.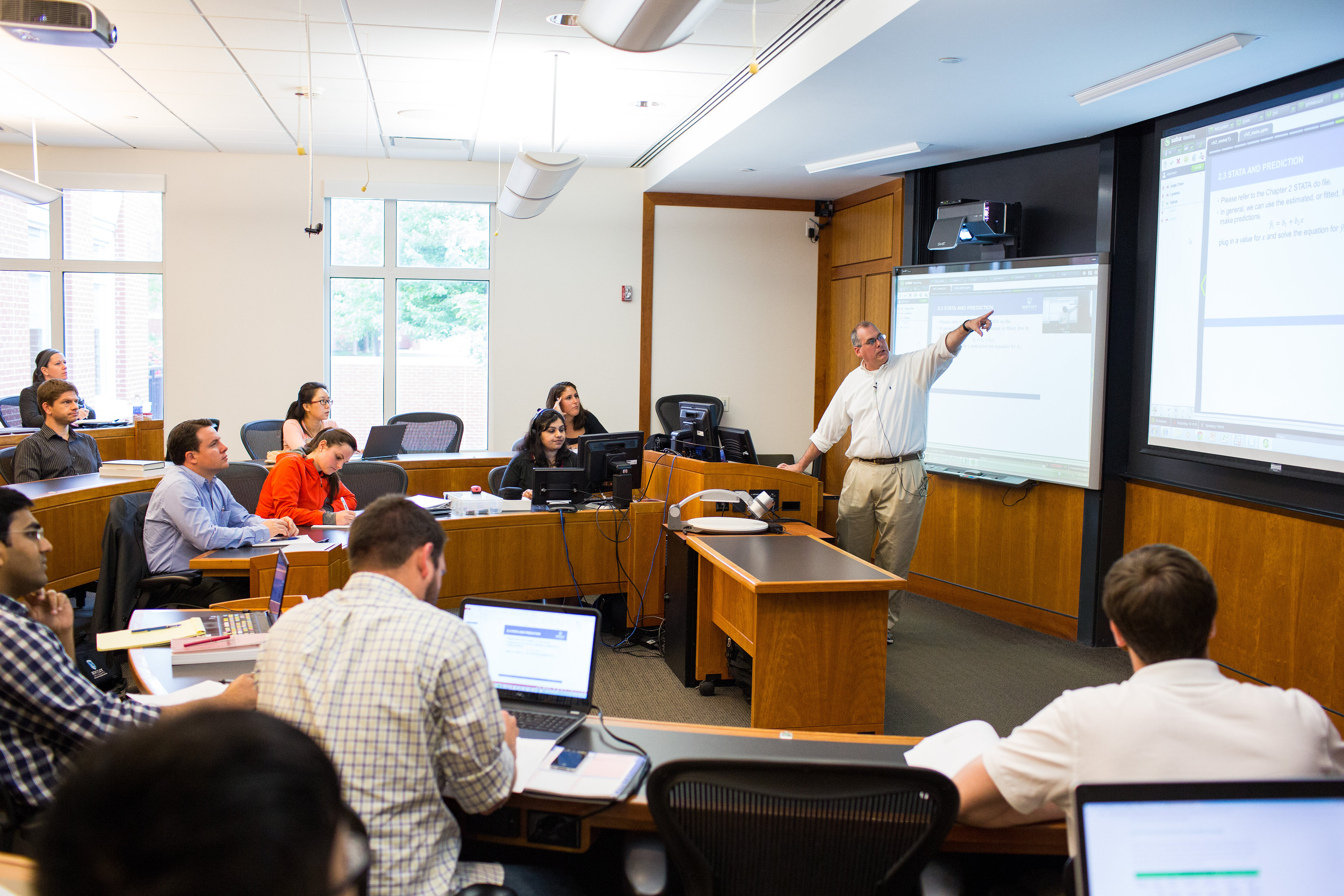 Classroom visits
Faculty here are industry-tested and well connected to the market. Most all courses within Bentley's Graduate School feature external partner visits, where experts will visit in class and talk more about their experiences and ongoings in their industry. Here you will find an online session led by the finance department on the early 2021 GameStop stock developments.
Global Business Experiences (GBEs)
GBEs are intensive, 3-credit education abroad experiences offered during semester breaks. Courses are open exclusively to graduate students and allow opportunities to visit companies operating in different markets. Past GBE locations include but are not limited to Canada, England, Portugal, Scotland, and South Africa.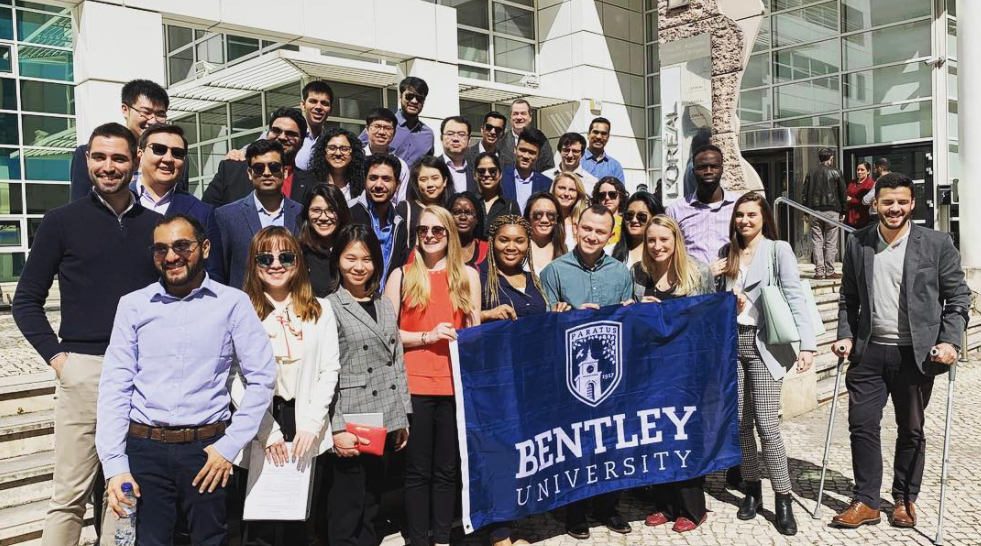 MBA students in Lisbon, Portugal meeting with host businesses PwC, L'Oreal, and Santander Bank
Case competitions
Graduate students specific to our analytics-based programs compete in case competitions at the national level against students from other institutions and collaborate with industry professionals. Examples of case competitions include Bentley students winning first place at the Travelers Stat-a-thon and second at the Humana-Mays Health Care Analytics Case Competition.
Innovation Centers
Bentley graduate students are equipped to become familiar with the latest systems and tools by way of our state-of-the-art innovation centers. The Hughey Center trading room emulates the real-time stock market and supports several of our graduate-level classes. The UX Center is home to our global user experience consulting group, who provide research, design, and strategy services to hundreds of clients around the world for better business outcomes. Visit our research and labs page to learn more.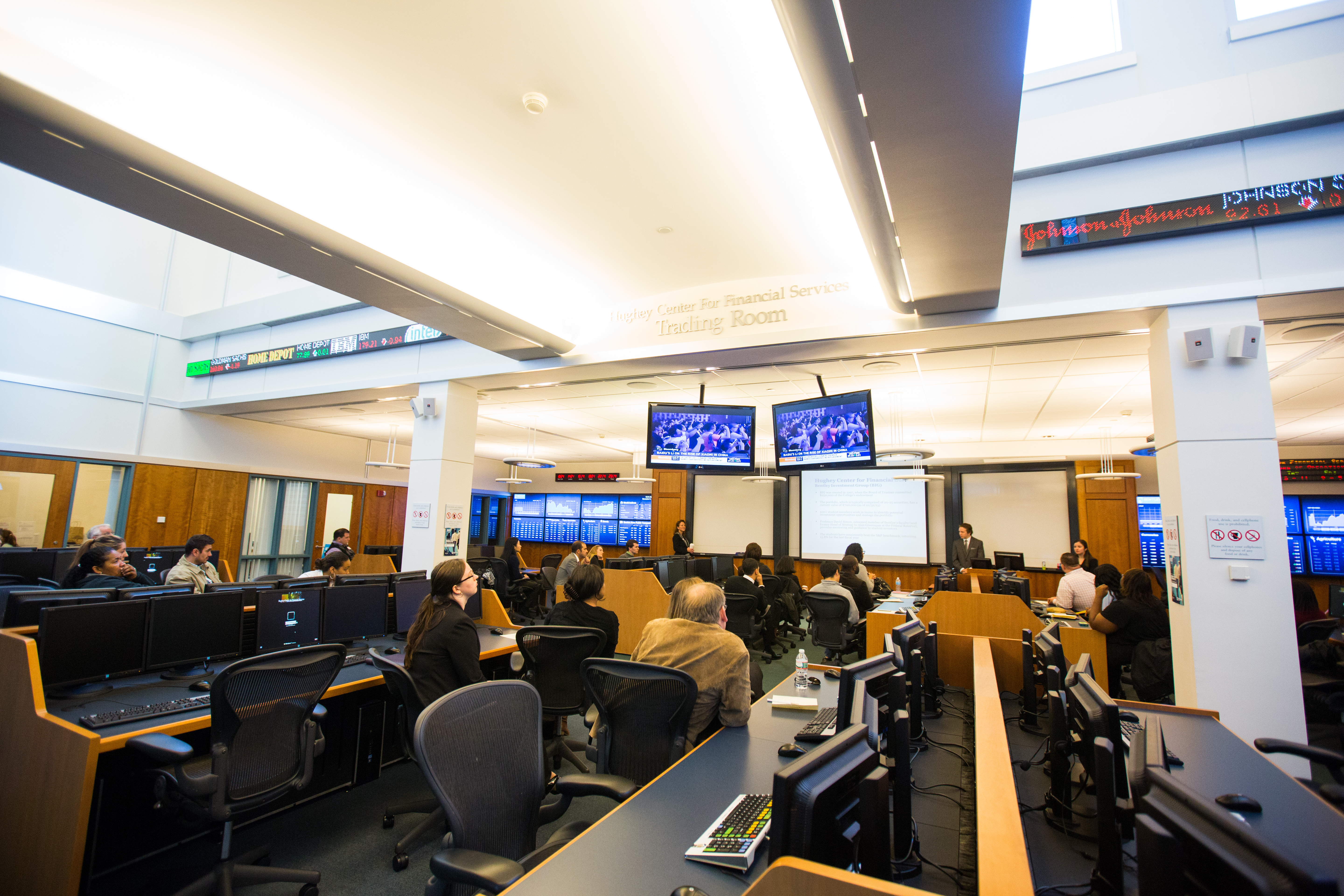 Class session in The Hughey Center for Financial Services (HCFS)
Internships
Many graduate students take advantage of internships for credit as part of their course progression and obtain full-time, permanent positions upon graduation as a result. Graduate Career Development assists with interview tips and resume building to give students the best chance to secure internships and launch into professional careers. Read more on graduate student stories here.
Local onsite visits
Given that Bentley is in close proximity to Boston, a major hub for business, education, technology and healthcare, students often visit companies and explore day-to-day workflows. Here is an example of students visiting Microsoft to learn more about their process with business applications, data & AI.
Meet recruiters
The Graduate Career Development Office is active each semester to help students connect directly with recruiters and alumni with the skill-sets and experiences matching their career aspirations. This video link will lead you to Bentley MS Analytics alumn explaining how she received an internship and career placement at EY after meeting a recruiter at an on-campus ice cream social.
Professional conferences
Bentley students take part in professional conferences and network with peers, faculty, and external recruiters. Examples of conferences include AfroTech and Analytics without borders.
Continue to check back to the Graduate Admission Blog for more insights on available experiential learning opportunities and how students continue to make connections both in and out of the classroom.