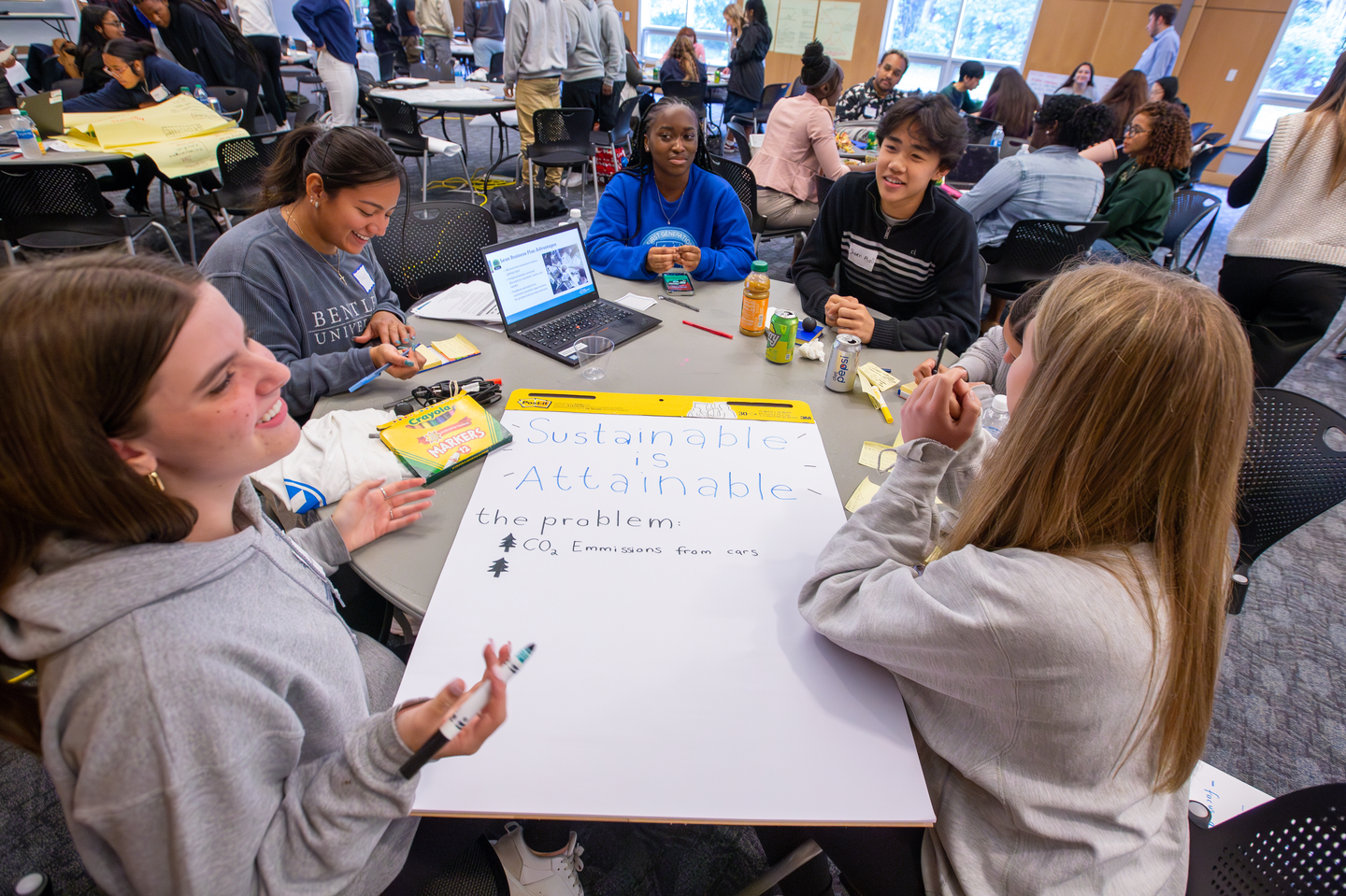 Photo by Kevin Maguire
Bentley Students Mentor High Schoolers on Entrepreneurship
The Junior Achievement Be Entrepreneurial Challenge competition returns to campus
Kassidi Thompson '27 was a senior in high school when she first visited Bentley, though it wasn't for a campus tour. Instead, she was in a Student Center conference room testing out her entrepreneurial skills at a Bentley-hosted Junior Achievement (JA) competition. And just a year later, Thompson was back in that room — this time as a Bentley undergraduate and mentor for high school students at the 2023 JA Be Entrepreneurial Challenge program. 
"I knew right away that I wanted to be a mentor for this year's event," Thompson says of her choice to volunteer. "When I was a JA participant last year, I learned that you never know what ideas you have in your head until you're put in a space where you can think creatively. I was able to discover my potential, and I wanted to help other students do that too." 
The Junior Achievement Be Entrepreneurial Challenge, hosted by the Bentley Honors Program, the Multicultural Center and Undergraduate Admission, provided hands-on workshops, educating students about the mindset and skills needed for aspiring entrepreneurs. Using an innovative problem solving process called design thinking and the guidance of Bentley student mentors, JA participants from Prospect Hill Academy, Boston Latin School and Lawrence High School transformed their ideas into concise, actionable one-page business plans. The culmination of the event was a pitch competition, where students presented their sustainable transportation business plan. 
Modular learning experiences teach students about the mindset and the skills needed for success by aspiring entrepreneurs and innovators who add value to any organization, according to Junior Achievement. That goal reflects the organization's broader goal — "to close the wealth and opportunity gaps for youth in key impact communities in our region (which currently includes Boston, Brockton, Chelsea, Lawrence, Lowell, Lynn, Quincy, Somerville and Worcester) by creating middle school to career pathways, igniting youth entrepreneurship and preparing financially savvy youth." JA Be Entrepreneurial Challenge is one of many examples — like the FirstGen Presidential Fellows program and BentleyFirst Scholarship — of the university's strategic priority to increase access and opportunity to an increasingly diverse set of learners. 
RELATED: Inaugural Pinning Ceremony Celebrates First-Gen Students
"Student participants work on their presentation skills, leadership and team building," says Jordan Thompson, assistant director of the Honors Program. "This event would not be possible without the community support, our Bentley student volunteers and judging panel that comprised of faculty and staff across campus. We are excited to continue working with the JA organization and their students. We hope to continue to grow this program and in turn meet more future Falcons at these events." 
Bentley supports the "middle school to career pathway" goal by continuing contact after the on-campus program ends. "If it wasn't for participating in the JA program during high school, I wouldn't be at Bentley," says Kassidi, now in her first year at the university. "They stayed in touch with me, and I ended up applying." 
When I was a JA participant last year, I learned that you never know what ideas you have in your head until you're put in a space where you can think creatively.
EMPOWERING FUTURES 
Key to the program's success was Tiary Gonzalez '24, who transferred from a community college to Bentley in fall 2021 as part of the Honors Program. She joined the Student Honors Council DEI Committee, whose goal is to collaborate on events — such as JA Be Entrepreneurial Challenge — to attract diverse students to the Honors Program and also raise awareness about what it is to be a diverse and inclusive team or workplace. She worked with Honors Council DEI chair Matilde Ronchi '26 and other Bentley volunteers to help plan and implement the event, including facilitating workshops and recruiting faculty judges: Isaura Beltre, marketing professor and associate director of the FirstGen Fellows Program; Erin Flynn, marketing professor; Vanessa Velasquez, student success and first-generation support coordinator; Sabrina Cruz, associate director of Housing and Residential Services; Jeff Gulati, associate dean of arts and sciences); and Dominique Wilburn, director of programs and communications for the Center for Women and Business.  
"We organized and led brainstorming sessions, but the JA students took over after that," says Gonzalez. "They generated ideas, created content, prepared PowerPoint slides and presented to judges to pitch their ideas."  
Throughout the day, she and other Bentley mentors made sure the event was flowing smoothly, encouraging conversations among team members and sharing tips. 
"It's great for these high schoolers to experience what it's like to work as a team and create a pitch in front of judges," Ronchi says. "It's an opportunity to develop skills like communication, teamwork and problem-solving — particularly thinking broadly to address a world problem like sustainable transportation." 
Including the Honors Program, Multicultural Center and Undergraduate Admission as part of the JA Be Entrepreneurial Challenge program allows participants to gain awareness to different resources on campus. The event also included a campus tour. 
"Having a lot of different parts of the university involved helps first-generation students like me," says Gonzalez, who is from Dominican Republic. She is a Finance major and Data Analytics minor, a study abroad peer adviser and studied abroad at the University of Hong Kong in spring semester 2023. "Everything was new to me when I was applying to college and navigating campus once I got there. I transferred to Bentley because they had finance but also because they had resources, including financial aid. There's a lot of support when I have questions or issues, and I really appreciate that." 
Ronchi, also a first-generation student raised in Dominican Republic, agrees. "At Bentley I feel like a human rather than a number. You're not just here to get good grades; you interact with professors and have resources to guide you." 
Outside of the classroom, Ronchi is a marketing coordinator for the Italian Society, a program manager for the Bentley Service-Learning and Civic Engagement Center, a resident assistant for the Honors Defined Community and a language partner at the Center for Languages and International Collaboration. She plans to double major in Finance and Marketing with a minor in Economics. 
Kassidi, who is still exploring majors and sits on the e-board of the Adamian Law Club and Black United Body, says being a part of JA Be Entrepreneurial Challenge was empowering for both mentor and mentee. "It was so exciting to see JA students get more excited and realize 'hey, I'm good at this' or 'I'm a natural.' One of the most important parts of being a leader is helping to guide people to their potential and what they can accomplish."  
RELATED: Entrepreneur Taryn Bennett '23 launches a luxury nail business