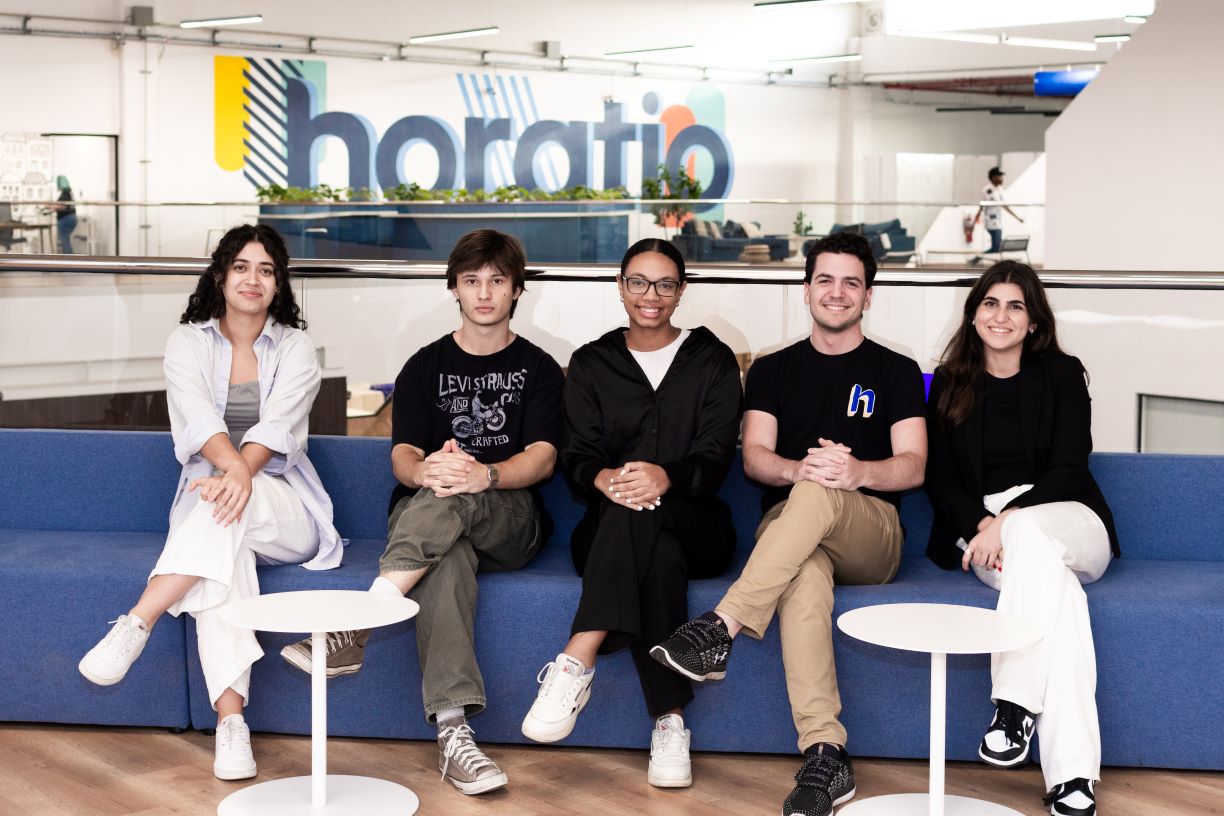 Bentley interns at Hire Horatio offices in the Dominican Republic (left to right): Nicole Varela '25, Christian Mac Lean '25, Ania Delos Santos '25, Ryan Dancoes '24 and Elena Manesi '24. Photo courtesy of Hilvi Taveras from Hire Horatio.
Internship Adventures Abroad
Bentley students dive into culture and business in the Dominican Republic
When a group of five Bentley students arrived in the Dominican Republic in June, they weren't there to vacation on the sandy beaches of the Caribbean Island. Instead, they were headed to summer internships in the Santa Domingo office of Hire Horatio — named one of the fastest-growing private companies in America by Inc. magazine.  
"When I got to Horatio, I had quite an unexpected reaction; my mind was blown by how nice the office was," recalls Christian Mac Lean '25. "It was a huge open space with high ceilings, a multilevel open wooden staircase, mirrored walls and seating areas for collaboration. It's what I would describe as Latin America's Google headquarters." 
But more important than Horatio's impressive 130,000-square-foot physical location in the city's downtown Metro Plaza? The positive and inclusive company culture. That's a non-negotiable characteristic for Bentley alumnus Jose Herrera '10, who co-founded the tech-based business process outsourcing company that specializes in helping clients maximize customer experience (CX) and scale operations. Horatio serves industries like e-commerce, fintech and healthcare. 
"The culture that we've built at Horatio is employee-centric, and we designed the office with that in mind," says Herrera, who is the company's CEO. "Focusing on our employees has allowed us to retain talent. People are happy here, and that translates into amazing service for our clients and the opportunity for us to become the leader in this space in such a short amount of time."
Focusing on our employees has allowed us to retain talent. People are happy here, and that translates into amazing service for our clients.
Co-founder and CEO, Hire Horatio
The strong company culture is not surprising to Finance major Ania Delos Santos '25, who was born in the Dominican Republic and immigrated to the U.S. when she was 6 years old. "I might be biased because I'm Dominican, but everybody at Horatio is amazing."  
In her role on the finance team, Delos Santos worked with mentors on projects covering internal auditing, expenses, payroll and accounting. The latter was her favorite.  
"Supporting the company and producing accurate accounting documents was satisfying, and it's what I'm most proud of," says Delos Santos, an Economics-Finance major with a minor in Computer Information Systems. "GB 112 and GB 212 courses were a great help in the accounting aspect, and it was amazing to get to apply my learning in the real world. Even though there were different systems, conversions and currencies, the same methods and applications were still there." 
Ryan Dancoes '24 took on a development role in Horatio's IT department. A Computer Information Systems major, he assisted in building infrastructure for one of Horatio's products and also conducted research on best practices for one of the company's technologies. 
"One project that I take pride in involved creating a backup module to store historical employee data to facilitate future analysis," he says. "Throughout the internship, I was able to apply specific skills and coursework I had acquired at Bentley, including coding in Python from my CS230 course and utilizing my knowledge of infrastructure and servers gained from CS240." 
Mac Lean, who is majoring in Quantitative Economics with a Finance minor, was a strategic finance intern. Assignments focused on processes related to client billing and financial reporting.  
"Working for a startup provided a great opportunity to apply critical thinking skills; I would be given assignment and given the freedom to develop a new solution or build on an existing process," Mac Lean says. "I was able to better tackle projects because I came in with knowledge of business language from general business courses. Muscle memory from Bentley classes, like using Excel spreadsheets, also came back into action."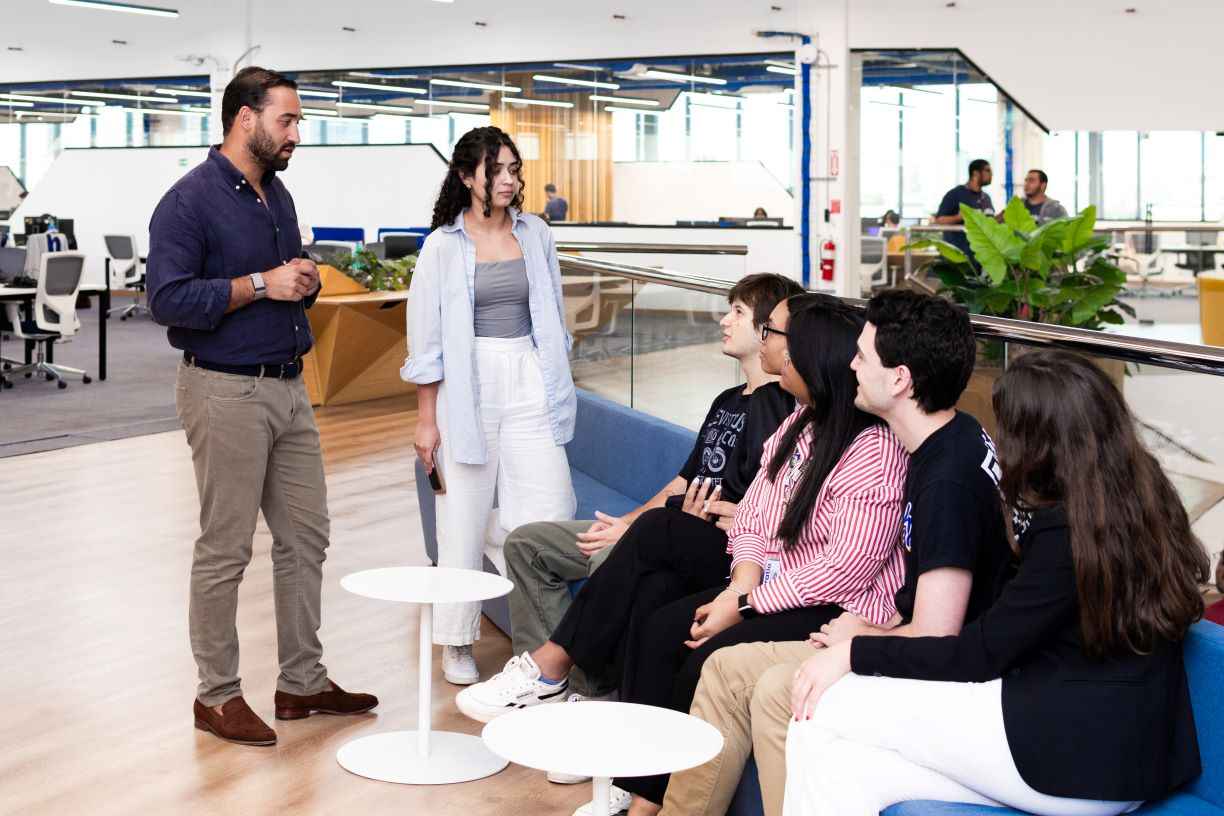 ELEVATING EXPERIENCES 
Herrera began his career in banking, first at Goldman Sachs then at Morgan Stanley in their asset management group. He also invested in U.S. startups before launching Horatio in 2019. 
"We started the business because we noticed that there were a lot of startups, particularly in the e-commerce space, that needed a trusted partner to help them scale their customer support but also understand which technology would best benefit them as they scaled," Herrera says. "We help clients identify pain points around customer experience and make AI and technology recommendations to elevate CX, creating a policy and procedure document — what we call 'the customer experience playbook.' That hands-on approach has allowed us to gain trust with our clients." 
The company, headquartered in New York with offices in Dominican Republic and Colombia, employs more than 1,600 people and growing. It was named No. 107 on the 2023 Inc. Magazine 5000 list and placed No. 12 top company in New York City. 
"I always had an interest in entrepreneurship and also wanted to find a way to give back to the Dominican Republic, which is where I'm from originally," says Herrera, who first came to the U.S. to attend Bentley in 2006. "When I was 17, I worked in a call center in the Dominican and was surrounded by talented people. Opening an office on the island provides employment opportunities but also allows me to build a solid team to serve our customers. My goal is to create meaningful and high-paying jobs in countries in Latin America. That's what drives me."
RELATED: Americans believe business can positively impact society
Having Bentley interns join the team, he adds, made sense. "We do a lot of stuff on the technology side and on the finance side, so I thought it would be a great opportunity for us to work with Bentley students. I studied at Bentley during the 2008 financial crisis and the amount of help that I got from the school was invaluable. Career Services guided me about the career landscape and helped me get an internship every summer — and land a full-time job at Goldman Sachs before graduation. I still have amazing memories from my time at Bentley: my friends and overall experiences from the academic, professional and social perspective." 
During their internship, Herrera knew it was important for the interns to create experiences they will also remember. Students were introduced to local restaurants, natural attractions and historical landmarks; and Delos Santos had time to reconnect with family living on the island. The interns also had informal lunch-and-learns with Herrera.  
"Obviously, this generation is extremely different from my generation; what drives them is very different," Herrera says. "But, like me during college, I think that they're all looking for clarity to figure out what's next for them. It was great to sit down with them and share what helped me be successful, and to remind them to network as much as possible. Good mentors are key to help you get to that next step in your career." 
RELATED: Kerisse Seepersad '22 brings data to life at global internship