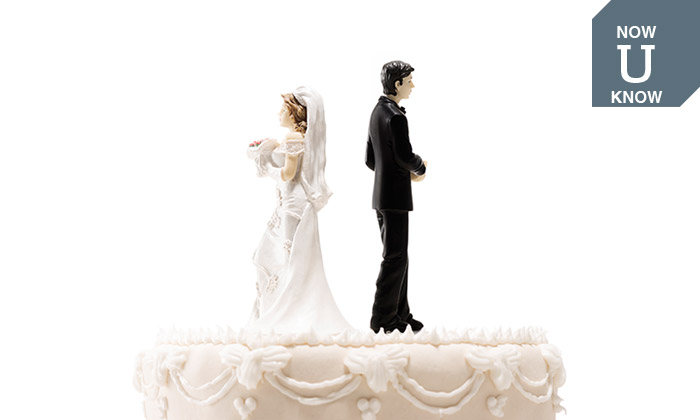 NowUKnow: Why Millennials Refuse to Get Married
Millennials are saying no to traditional marriage in record numbers…and that's not all. In Western culture in the late 18th century, marriage transformed from an economic arrangement into a union based on love. Now it may again be heading toward radical change.
 
Marriage Rates Are Plummeting
The median age at first marriage is now 27 for women and 29 for men — up from 20 for women and 23 for men in 1960.
 
The median age at first marriage is now 27 for women and 29 for men
TWEET THIS
Today an unprecedented portion of millennials will remain unmarried through age 40, a recent Urban Institute report predicted. The marriage rate might drop to 70 percent -- a figure well below rates for boomers (91 percent), late boomers (87 percent) and Gen Xers (82 percent). And declines might be even sharper if marriage rates recover slowly, or not at all, from pre-recession levels, according to the report.

Traditional marriage has been on a downward trajectory for generations, but with this group it appears to be in free fall. According to a report released last month by the Pew Research Center, 25 percent of millennials are likely to never be married.

That would be the highest share in modern history.
 
The Impact of Not Getting Married
Boston Globe columnist Tom Keane says this trend could be cause for alarm. "Millennials, reject timely marriage at your own risk," warns his column.

"Not getting married at all could prove tragic," said Keane, reviewing the economic and social benefits of marriage.

Marriage patterns will continue to diverge by education and race, increasing the divides between mostly married "haves" and increasingly single "have-nots," predicted an internal analysis of the Urban Institute report. Tax rates, eligibility for entitlement programs, and the availability of social safety nets are all altered by marital status, it said. Current marriage trends will make it challenging to develop policies that efficiently target the needs of the growing number of unmarried poor, it said.

"To me, there are so many things that encourage people to marry for financial reasons," said Steven Weisman, a lawyer who teaches a class on "Marriage, Separation and Divorce" class at Bentley University, in a Baltimore Sun article. From Social Security to income taxes, married couples benefit economically.
 
Why People Aren't Getting Married
Research about this trend draws panic on the Internet and tense media coverage. A recent piece in Time Magazine was headlined, "Why 25 percent of millennials will never get married— a new report from Pew Research predicts that more folks under 35 will be single forever."

Young couples are opting to live together and put off marriage for later, if at all. About a quarter of unmarried young adults (ages 25 to 34) are living with a partner, according to Pew Research analysis of Current Population Survey data.

Marriage has lost much of its social allure, but remains a desired milestone for about 70 percent of millennials. They say they would like to marry, but many — especially those with lower levels of income and education — lack what they deem to be a necessary prerequisite: a solid economic foundation.

In contrast to the patterns of the past, when adults in all socio-economic groups married at roughly the same rate, marriage today is more prevalent among those with higher incomes and more education, according to the Pew research.

In a recent Washington Post opinion piece, Catherine Rampell, a young columnist, argued marriage is desired but simply out of reach for many millennials.

"Even as marriage rates have plummeted — particularly for the young and the less educated — Gallup survey data show that young singles very much hope to get hitched. Of Americans age 18 to 34, only about nine percent have both never been married and say they do not ever want to marry," she wrote.

"Although there is now a growing class divide in who gets and stays married in America, there is virtually no divide in the aspiration to marry," she quoted from an interview with W. Bradford Wilcox, director of the National Marriage Project at the University of Virginia.

"It doesn't matter if you're rich or poor, white, black or Hispanic. Most Americans are married or would like to marry. The challenge, then, facing the United States is bridging the gap between the nearly universal aspiration to marry and the growing inability of poor and working-class Americans to access marriage," said Wilcox.
 
Changing Ideas of Marriage
That fewer millennials are choosing to marry is also a reflection of modern social attitudes that reject the institution as outdated. It's time to embrace new ideas about romance and family — and acknowledge the end of traditional marriage as society's highest ideal, according to Kate Bolick, author of the 2011 Atlantic cover story, "All the Single Ladies," which sparked a national conversation.

Just recently popular comedian Sarah Silverman tweeted, "Why would I want the govt involved in my love life? Ew. It's barbaric."

Public disenchantment with marriage is reflected in national surveys. Half of American adults believe society is just as well off if people have priorities other than marriage and children, according to the recent Pew report.

And opinions on this issue differ sharply by age — with young adults much more likely than older adults to say society is just as well off if people have priorities other than marriage and children. Fully two-thirds of those ages 18 to 29 (67 percent) express this viewpoint, as do 53 percent of those ages 30 to 49. Among those ages 50 and older, most (55 percent) say society is better off if people make marriage and children a priority, Pew found.
 
The Evolution of Marriage
But what if marriage stopped forcing young people to conform to an outdated tradition?

This hot topic was explored by Psychology Today's Susan Pease Gadoua's in a recent opinion piece, "Millennials are Changing the Rules on Marriage."

Marriage offers unquestionable benefits, she wrote, but it's a stale paradigm. "Rather than having only a choice to marry the same old way, or to not marry, let's get a little imaginative and come up with marital options that would be better suited to a variety of people, including a short-term trial union for younger couples, a child-rearing marriage for those who'd like to be nothing more than co-parents, or a socially acceptable live apart arrangement."

A recent article in Time Magazine suggests a beta-marriage in which millennials test-drive their nuptials before jumping into what is supposed to be a lifelong commitment. Margaret Mead, a woman well ahead of her time, threw this notion out in the 1960s; in 2002, journalist and author, Pamela Paul, wrote a book on starter marriages, and; in 2011, Mexico City proposed laws supporting two-year renewable marriage contracts.

The overall forces of biology, social needs and economics will never let some form of long-term partnership fade away, says Bentley University's Dean of Arts and Sciences Daniel Everett.
 
Forces of biology, social needs and economics will never let long-term partnership fade, says dean
TWEET THIS

The definition of marriage has been fluid over time and between cultures, he said. "In American marriages, as they have evolved, the ideal is to marry by mutual consent and build first and foremost a relationship," said Everett.

"Among some Amazonian societies, the marriage relationship is first an economic partnership, with clear division of labor, from which a relationship may develop," he said. "Among more religious societies, such as rural Catholic in southern Mexico, there is some overlap with the Amazonian. And the American rural model is economy first, relationship second, with clear division of labor, and the added sanction of religion."

Will the millennial generation usher in a new era that saves American marriage by allowing it to evolve? Radical as it may seem, they just might.

Meg Murphy is a freelance writer.