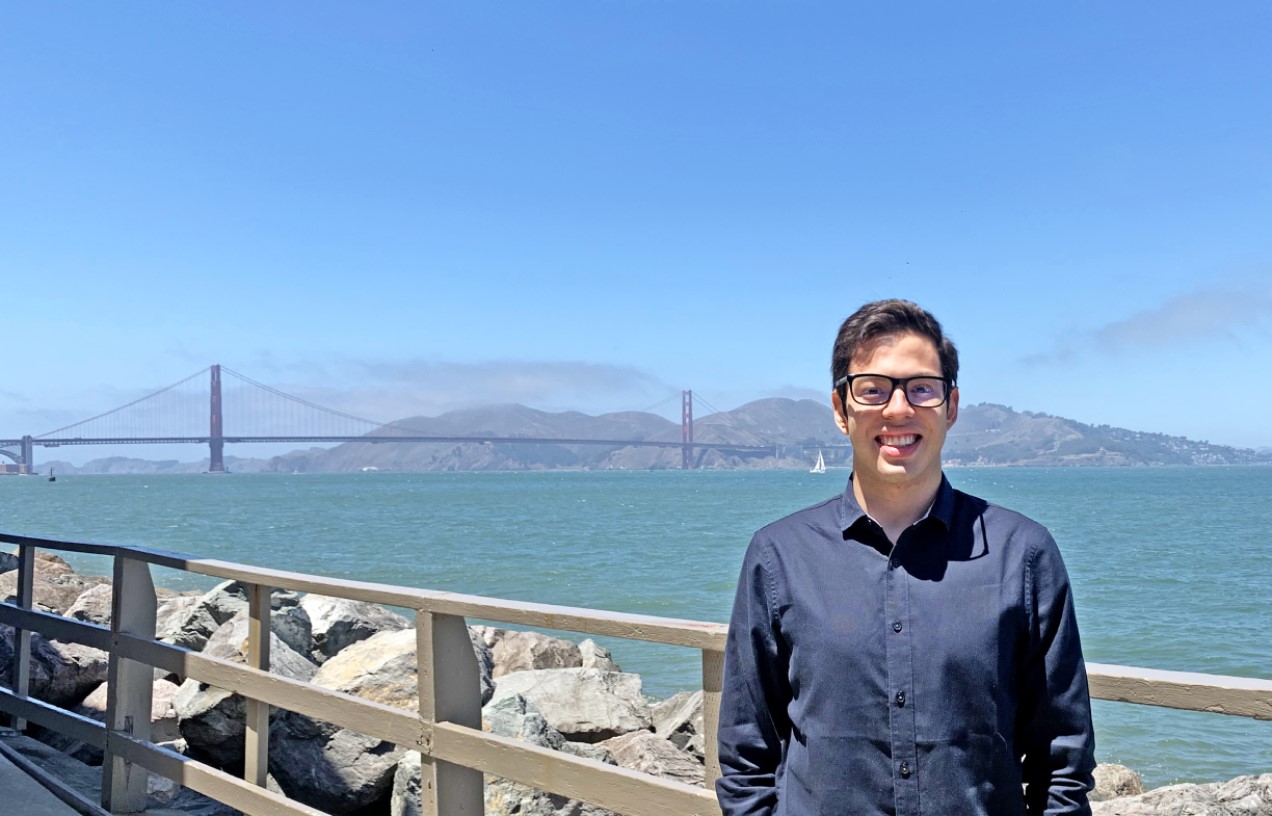 Scholarship and Self-Discovery
For Eduardo Franco Saucedo '22, campus culture and classroom learning paved the way for feeling "fully comfortable with my sexuality"
When Eduardo "Edu" Franco Saucedo '22 received his Bentley diploma this May, he graduated with something he considers even more valuable than his degree in Finance and Liberal Studies: Global Perspectives: the ability "to live as my truly authentic self, fully comfortable with my sexuality." It's a hard-won realization he attributes as much to his scholarship as his social circle. 
Born and raised in Santa Cruz, Bolivia, Franco Saucedo admits the road to self-actualization hasn't been easy. "Latin American society is very conservative and traditional," he says of his upbringing, noting that while his three sisters have always been supportive, Bolivian culture has long stigmatized gender and sexual diversity. As a result, Franco Saucedo says, he was always conscious of how his actions could be perceived by others — an awareness that produced what he calls a "profound identity conflict" between his personal and cultural beliefs. 
After four years in the U.S., however, Franco Saucedo has largely resolved those tensions; though he admits that "some American cultural spaces still feel foreign to me," he feels more at peace here than in Bolivia. He credits Bentley's diverse and welcoming campus community as a major reason why. Through his involvement with the International Student Association, Student Government Association and PRIDE, an organization serving and supporting the LGBTQ+ community, Franco Saucedo was able to connect with like-minded peers whose encouragement helped him "feel comfortable in my own skin." 
RELATED: Bentley community showcases pride with Rainbow Graduation
In addition to forging a strong social network, Franco Saucedo was deeply influenced by what he learned in his Bentley classrooms. "My courses encouraged such deep critical thinking and diversity of thought," he says, "that I began questioning my own deeply ingrained beliefs."  
He singles out one class as particularly transformative: Sexual Identity and Culture (LIT 369), a literature course with Assistant Professor Traci Abbott. "The books we read and the topics we discussed were truly eye-opening," Franco Saucedo says. It was here that he was introduced to queer theory — a field of critical study that challenges heteronormativity by redefining gender and sexuality as fluid, rather than fixed, social identities. Franco Saucedo was impressed by this new way of thinking: "Back in Bolivia, we were never encouraged to think about gender and sexual diversity in a sociopolitical context."  
Inspired, Franco Saucedo decided to make gay rights in Latin America the focus of his Capstone Project, an independent research assignment completed by all Honors Program participants. Although he knew from the outset it would be an ambitious undertaking — the region encompasses 33 countries in Central and South America and the Caribbean, as well as Mexico, and reflects a diverse blend of indigenous, European, African and Asian influences — he felt personally invested in the project's outcome: "For me, assessing the advancement of gay rights in my own region was a way to understand and reconcile my intersectional identities."  
RELATED: Prof. Abbott's new book explores trans representation in U.S. film and TV
At first glance, he says, Latin America appears to be a trailblazer for LGBTQ+ rights. Indeed, three South American nations had already legalized same-sex marriage before the U.S. did in 2015, with Argentina also enacting laws that made it easier for transgender and non-binary individuals to legally change their gender identity.  
Yet, despite such progressive legislation, Latin American countries consistently experience some of the world's highest rates of anti-LGBTQ+ violence. According to a 2019 report from the Regional Information Network on Violence Against LGBTI People in Latin America and the Caribbean, an average of four LGBTQ+ individuals are murdered every day in Latin America, with three countries — Colombia, Mexico and Honduras — accounting for 90% of all deaths.  
In his research, Franco Saucedo explains that this paradox stems from the cultural legacy of Latin American military dictatorships, which began in the 1800s and proliferated during the 20th century. "These regimes consolidated their power through the systematic persecution of political opponents," he notes, establishing paramilitary squads to imprison, extradite, torture and kill those identified as social dissidents. As these dictatorships were supported by the Catholic Church, "moral deviants" — in particular, homosexual men and trans women — were also designated political opponents. As a result, Franco Saucedo says, conforming to social norms became, quite literally, a matter of life and death. 
My courses at Bentley encouraged such deep critical thinking and diversity of thought that I began questioning my own deeply ingrained beliefs.
When Latin American countries abandoned dictatorships for democracies in the 1980s and '90s, these cultural taboos remained — to such an extent that even left-leaning political parties were reluctant to take on the mantle of gay rights. LGBTQ+ groups in the region today are thus largely apolitical, Franco Saucedo says, working with both left- and right-leaning politicians. Gay rights advocates have also found success by supporting larger progressive movements, such as feminism and indigenous rights, to collectively campaign for each other's causes. 
This pragmatic approach, Franco Saucedo says, has helped Latin American gay rights groups achieve legislative victories, despite being less socially prominent and politically powerful than their U.S. and European counterparts. He notes that openly gay and trans politicians — including, respectively, Claudia Lopez Hernandez, mayor of Bogota, Colombia, and Tamara Adrian, a member of Venezuela's National Assembly — and the growing use of social media, particularly among younger Latin Americans, have helped raise awareness of LGBTQ+ rights in the region. Ultimately, Franco Saucedo is hopeful for the future: "With continued political representation and social activism, I believe things will be completely different within a generation."  
RELATED: Pride Month Block Party celebrates LGBTQ+ community
When Franco Saucedo chose Latin America's gay rights movement for his Capstone Project, he had two goals in mind: to challenge himself academically and to gain a deeper understanding of how his own life has been shaped by regional attitudes towards LGBTQ+ communities. But he also reports an unexpected benefit: His research project led to a job as a financial planning resident associate with Meritas Wealth Management, a financial services firm based in San Francisco. 
Like many Bentley graduates, Franco Saucedo had included his Capstone Project on his resume, and questions about his research came up repeatedly during the interview process. "Everyone I met with seemed genuinely interested in learning about why I chose this topic and what I learned," he says. "It helped show them that I'm someone who is intellectually curious, with interests that extend beyond the business world." 
More significantly, Franco Saucedo explains, discussing his research made it possible to be "really open with my employers about all aspects of my identity" — something he could never imagine during his formative years in Bolivia. He's grateful to Bentley for not only providing the knowledge and skills he'll need to succeed in the finance industry, but also for fostering a welcoming and supportive environment where "I can align myself with people who share my values and live openly and proudly as a queer Latin young man."     
 
RELATED: Beyond Binary: How to work effectively with genderqueer colleagues