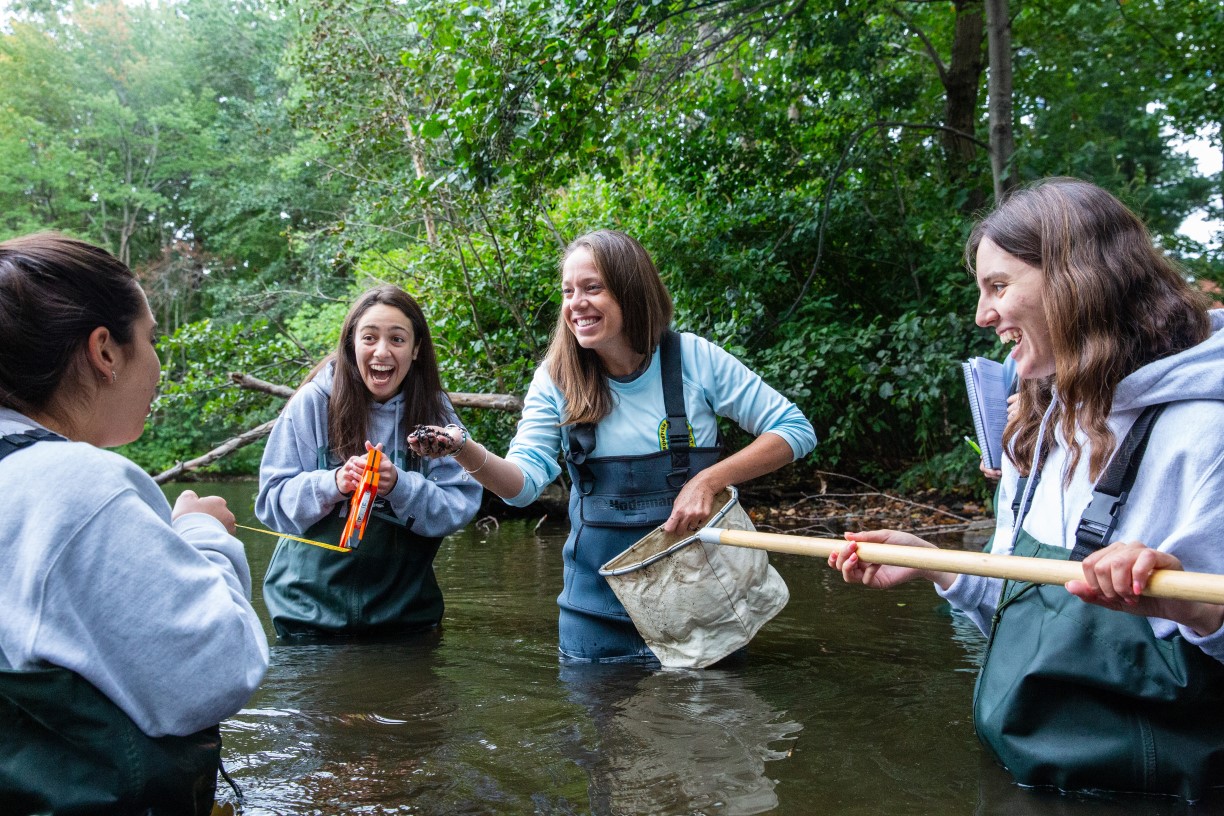 Professor Betsy Stoner and her students enjoy a closer look at the biodiversity that exists on Bentley's campus. (Photo by Kevin Maguire)
Scientific — and Self — Discoveries
Professor Betsy Stoner honored with 2022 Cronin Award for Excellence in Academic Advising and Mentoring
On a recent Sunday afternoon, Betsy Stoner and 16 students from her Environmental Science and Sustainability (NAS 150) class met up at Long Pasture Wildlife Sanctuary in Barnstable, Mass. Wearing dark green rubber waders and carrying fine-gauge nets and specimen jars, the group carefully combed through the salt marsh in search of daggerblade grass shrimp — tiny, translucent crustaceans that play a vital role in coastal ecosystems.  
For the past three years, the assistant professor of environmental science — and recipient of the 2022 Joseph M. Cronin Award for Excellence in Academic Advising and Mentoring — has invited Bentley students to join her here in Cape Cod for a closer look at the biodiversity of this unique habitat, an intertidal zone where fresh water and saltwater meet. Stoner says she organizes outings like these as frequently as possible, as she believes "learning by doing is paramount to student success."   
Her hands-on approach is a big hit with students. "Dr. S's focus is experiential learning, and she pairs her lessons with tangible activities that make learning more exciting," says Brodie McPherson '22, who graduated in May with a degree in Sustainability Science. "In our oceanography class, for example, we had seaweed tastings and dissected fish while learning about aquaculture and marine pollution."  
"I always look forward to going to her class, because even though I know the material is going to be difficult, Professor Stoner will make the lesson fun and engaging," says Makena Romagnano '23, a double major in Marketing and Liberal Studies: Earth, Environment and Global Sustainability. "She's constantly laughing and making everyone feel comfortable. She goes above and beyond in every aspect of teaching and communication to make sure her students feel confident about the material and supported outside the classroom."  
RELATED: 'Virtual field trips' give students a close-up look at marine life
A respected researcher in her own right — in 2021, for example, she received a $676,239, three-year grant from the National Science Foundation to explore the role of "ecological memory" in Bahamian seagrass beds — Stoner currently serves as academic advisor to nine Bentley students undertaking independent research projects of their own.  
One of those students is Jack Aronson '23, a Sustainability Science major and Finance minor. Remember those daggerblade grass shrimp? Aronson's research is focused on the species, which is now under threat from bopyrid isopods, a parasite that sterilizes shrimp and prevents them from reproducing. "Until now, these parasites hadn't been observed in significant numbers north of Maryland," Aronson explains, noting that their presence here is likely the result of warming ocean waters caused by climate change. With Stoner's guidance, he and classmate Romagnano are investigating the degree to which water salinity affects parasitization rates. "Dr. Stoner has been invaluable in providing advice and support for this project," says Aronson, who plans to pursue a career in sustainable finance. "She is without a doubt the best teacher I've had at Bentley."  
McPherson, who worked with Stoner through the Valente Center for Arts & Sciences' student research assistantship program, echoes these sentiments: "Even though I had no previous experience with marine ecology, Dr. S took me on board and trusted me to contribute to her projects. She not only pushed me to learn new things, but also gave me the space to make mistakes and learn from them." He credits his research experience with Stoner as having an "immeasurable impact," both personally and professionally. "She encouraged me to pursue a study abroad experience with the School for Field Studies, which was the most transformative experience I had as an undergraduate," McPherson says. He credits the semester he spent exploring the biodiversity of Panama with helping him decide to pursue graduate school in the field of environmental policy. 
I strive to make my classroom a safe, inclusive space where my students can share their whole selves. Getting to learn from and about them is one of the most rewarding aspects of my job.
Assistant Professor, Environmental Science
Beyond academic advice, Stoner's students value her friendship. "She gets to know her students on a personal level and truly cares about their well-being," explains Matt Mulcahy '22, who graduated in May with an Economics-Finance degree and now works for Fidelity Investments. It's a quality he's experienced firsthand. "I played lacrosse at Bentley, and sadly, our team lost a beloved member in 2019," he shares. "Professor Stoner was one of the first people that reached out to me and other teammates she taught to see how we were doing. She even took time to sit down with us in her office to talk and process our emotions." He continues to keep in touch with Stoner today: "I'm so grateful I had the opportunity to be her student and mentee, and I am glad to continue to call her my friend." 
For Stoner, fostering authentic relationships like these is her ultimate goal as an educator. "I strive to make my classroom a safe, inclusive space where my students can share their whole selves," she explains, noting that learning outcomes improve when students feel supported both intellectually and emotionally. Stoner also emphasizes to students that learning is a two-way street. "They challenge me in the best possible way by offering new perspectives based on their lived experiences," she says. "Getting to learn from and about them is one of the most rewarding aspects of my job."  
As a science professor at a business school, Stoner particularly appreciates the unique insights her students bring from their other classes. As she puts it, "Most of my students aren't seeking careers in marine biology, but they are passionate citizens of the world who want to know how they can be a force for good in terms of the environment and social justice." Regardless of what her students aspire to professionally, Stoner is confident they'll achieve great things after graduation: "Bentley students are go-getters. I have no doubt they'll go on to become effective and impactful leaders who prioritize not only profits, but people and the planet." 
RELATED: Students pitch sustainability solutions to angel investors