Mission of the Governance Process
Ensure we're utilizing Bentley's limited resources on the projects that are most strategically aligned and valuable to the University.
IT Governance provides the framework and collaborative process to ensure major IT projects align with institutional strategy. The cross-functional Project Advisory Board evaluates, prioritizes, and recommends projects that support the University's long-term plan. The process is facilitated by Bentley's Project Management Office.
Guiding Principles
Align Project Approvals with Budget Cycle
University-Wide Collaboration
Increase Transparency – Projects, Resources and Finances​
Better Planning & Execution​
Be a Solutions-Oriented Partner to Achieve Business Goals​​
Collaborative Process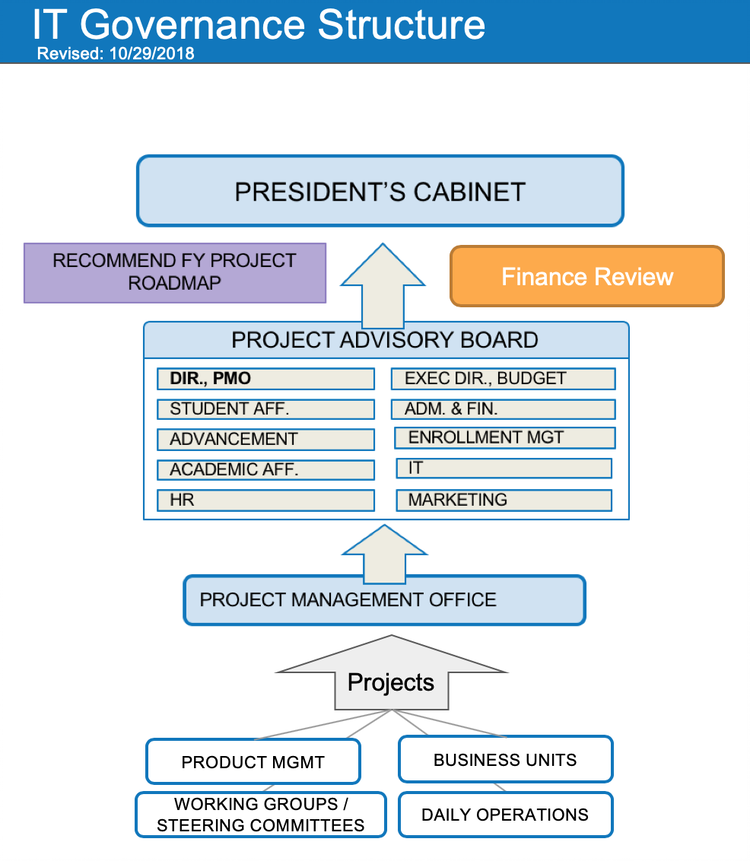 Strategic decision-makers from both administrative and academic areas of the University are involved
in all aspects of the governance process.
Project Advisory Board - Senior, strategic leaders on campus that have been delegated by members of the President's Cabinet (Director or AVP level).  Meets regularly to review, assess, and prioritize projects. Creates a recommendation and roadmap for approval.
President's Cabinet - reviews the project roadmap recommendation and provides final approval of projects.
Project Management Office (PMO) - Facilitator of the governance process. Collects project requests, supports business case development, and convenes the various groups to support the creation of a recommendation to Cabinet.
Timeline
IT Governance activities are tightly aligned with the University annual budgeting and planning cycle. Since funding is an important part of many projects, project budgets are considered in concert with the future fiscal year budget recommendation made each March.  Bentley's fiscal year begins July 1 and ends on June 30.
Summer - Project requests are submitted for the future fiscal year. The PMO and Project Advisory Board work together to establish business cases by Fall (October).
Fall - The Project Advisory Board is convened to discuss business cases, prioritize, and recommend projects for the next fiscal year.
Winter - The Project Advisory Board's recommendation is reviewed by the Finance team and submitted for President's Cabinet for approval. 
Spring - The budget is established for submission in March to the Board and final approval in May.  The final project approvals are determined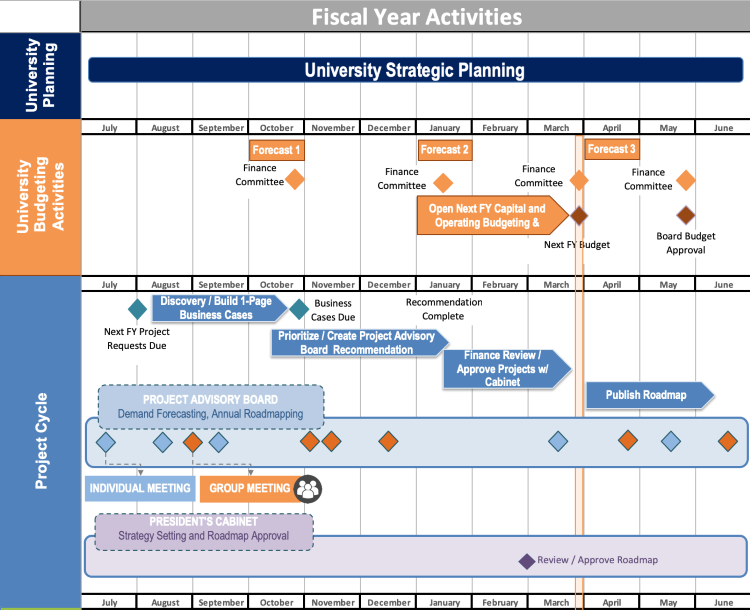 Background
In 2016, newly appointed CIO, Bob Wittstein, conducted an assessment of IT that revealed six themes for improvement of the IT function. IT Governance - the process that ensures we're using Bentley's limited resources for the most strategically aligned and high priority projects - was identified as one area to develop.  
The Project Management Office (PMO) was established soon after and worked with senior leadership to develop a University-wide, collaborative process for submitting, assessing, prioritizing, planning and scheduling IT projects. This process provides a way to make thoughtful, data-driven decisions that ensure selected projects are strategically aligned, feasible, and maximize benefit to the University.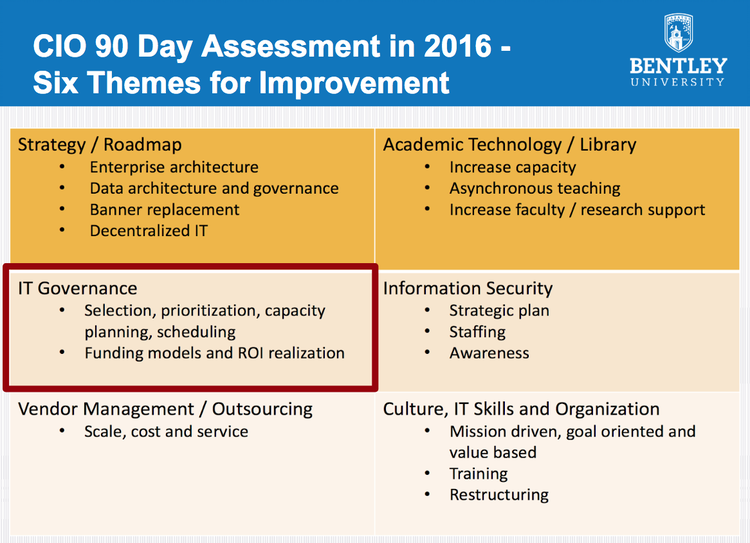 For any questions or if you'd like to submit a project for consideration, please contact Robyn Betts, Director, Project Management Office.