The Bentley Service-Learning and Civic Engagement Center offers a variety of curricular-connected civic engagement opportunities.  Programs are created and run by student leaders, through our innovative student leadership model, and are inclusive of faculty and their classes, staff, and the broader campus and regional community.  The goal of civic engagement efforts is to increase co-curricular social innovation, civic responsibility, and social justice programming in order to help move students toward Bentley's goal "to educate creative, ethical, and socially responsible organizational leaders.
 
FAIR TRADE FAIR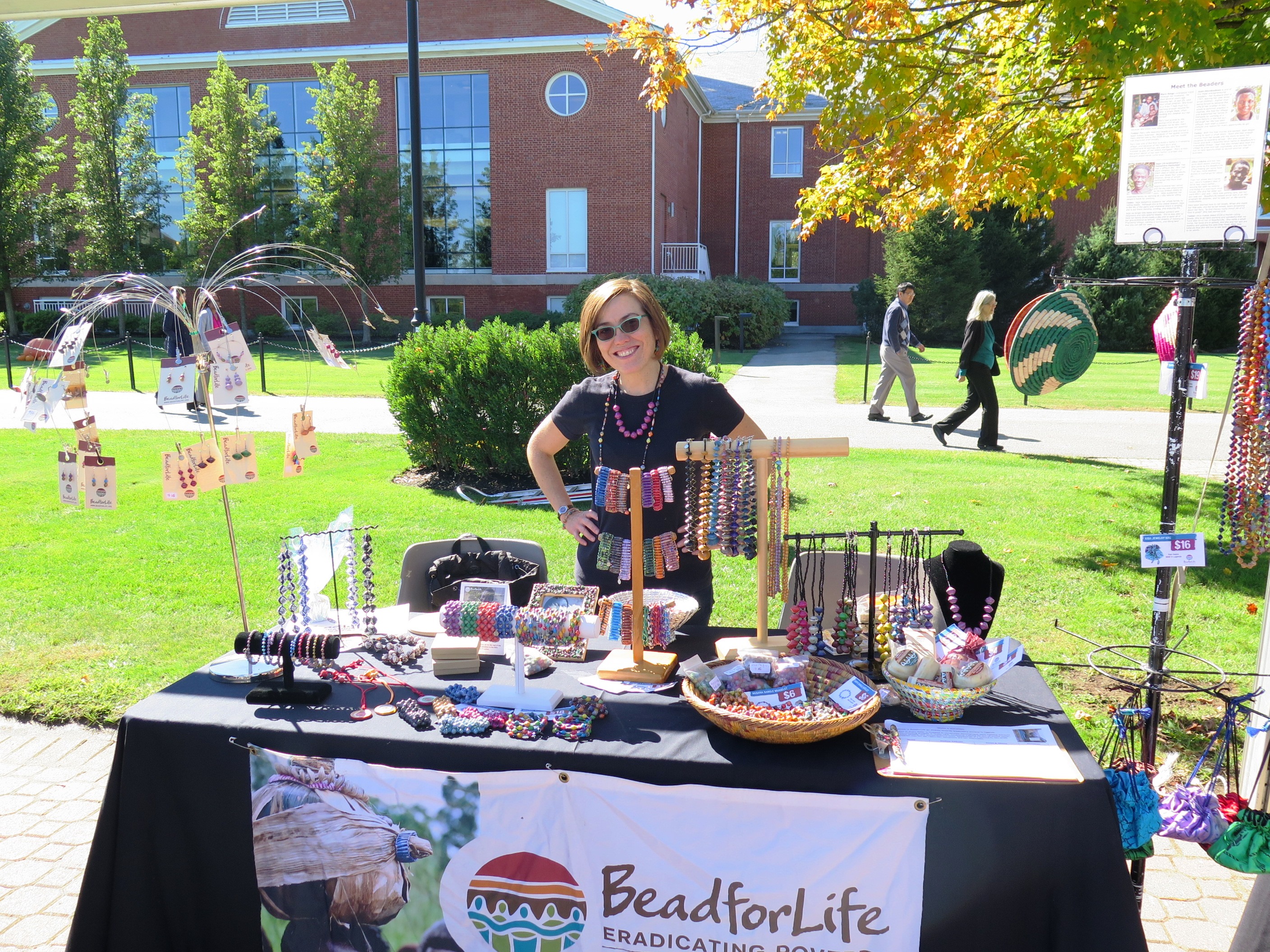 The BSLCE hosts an annual Fair Trade Fair, bringing co-curricular conversation to the Bentley campus regarding alternative models of business for the social good.  Amongst others, vendors have included Pierce Brothers Coffee, RUNA Tea, Equal Exchange, Once Again Nut Butter, Lake Champlain Chocolates, and Ben & Jerry's. Each year, hundreds of staff, students, and faculty- including many courses- visit the fair, sample free ice cream and coffee, purchase fairly traded gifts, and attend talks about the fair trade business model from leaders in the industry.

Due to COVID-19, the BSLCE will not be running the Alternative Spring Break trip in the spring 2021 semester.
BUIILD (Bentley Unites to Improve International Livelihood and Development)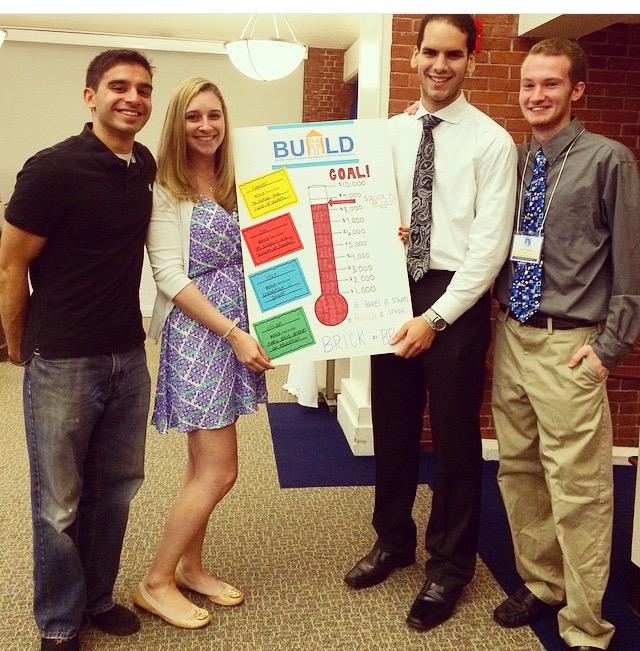 Started by Bentley students, BUIILD is a week-long initiative to raise awareness about global poverty and to raise money to help bring sustainable development to communities in poorer regions of the world.  In its inaugural year, BUIILD raised over $10,000, enough to build an elementary school in Ecuador, and during the second year students began raising money toward bringing a sustainable clean water source to the same community.  The goal of BUIILD is to provide the Bentley community with the opportunity to learn about global poverty, while raising money toward holistic development needs, such as alternative income, water, health, agriculture, and education in order to help bring sustainable development to communities overseas.
ALTERNATIVE BREAK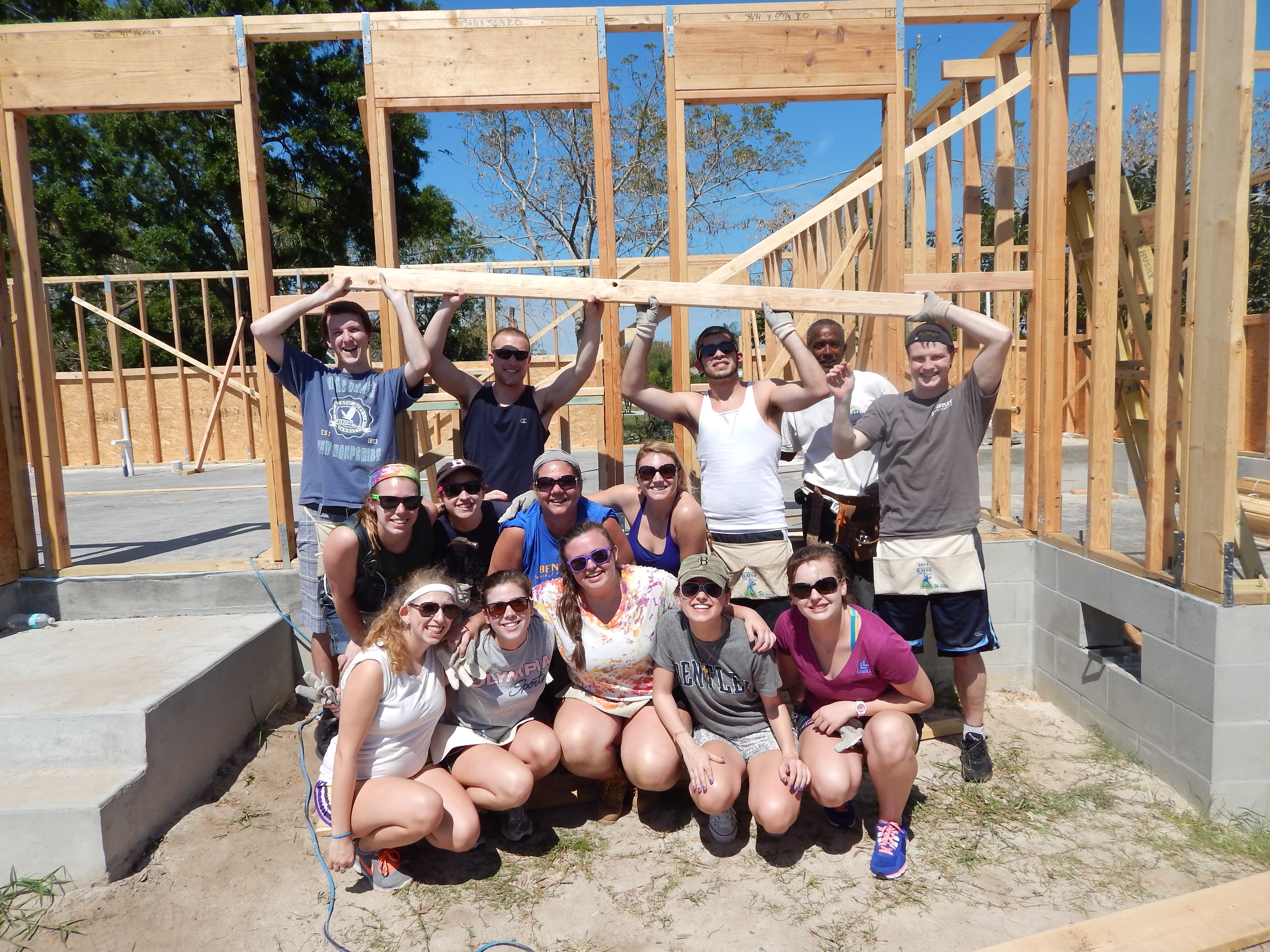 Each year, the BSLCE runs an alternative spring break trip to Florida to support a Habitat for Humanity building project.  Students are selected through an application process and receive pre-trip training from the center.  Those who will be participating on the trip, help to throw an annual Pasta Dinner fundraiser to defray trip costs.  The trip consists of a combination of Habitat building, reflection on social issues and citizenship, and time for fun and relaxation. Over the past 16 years, dozens of Bentley students have participated in helping to bring affordable housing to many worthy families.

Due to COVID-19, the BSLCE will not be running the Alternative Spring Break trip in the spring 2021 semester.
OTHER KEY CIVIC INITIATIVES
Yawkey Foundations Nonprofit stipends  
The BSLCE is the proud recipient of a generous grant from the Yawkey Foundations to support students seeking to gain experiences in nonprofit work.  The grant allows students to receive stipended internship opportunities as they enroll in a capstone course attached to the Nonprofit Minor, although students do not need to be a nonprofit minor to receive a Yawkey stipend.  The stipends provide interested students with the opportunity to conduct a semester's long internship in a nonprofit organization from one of three categories: 1) current BSLCE community partners; 2) local and state government agencies; 3) targeted nonprofits seeking specific, skill-based project support.  Additional funds from this generous grant will allow for Bentley to expand upon other nonprofit activities, speakers, and events.
AP (Advanced Placement) With We Service
The BSLCE has taken a high-level consultancy role in a groundbreaking civic engagement partnership initiative between the College Board and We Schools.  AP courses will be carrying the option of an integrated service-learning component to engage 7th-12th grade students in their communities and to provide university admissions offices a deeper measure of civic involvement. The BSLCE is serving in a consultancy role, including helping to develop the learning framework, assessment tools, course content, and programmatic White Paper.  Click here to learn more.
International Service-Learning (ISL)
The BSLCE is currently working with the Cronin Office of International Education to expand International Service-Learning trips for Bentley students.  In 2016, History Professor Cyrus Veeser led a trip of students to the Amazon in Ecuador for an intensive trip where they participated in the construction of doctor's housing, further developed their leadership skills, and connected their learnings in the community with their learnings in the classroom, thus enhancing their academic experience through service-learning. More opportunities are being developed for future ISL trips.