Bentley UXC Summer Discount
Any contract signed between July 1st and August 31st (over $30K) will receive a 20% discount!
Eye Tracking and Biometrics
Eye tracking and biometrics are highly effective research tools to measure user engagement and emotion. The UXC is equipped with a Tobii eye tracker, Shimmer sensor, along with the iMotions platform. Together, these technologies allow the UXC to measure where users look in real-time and their emotional reactions through a detailed facial expression and skin conductance analysis. The outcome of this type of eye tracking and biometrics is a more complete picture of the emotional aspects of the user experience, including what features are drawing the most attention, and which designs are most engaging for the user.   
When to Use
Eye tracking and biometrics are typically used with a high fidelity prototype or live website. Our clients want to focus on designing a highly engaging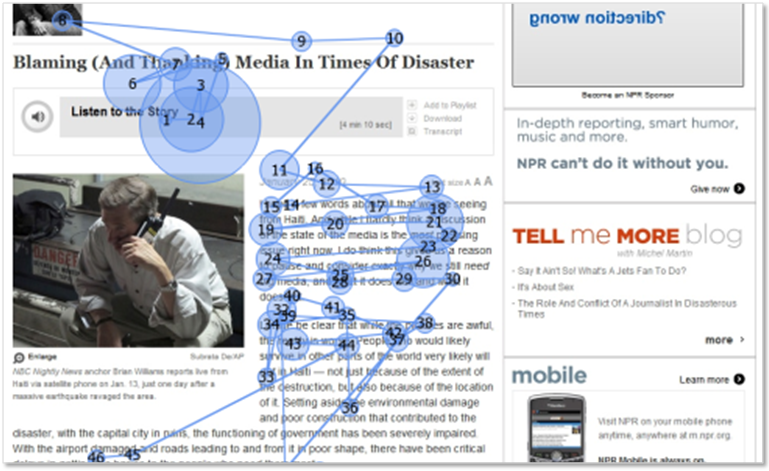 user experience, such as optimizing visual attention and engagement with a particular set of features, or measuring the overall positive reactions to various designs. Eye tracking and biometrics also can easily be added to any lab-based usability testing, providing an additional layer of data on better understanding the broader user experience with any product.
Eye Tracking and Biometrics at the UXC  
The UXC labs are outfitted with state-of-the-art biometrics technology, including a Tobii eye tracker, Shimmer GSR sensor, Affectiva facial expression analysis, and the iMotions software platform. The UXC can seamlessly integrate some, or all of this technology, into our everyday user research and usability testing. All of these technologies are easily portable, allowing us to collect emotion and engagement data in other locations.