The Connection Between UX and CX
Published by Sandra Perdomo
The user experience (UX) profession has its roots in human factors, or ergonomics, which began in the early 20th century with the development of new technologies. Its biggest application was in the field of aviation, where it became critical to understand the interaction between the pilot and the cockpit. Although the discipline has been around, in some form or another, for a while, the term "UX" is still relatively new to most of the world. Even those who have heard of UX may not be clear on the specifics.
UX is an inter-disciplinary field and, as such, it tends to blend into other areas. For those of us who work in the field, it's easier to draw the lines that separate it from other disciplines, but this isn't the case for those with an outside perspective. It's common to be asked, "are User Experience (UX) and Customer Experience (CX) the same thing?". They both end in "X" so  they must be the same, right? The short answer is no, but the actual distinction is tricky to make without firsthand knowledge. In fact, UX is a component of CX.
What is Customer Experience?
CX is the total end-to-end experience that someone has with a company. This experience takes place via various touchpoints, which can include advertisements and marketing, customer service, the company website, and store layout. Take, for example, the customer journey of going on a family vacation to Disney World. The general customer experience touchpoints include:
interactions with Disney employees whether it be on the phone if visitors have questions, or in person while at the park.
the cleanliness of the park.
the visitor's experiences with the food and the rides.
It goes without saying that Disney excels at producing exceptional, or what Disney refers to as magical, experiences, and it does so by paying attention to each and every detail of a visitor's user journey.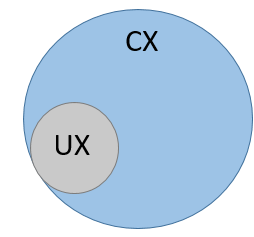 It's important to note that a customer's perception of their experience is formed by their expectations and whether or not these expectations are met. In today's economy, customers are more demanding and expect exceptional quality and service. As such, bad CX has the potential to turn customers away from a brand for good. 
To summarize, CX encompasses the entire customer journey and companies should strive to delight and help customers throughout each of these points of contact. The digital points of contact are where UX has a chance to shine.
What is User Experience?
UX is "a person's perceptions and responses that result from the use or anticipated use of a product, system or service" according to ISO 9241-210. UX focuses on specific touchpoints, usually digital, that a customer may encounter in their interaction with a company. These digital touchpoints usually come in the form of a website or mobile app.
Going back to our Disney World example, there are many points on a visitor's journey where good UX helps make a big difference in satisfaction and enjoyment levels. First, there is the process of buying tickets, which can be done through various platforms such as the mobile app or the desktop website. If potential visitors don't have a good experience using the website they could get frustrated and decide not to go to the park at all.
Once visitors arrive at Disney World they interact with other touchpoints such as the MagicBand, technology that connects to sensors around the park and allows visitors to unlock their hotel room door, enter the park, and pay for food and souvenirs.  When used with the Disney World app, the MagicBand can be used to set up reservations at restaurants and book other activities.
The MagicBand technology has permeated and enhanced the Disney park experience on many levels. It streamlines a visitor's journey by tying together various parts of the experience and making coordination and transitions between activities smoother. This in turn creates a positive experience. Companies like Disney know that UX is important to the bottom line because when a customer has a great user experience, these positive emotions are linked to the company. The opposite is also true-- a terrible user experience has the power to have the opposite effect.
How UX and CX Can Work Together
While UX and CX are different, it's important to not get hung up on their differences but see how they are related and how they can work together to stage exceptional experiences for people. According to Joe Pine, who along with James Gilmore coined the term Experience Economy, experiences are a unique economic offering because they engage each customer in a personal way. Disney has undoubtedly excelled at creating unique and personalized experiences for each of their visitors.
CX and UX are critical to a company's success now more than ever because customers are more empowered and demanding than ever before. Forrester has labeled this phenomenon as the Age of the Customer.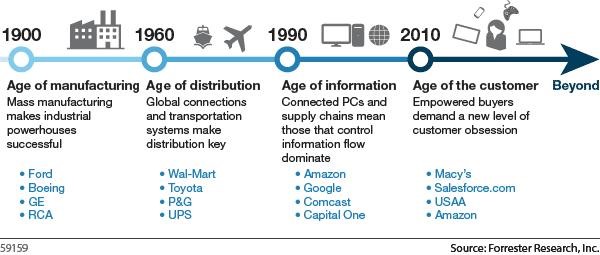 In the Age of the Customer, it's the customer who is in control of their interactions with a company. Technology has also brought forth the opportunity for companies to engage in personalized communication with customers and non-customers alike. Want to complain about poor service? Now all you have to do is hop on over to Twitter or Facebook and post your complaint there.
Due to these changes in attitude and technology, price is no longer the most important differentiator among products—experiences are. UX plays an important role in staging experiences for customers.
Great UX across all platforms is important to CX, as its goal is to maintain a consistent image and message throughout the entire customer journey, which is now becoming increasingly digital. In a study conducted by Forrester in 2015, 63% of nearly 400 companies surveyed planned to improve the customer experience by improving the online customer experience. In other words, they planned to improve their CX by improving their UX.
By enhancing their UX, and as a result their overall CX, companies are ensuring the ultimate happiness and satisfaction of their customers and in doing so, they are creating a sustained competitive advantage.
Sandra Perdomo
Sandra  is a Research Associate at the User Experience Center. Prior to joining the UXC, Sandra worked as an accountant at First Data Corporation, an international payments company, and as an analyst at Public Resources Management Group, Inc. She also worked for the Spanish Ministry of Education, teaching English at the elementary level.
Sandra holds a Bachelor of Science degree from the University of Florida, where she majored in Finance and minored in Mass Communications. She is currently pursuing a Masters of Science degree in Human Factors in Information Design at Bentley University.
Let's start a conversation
Get in touch to learn more about Bentley UX consulting services and how we can help your organization.