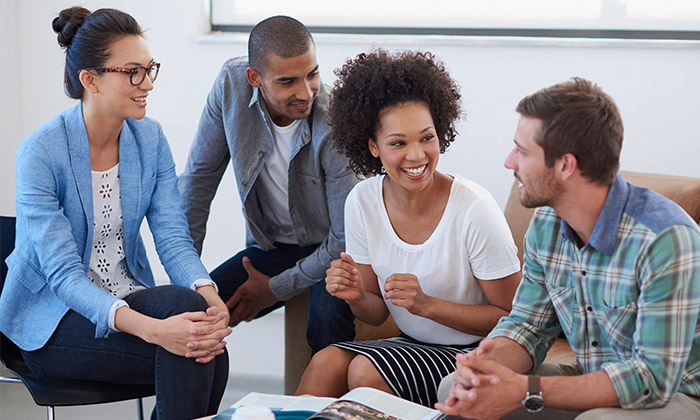 How company culture makes or breaks diversity efforts
7 Ways to Promote Diversity, Equity and Inclusion in the Workplace
Diversity, equity and inclusion (DEI) has been a focus for American companies since the 1960s, when the U.S. government enacted equal opportunity employment laws and other anti-discrimination legislation. Initially viewed as a compliance issue, DEI is now regarded as a business priority — a stance bolstered by recent research indicating companies with greater employee diversity are more profitable than their less-diverse competitors.  
The #MeToo movement and the 2020 murder of George Floyd further coalesced support for DEI in the workplace, as employees and customers alike looked to companies to acknowledge and address social justice concerns. Younger workers, in particular, expect businesses to take an active role in advancing social justice and equity: According to the recent Bentley University – Gallup Force for Good Survey, 84% of Americans ages 18-29 believe promoting DEI is a corporate necessity. 
RELATED: Explore more Bentley-Gallup Force for Good survey findings
However, as Marcus Stewart, Bentley's assistant dean of diversity, equity and inclusion and an associate professor of Management, notes, recruiting a diverse workforce is one thing; retaining those employees is another.   
"Often, companies hire for diversity but then have a culture that rewards and promotes conformity," he explains. He says it's incumbent on businesses to cultivate an inclusive workplace where employees feel respected, valued and connected. Otherwise, he cautions, "If your company doesn't deliver on its DEI promises, your employees are going to be less productive or leave." 
So what can companies do to ensure the success of their DEI efforts? Here, Donna Maria Blancero, professor of Management and former provost, and Yaro Fong-Olivares, executive director of Bentley's Gloria Cordes Larson Center for Women and Business (CWB), join Stewart in sharing effective strategies for creating — and sustaining — a more inclusive company culture: 
 
Address Implicit Bias
"No matter how open and bias-free we think we are," Stewart says, "we make judgments based on our socialization and life experiences." Known as implicit or unconscious bias, these are ingrained attitudes and assumptions that operate outside of our awareness, creating cognitive "shortcuts" that can unintentionally undermine equity efforts. 
Fortunately, implicit bias can be mitigated. Corporate training sessions can help employees understand how stereotypes subconsciously drive their decision-making, Stewart explains, noting that online tools (such as Harvard's Project Implicit) are available for continued exploration. "The more aware we are of our own biases," he says, "the less likely we are to act on them."  
Acknowledge Intersectionality
A term coined by scholar and activist Kimberlé Crenshaw, intersectionality refers to the ways an individual's various social identities — e.g., gender, class, race, sexuality and religion — overlap to confer or deny privilege in accordance with cultural norms. For example, the lived experience of a queer Black woman is informed by her sexuality, race and gender; as American culture prioritizes white, cisgender male and heterosexual identities, she may therefore feel like a "triple outsider," explains Fong-Olivares.   
By offering a more nuanced understanding of how individuals experience discrimination, intersectionality is essential for fostering inclusivity. "Companies need to acknowledge the unique needs and contributions of employees with multiple historically excluded identities," Fong-Olivares says. "Otherwise, their DEI efforts run the risk of perpetuating inequities." (Learn more about intersectionality in this CWB-curated research report.) 
Invest in Employee Resource Groups (ERGs)
Also known as affinity groups, ERGs provide a safe space where employees with shared interests, identities and experiences can come together. The first such groups appeared in the 1960s and '70s and focused on women and people of color. Today, 90% of Fortune 500 companies offer ERGs that support a variety of identities and interests, including parents/caregivers, military veterans and older employees.  
According to Fong-Olivares, ERGs foster inclusion in the workplace by creating a shared sense of belonging among employees. She also notes, "The most successful ERGs benefit from institutional support, such as funding, access to other resources and executive sponsorship."
RELATED: Transform your workplace with a DEI Champion Certificate
Offer Mentorship Programs
Like ERGs, mentoring programs encourage personal and professional growth. What's more, says Blancero, connecting entry-level workers with senior managers is mutually beneficial: "Less experienced workers have access to invaluable career advice and insights, while more seasoned colleagues gain new skills and fresh perspectives."  
Mentoring also provides a pipeline for leadership development. This is especially important for women, people of color and non-binary employees, who have fewer role models in leadership positions; despite recent diversity gains among C-suites, nearly 90% of CEOs and more than 60% of board members for Fortune 500 companies in 2020 were white men. Blancero notes that mentoring programs can also boost retention of younger workers, who leave jobs more frequently than older colleagues and often cite lack of advancement as a primary reason. 
Engage with Employees
Fostering a sense of belonging is fundamental for creating an engaged and inclusive workplace. To facilitate that connection, businesses should enlist employees as stakeholders in DEI efforts. As Stewart notes, "When employees feel connected to each other and to the company's mission, everyone wins." 
In addition to providing resources and support for ongoing trainings and educational sessions, he suggests businesses implement regular DEI-specific surveys to solicit workers' feedback. Doing so not only provides critical insights into existing DEI gaps, but also shows employees that their opinions and experiences matter. He also emphasizes that communication should be a two-way street: "Providing regular updates about DEI initiatives and outcomes helps build trust and accountability."
RELATED: Bentley announces DEI major for undergraduates
Communicate with Transparency
When communicating with employees, Blancero says, companies should strive to do so openly and honestly: "Transparency is key in exposing and addressing workplace inequities." According to management consulting firm Gartner, Inc., just 33% of organizations practice true information transparency — a sobering statistic that helps explain why 82% of employees say their workplace "lacks fairness." 
One key area where transparency is needed is the promotion process. "Having clearly defined criteria for organizational advancement helps level the playing field," Blancero explains, by ensuring employees are given equal opportunities to succeed. She also adds, "Most importantly, you need to ensure that those charged with developing these criteria are trained to do so and have a deep understanding of issues related to DEI, belonging and justice."  
Evaluate DEI Efforts
As with any corporate initiative, Fong-Olivares says, it's important to set DEI-related goals and regularly track progress toward meeting them. After all, she explains, "It's impossible for an organization to transform its culture without identifying its baselines, benchmarks and criteria for success." 
Program assessment methods will vary in accordance with each company's unique needs, but Fong-Olivares recommends incorporating both quantitative and qualitative data. "It's important to balance demographic data and statistics regarding retention, compensation and advancement with employees' firsthand experiences," she explains. "You need a complete picture of the DEI realities of your company in order to move the needle." 
Stewart is the first to admit that creating a more equitable and inclusive workplace is no easy task. "Change doesn't happen overnight," he cautions, "especially when you're trying to shift individuals' behaviors and your own organizational culture."
But he, Blancero and Fong-Olivares agree that fostering an environment where employees feel valued and respected is worth the effort. "DEI work is inherently messy, and you'll almost certainly make mistakes," he says. "But if you ground your efforts in empathy and honesty, you can create meaningful change." 
**This article was originally published on October 6, 2015, and updated on January 26, 2023.
RELATED: CWB offers companies customized, in-house DEI workshops