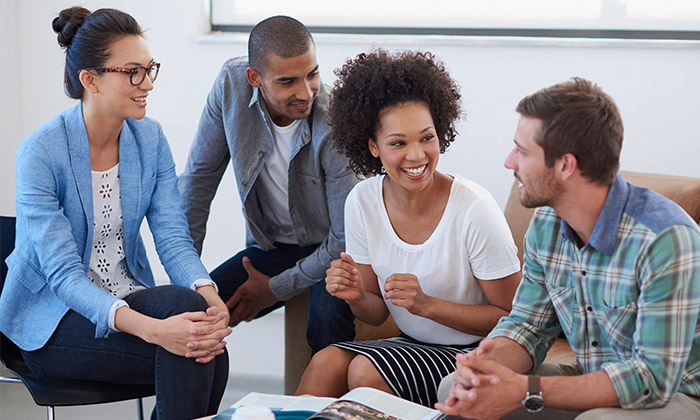 7 Ways to Promote Diversity in the Workplace
How company culture makes or breaks diversity efforts
Big names like Google, Facebook and Twitter have openly admitted a lack of workforce diversity -- and their intent to ramp up recruitment efforts and change the landscape of Silicon Valley. But what happens once the hiring is over? Will the company culture prove inclusive enough to make people want to stay?

Tough questions like these challenge a generation that insists there are no differences when it comes to various groups, says Bentley University professor Donna Maria Blancero, coordinator of the course Human Behavior and Organizations. "They're very different from baby boomers in regard to the number of minorities they've been exposed to, but the inclusion piece is the same. We still have people self-segregating and they don't even realize that they're making assumptions or avoiding people."

Professor Marcus Stewart agrees. "The problem is, companies hire for diversity but then have a culture that rewards and promotes conformity."
 
Companies hire for #diversity but then have a culture that rewards/promotes #conformity, says prof.
TWEET THIS

Stewart, who teaches the course, strives to create a classroom culture that defies that. Students are placed on diverse teams for cases and situations where people are different in all kinds of ways: generation, countries, majors, colleges.

"It's not easy to work with people when you don't understand where they're coming from," he says. "But if your goal is to truly accomplish the task at hand, you will learn that each person has something useful to contribute."
 
Strategies to Promote Inclusiveness
Blancero's research on isolation with the National Society of Hispanic MBAs uncovered lots of excitement about hiring people of color, including strong recruitment efforts and salaries; but that's just the beginning. "Once people got to work, they felt pretty isolated. The word gets out, and the company suffers because minorities avoid applying."

Here are seven strategies to avoid this kind of fallout:
 
Acknowledge Differences
It's OK -- and necessary -- to admit that people are different from one another, whether it be race, gender, religion or even personality and management style.

"Don't feel guilty," says Stewart. "Be thankful you're aware so that moving forward, you can minimize the incidence of discriminatory behavior and decision making."
 
Offer Implicit Bias Training -- for Everyone
No matter how open and bias-free we think we are, judgments are often engrained because of socialization and life experiences. Implicit bias training helps create a safe place to raise awareness of unconscious attitudes, and teaches tools to help change behaviors. Harvard hosts an online Implicit Association Test that anyone can take.
 
Provide Mentors
Connect underrepresented employees with internal and external mentors in their group to provide support and promote growth. Encourage participation in appropriate professional organizations.
 
Let People Learn by Doing
If you're a CEO with only one female engineer, you don't have an opportunity to put her on a team with other women, says Blancero; but you can offer her a leadership role so her success will speak for itself and open male minds.

"Having people act 'out of the norm' is often more powerful than trying to unearth deeply held attitudes because now you have objective evidence that is a more direct and more likely to change attitudes," she says.

And be mindful of the potential added stress of minorities feeling they have to prove themselves.
 
Encourage Personal Evaluation
In executive training, Blancero asks people to look at their LinkedIn network or Facebook friends and calculate the overall diversity to open up your mind. If all the senior people in your network are men, does it imply that you think women are not leaders? "Reviewing your contacts is something you can do privately and nobody has to see it. You get a window into your behavior."
 
Ask Questions
Whether you're hiring, firing or promoting, ask yourself, "If this person's social identities were different, would I still be doing the same thing?" Female or minority managers, for example, will often have a different set of etiquette than their male counterparts.
 
Value All Diversity
"You have perspectives that no one else has," shares Stewart. "You are part of that tapestry that adds value. Inclusive means that everybody can have a place and a voice on projects and goals."
 
Diversity Lessons from Rudolph
Stewart warns that your implicit attitude is often in conflict with your explicit attitude. "By the time we're adults and we've had education and experiences, our explicit attitude is likely to be nondiscriminatory and inclusive; we've learned to value diversity. But if you're under duress or preoccupied, that's when the implicit attitude -- engrained at some undetermined age -- rises to the surface and becomes influential."

Given the dual attitude theory, his goal for students is to raise awareness of implicit attitudes, learn how to build mechanisms to compensate and explore the value of a diverse workplace. He falls back on the classic Christmas story of Rudolph the Red-Nosed Reindeer to raise pertinent questions:

Rudolph was ostracized, marginalized and excluded because his bright, red nose was something the other reindeer had never seen before. Then there's this one night and an amazing storm with the worst of conditions when Santa realizes that Rudolph has something different that's valuable.

If you were Rudolph -- excluded from all training and having never been in the reins -- would you accept the job? And, if you did, could you possibly be prepared to succeed?