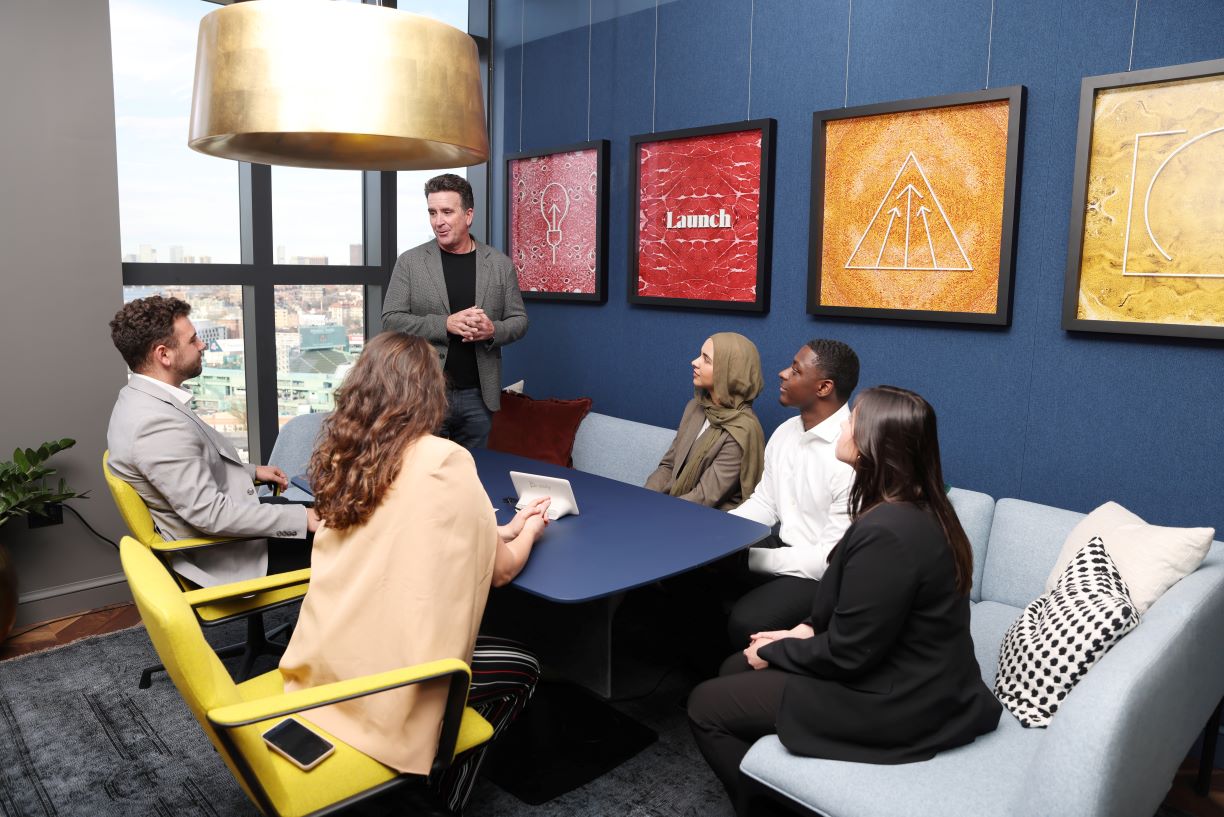 Kevin Gillis MBA '93, partner and COO of Third Rock Ventures, speaks with Bentley students at the company's Boston headquarters. (Photo by Jamison Wexler)
Bentley Launches Center for Health and Business
New center brings together students, faculty, alumni and corporate partners to develop innovative and sustainable solutions for the health industry
Bentley University has launched a Center for Health and Business to tackle longstanding challenges in the health industry with an innovative, multidisciplinary approach. The center, which brings together more than 80 faculty and staff members from various departments and disciplines, will focus on three priority areas — educating learners, supporting actionable research and building meaningful partnerships with companies — to take a cross-industry approach to problems plaguing the health industry today.  
"Managing the efficacy, access, costs and delivery of health care services to all citizens is one of our nation's most complex challenges," said President E. LaBrent Chrite. "Solutions to these issues will not be found in one sector, one policy or one institution. They will require innovative, scalable and sustainable business solutions — and creative and capable business leaders — to transform this important and rapidly evolving industry."  
The launch of the Center for Health and Business supports the university's Falcons Forward 2030 strategic plan, which calls for the creation of centers to coordinate faculty teaching and research as well as stronger engagement with corporate partners to address consequential challenges in society.  
Solutions to our nation's health care challenges require innovative, scalable and sustainable business solutions — and creative and capable business leaders.
President, Bentley University
Danielle Hartigan, an associate professor of Health Studies, was named executive director of the new center. "The health industry is one of the largest and most complex sectors of the U.S. economy and directly affects the health and well-being of every member of our society," Hartigan said. "It encompasses a wide variety of disciplines — from clinical care and biomedical research to data analytics and financial administration, among others — which has made it difficult historically to balance the needs of patients, providers and policymakers."  
By leveraging the expertise and experiences of Bentley faculty, staff, alumni and corporate partners in health as well as encouraging a new generation of business leaders to view the industry through a multidisciplinary lens, Hartigan said the Center for Health and Business will harness the power of business to create a more financially sustainable, accessible and equitable health system that balances cost and quality.  
The Center for Health and Business aims to transform the business of health in three priority areas:
Impactful Education
The center expands upon the university's existing academic programs — including undergraduate majors in Health Studies and Psychology, an MBA concentration in Strategic Healthcare Management and customized MBA programs for corporate partners like Beth Israel Lahey Health — by adding new health-related courses and outside-the-classroom activities such as a speaker series and health-focused career fairs. This summer, the center will launch the Business of Health Innovation, a week-long program for rising high school juniors and seniors that focuses on the business side of the health industry.  
Actionable Research
The Center for Health and Business builds upon the blueprint provided by Bentley's Health Thought Leadership Network (Health TLN), a collaborative group of faculty and staff whose research on health-related issues includes mental health in the workplace, privacy concerns and gender bias in corporate wellness programs, public health messaging during the COVID pandemic and policy barriers that prevent housing the homeless. In addition to expanding this faculty research, the new center will also provide research opportunities for students.  
Hartigan is one of three faculty members awarded a multiyear grant from the National Institutes of Health to explore how institutional trust affects public health outcomes; students will serve as research assistants for the project, gaining hands-on experience with cutting-edge analytical methods including machine-learning algorithms and latent textual mining. Other research projects will explore how innovative technologies such as AI and virtual reality can improve health care delivery and outcomes. 
Meaningful Collaborations
Developing strategic partnerships with health industry leaders — many of whom happen to be Bentley alumni — will bridge the gap between theory and practice, contributing real-world insights that encourage further academic exploration while giving students mentorship, experiential learning and job opportunities. 
For example, last semester, Bentley students visited the Boston headquarters of Third Rock Ventures, a venture capital firm that invests in and creates life science companies, to meet with partner and COO Kevin Gillis, MBA '93. This fall, students will enjoy a firsthand look at how Suffolk uses innovative technologies to design its health industry facilities. The center's "Hot in Health" speaker series and a "Shark Tank"-like Health Futures competition — planned for this spring and co-sponsored by Bentley's new Entrepreneurship Hub (E-Hub) — provide more ways for corporate partners to engage with faculty, staff and students.
The Center for Health and Business is fortunate to have many alumni in the health industry who support its mission and vision — most notably, entrepreneurs Chris Smith '91, MBA '92, P'19/'20 '24 and his late brother Greg Smith '91.  
Hartigan said Chris, the CEO of Aspect Health, Inc., a real estate development company specializing in healthcare hospitality, and his twin brother Greg, the former president and CEO of luxury senior living brands Maplewood and Inspı¯r, were visionaries in the health industry. A generous gift from the Smiths "provided the catalyst we needed to begin transforming our dreams for the center into reality," Hartigan said.  
For Chris Smith, the brothers' investment "isn't just a monetary gift. It's a commitment of our time and resources to help move this program over the goal line, to be a part of the fabric of the university. To step back, look at the next generation and think, 'How do I make an impact?'" 
Bentley University's new Center for Health and Business