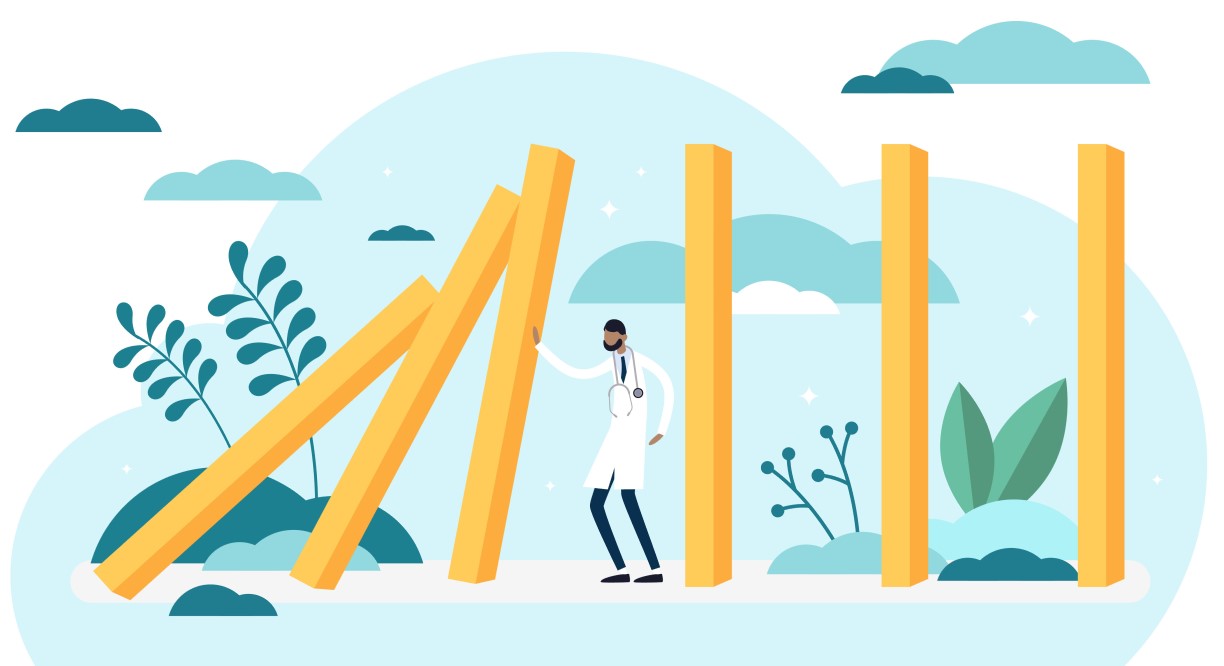 Is Public Health Suffering From a Crisis of Confidence?
Professors awarded NIH grant to identify how institutional trust influenced personal choices about COVID risk-mitigation policies
A public health campaign's purpose is two-fold: to raise awareness of imminent health threats and to minimize their potential impact by encouraging individuals to engage in or refrain from specific behaviors. To do this, campaigns share information based on scientific facts. But it turns out the success of these efforts depends on something else entirely: faith. 
This faith isn't religious in nature, says Rob DeLeo, an associate professor of Public Policy. Rather, it refers to institutional trust, or confidence in American social institutions. "Institutional trust is paramount in health care," DeLeo explains. "Lack of faith in the government, public health agencies, the health care system and even science itself can seriously undermine public health efforts." After all, he notes, "If people don't trust you, they're not going to do what you say." 
That proved to be the case with COVID-19, one of the most significant global public health crises of the past century. The pandemic "unfolded against a backdrop of diminished trust in social institutions," DeLeo says, citing a 2021 Robert Wood Johnson Foundation/Harvard T.H. Chan School of Public Health study that found only 52% of Americans felt a "great deal of trust" in the Centers for Disease Control and Prevention (CDC) — the federal agency coordinating the nation's COVID response — and even fewer reported similar levels of confidence in state (41%) and local (44%) health departments.  
This lack of faith in public health institutions helps explain why official COVID risk mitigation guidelines, such as social distancing, mask wearing and vaccination, were often met with resistance. To date, more than 1 million Americans have died due to COVID, and a Kaiser Family Foundation study suggests 60% of these deaths could have been prevented if individuals had chosen to follow the CDC's vaccine recommendation. It's clear, then, that institutional trust plays a critical role in public health outcomes. But as DeLeo notes, "Trust isn't established in a vacuum," so what factors influence the creation of institutional trust? And, once broken, how can it be restored? 
These are among the questions DeLeo and two Bentley colleagues — Dhaval Dave, Stanton Research Professor of Economics, and Danielle Hartigan, an associate professor of Health Studies and director of the university's Health Thought Leadership Network (Health TLN) — hope to answer, with help from a three-year, $379,139 grant from the National Institutes of Health (NIH). Although Bentley has received NIH funding in the past to support collaborative research projects with other institutions, this marks the first time in the university's history that Bentley is the sole recipient. As Dave notes, "It's a really proud moment for us."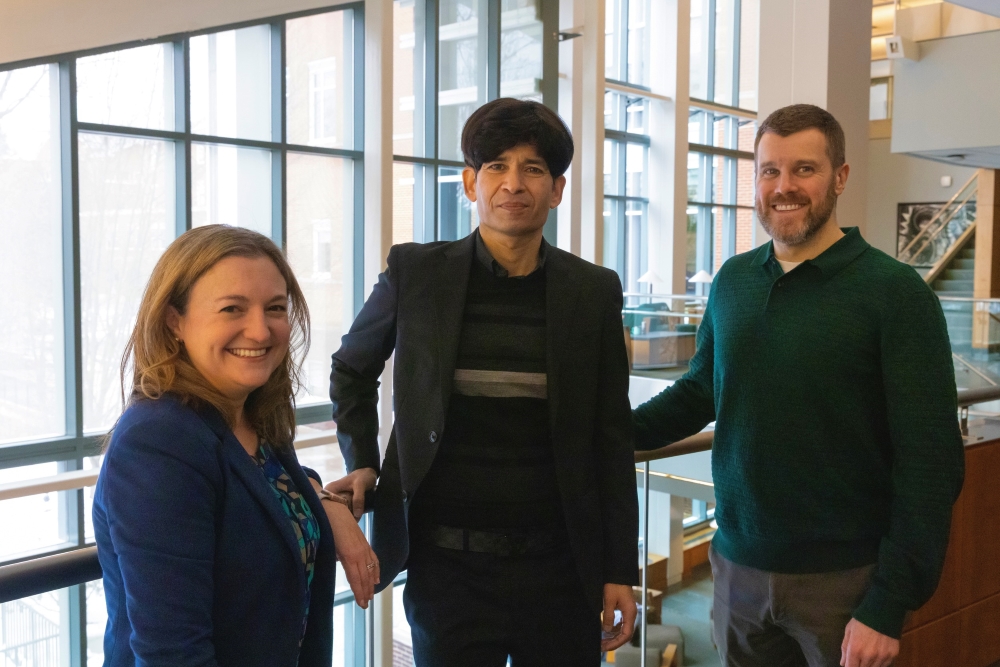 RELATED: NSF-funded study to explore COVID-19 risk communication and behavior
A CATALYST FOR COLLABORATION  
All three professors are members of Bentley's Health TLN, a multidisciplinary campus group that brings together dozens of faculty and staff to explore and advance health care research and education. And all three acknowledge that their history-making NIH funding would not have been possible were it not for their involvement in the group.  
It was during a Health TLN meeting last year that DeLeo shared findings from two earlier, National Science Foundation-funded COVID studies he had undertaken as a member of the Risk and Social Policy Working Group, an interdisciplinary team of scholars representing 10 universities in eight states. The studies, which explored risk mitigation behaviors and vaccine hesitancy, were unique in that they consisted of panel surveys, which are specifically designed to measure changes in respondents' attitudes and behaviors over time.   
Dave recalls being "floored" by the data DeLeo presented. As a health economist and research associate with the National Bureau of Economic Research (NBER), Dave had authored several COVID-related papers with NBER colleagues. However, "we didn't have access to real-time data, so had to rely on statistics collected by the government and other agencies," he explains. DeLeo's studies offered "a robust longitudinal data set spanning various phases of the pandemic that could answer questions about COVID behaviors we simply couldn't touch within the economics domain," Dave says. He immediately proposed a partnership to further explore the data. 
DeLeo and Hartigan were excited by the prospect. "When you show your work to someone who has another perspective on it, they see opportunities that maybe you didn't," DeLeo explains, noting that Dave was the first to suggest the project could qualify for NIH funding. All three characterize the Health TLN as a catalyst for collaboration: "Having a dedicated space that allows for the rich exchange of ideas creates all sorts of magic and possibilities," says DeLeo.  
The NIH grant is the latest recognition of these possibilities and the strength of the Health TLN's innovative and impactful scholarship. Last spring, alumni brothers Chris Smith '91, MBA '92, P '19/'20 '24 and Greg Smith '91 pledged $5 million to help grow and transform health care education and research at Bentley. "Both the Smiths' gift and the NIH grant it enabled will provide opportunities for Bentley students to engage in a multidisciplinary approach essential to addressing future health challenges," says Hartigan.   
Institutional trust is paramount in health care. Lack of faith in the government, public health agencies, the health care system and even science itself can seriously undermine public health efforts.
Associate Professor, Public Policy
ENHANCING STUDENT LEARNING 
A key feature of the new NIH-funded study is the active role Bentley students will have as research assistants. "As teacher-scholars, all three of us regard student participation as a central pillar of our research," DeLeo says. The professors hope to engage at least six undergraduates to participate in all three years of the study, so that students can benefit from intensive, hands-on research experience. The study will apply cutting-edge analytical methods, including machine learning algorithms and latent textual mining, and "students will be involved in the refinement of research questions, development of coding manuals, modeling strategic and analysis plans and finalizing research protocols," Hartigan explains.  
In exploring the interplay between institutional trust and COVID-related health decisions, the research team will investigate how geographical and socio-demographic factors — such as race, gender, economic status, educational attainment and political preference — influence individual perceptions of public health recommendations. They therefore hope to engage a diverse group of student researchers who can "offer really rich ideas and perspectives" by virtue of their lived experiences, says DeLeo, noting that he, Dave and Hartigan have already connected with Jane De Leon Griffin, associate provost of student success, and colleagues in the Center for Women and Business to encourage first-generation and female students to apply.  
The professors also believe the study has the potential to inform broader social justice concerns related to public health. "We know that certain groups were disproportionately affected by COVID," Dave explains, noting that infection and death rates were higher for communities of color during the earlier stages of the pandemic, when vaccines were not yet available. By offering a more nuanced understanding of institutional trust and "how cultural and social phenomena can affect personal health behaviors," he says, their research could provide insights that help reduce existing disparities in the U.S. health care system. 
According to DeLeo, one of the pandemic's key takeaways is that "infrastructure and capacity alone aren't enough to achieve successful health outcomes." With Americans' faith in the federal government and public health agencies at historic lows, he says, "We need to ask ourselves, where do we go from here? What pathways can we identify to build and repair the institutional trust that has diminished during this period?" 
After all, DeLeo cautions, "COVID-19 isn't going to be the last public health crisis we face in our lifetimes. If we, as a society, want to successfully and effectively navigate similar situations, we're going to need to trust one other."
RELATED: A COVID vaccine is coming, but will Americans take it?
Join Professors DeLeo and Hartigan for a related panel discussion:
"COVID INSIGHTS: Rebuilding Trust, Bolstering Institutions and Improving Communication in the Wake of Disaster"
Tuesday, April 4 | 2:00-3:20 p.m. | Wilder Pavilion