The Human Factor
Professor Bill Gribbons honored with 2022 Adamian Award for Lifetime Teaching Excellence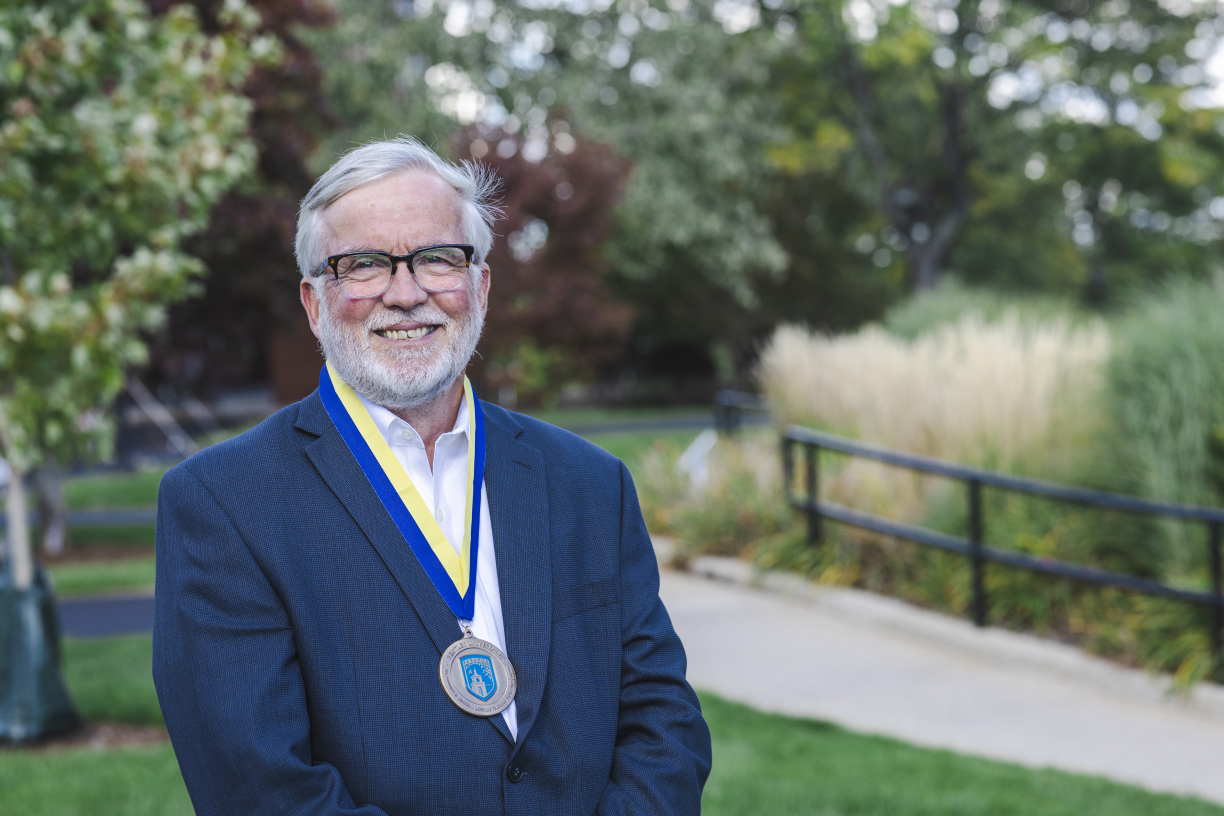 Photo by Kevin Maguire
It's no surprise that gardening is Bill Gribbons' favorite activity outside the classroom. 
After all, the same qualities required of a successful gardener — patience, persistence and the ability to cultivate a nurturing environment that facilitates growth — apply equally to teaching. And much like a gardener is gratified by watching the seeds he's planted bloom and thrive, the recipient of Bentley's 2022 Adamian Award for Lifetime Teaching Excellence delights in his students' success. 
"My greatest satisfaction comes from seeing what my students have accomplished," says the professor and director of Bentley's Master's in Human Factors in Information Design (MSHFID) program. He notes that MSHFID graduates have gone on to leadership positions in some of the world's most influential companies — including Amazon, Apple, Google, Meta and Tesla, to name just a few — and have undeniably achieved "great things, changing the organizations they work with, and even the field of design itself, in profound and positive ways."  
Although Gribbons himself claims no credit for their achievements, his former students feel otherwise. "Modest and unpretentious, Bill doesn't seek recognition, but he's most deserving of it, especially for his capacity to ignite passion and invite discovery in the classroom," says Annie Persson MSHFID '20, an experience design (XD) specialist for the U.S. Department of Commerce. "An elite scholar, a respected educator and a beloved mentor, he has shaped the careers and brightened the futures of all who were fortunate to learn from him." 
RELATED: Faculty recognized for Outstanding Scholarly Contributions
With a career spanning nearly four decades, Gribbons has been a guiding force for countless undergraduate and graduate students. He's also helped pioneer a new academic discipline — experience design (XD) — that was just beginning to gain traction in the business world, and thus didn't yet exist at Bentley, when he joined the university's faculty in 1986. 
"In the early '80s," Gribbons explains, "I became intrigued by the concept of behaviorally based design," or how an object's design can influence human decision-making. At the time, he was working in advertising, a field he was increasingly viewing as "exploitative." As he puts it, "I felt we weren't thinking enough about people in design — about what could make their lives better or easier." 
Improving people's lives is the fundamental premise of experience design, a dynamic discipline integrating design, engineering and psychology that's also known as UX (user experience). "The principles and practices of experience design apply broadly to everything we create," Gribbons explains. "It's a problem-solving approach that puts people first, with an eye toward making products better, richer and more usable." Although experience design originated with Big Tech companies, it has since expanded to other industries, including finance, health care, retail and transportation, driven, he says, by the "development of new interaction modes such as touch, gesture and conversation, all of which require a deeper understanding of the human factor."  
Bill is responsible for (re)launching the careers of hundreds, if not thousands, of alumni through the MSHFID program — alumni who are not only thriving in this valuable and rewarding field, but also applying their Bentley education to improve the lives of millions of people.
Vanessa Wiegel MSHFID '17
Senior Director of UX, Motional
As the discipline has grown, so too has Bentley's academic offerings. In 1989, Gribbons taught his first class in behaviorally based product design. A few years later, he partnered with colleagues from other disciplines to offer a seminar series, which became the basis for Bentley's long-running UX Certificate program. In 1999, Gribbons designed and debuted the MSHFID program, which has since become one of the best known and most respected programs of its kind, both nationally and globally — and, he proudly notes, "the only XD program offered by a business school." 
The emphasis on business is precisely why the program is so successful. From the outset, Gribbons explains, its courses emphasized "the wider business enterprise and analytics," alongside the fundamentals of human behavior, research methods and design practices. But the true hallmark of the program is the powerful, hands-on experience students acquire by engaging directly with companies through both their classes and Bentley's acclaimed User Experience Center (UXC).  
Established in 1999, the UXC has provided research, design and strategy services for hundreds of businesses worldwide — as well as an "invaluable training ground" for students, says Anne Mamaghani MSHFID '03, UX strategist and founder of Wisdom Driven UX. "My experience as a student consultant in the UXC set my skills and background apart from my colleagues' from the start," she notes, adding that "two decades later, I continue to call on the practical skills and academic principles I learned in the program." 
RELATED: MSHFID students' product designs incorporate multisensory systems
Working directly with established companies gives MSHFID students an opportunity to "learn how to balance the needs of the business with the needs of the customer," Gribbons explains. A passionate advocate of inclusive and ethical design, he believes companies shouldn't prioritize profitability over people — and he wants to make sure his students understand they'll leave the program not only with the ability, but also the responsibility, to "develop and design a better world." After all, he says, "Seeing that your design can bring relief, support and compassion into people's lives — there's truly nothing like it." 
His students agree, noting that Gribbons' unbridled passion for experience design, coupled with his sense of humanity and humility, make him an exceptional educator. "Creating and nurturing innovative programs is impressive, but doing this while truly connecting with and caring for people really sets Bill apart," says Mamaghani. "His enthusiasm for the work is infectious and he inspires students to be their best. Through his example, Bill has modeled a most successful blend of expertise, care and humility in leadership — one that I have aspired to myself, as a user experience leader in the tech world." 
Adds Vanessa Wiegel MSHFID '17, "I cannot think of another educator who has made a more significant impact on my career, and in turn, my overall success and happiness, than Bill Gribbons." The senior director of UX for Motional, a pioneer in driverless vehicle technology, continues, "What's even more remarkable, however, is that I'm not unique. Bill is responsible for (re)launching the careers of hundreds, if not thousands, of alumni through the MSHFID program — alumni who are not only thriving in this valuable and rewarding field, but also applying their Bentley education to improve the lives of millions of people." 
RELATED: Designing for a Difference