Racial Justice and the Running Industry
Author and activist Alison Mariella Désir — with help from Bentley researchers — is going the distance to achieve equity in the sport she loves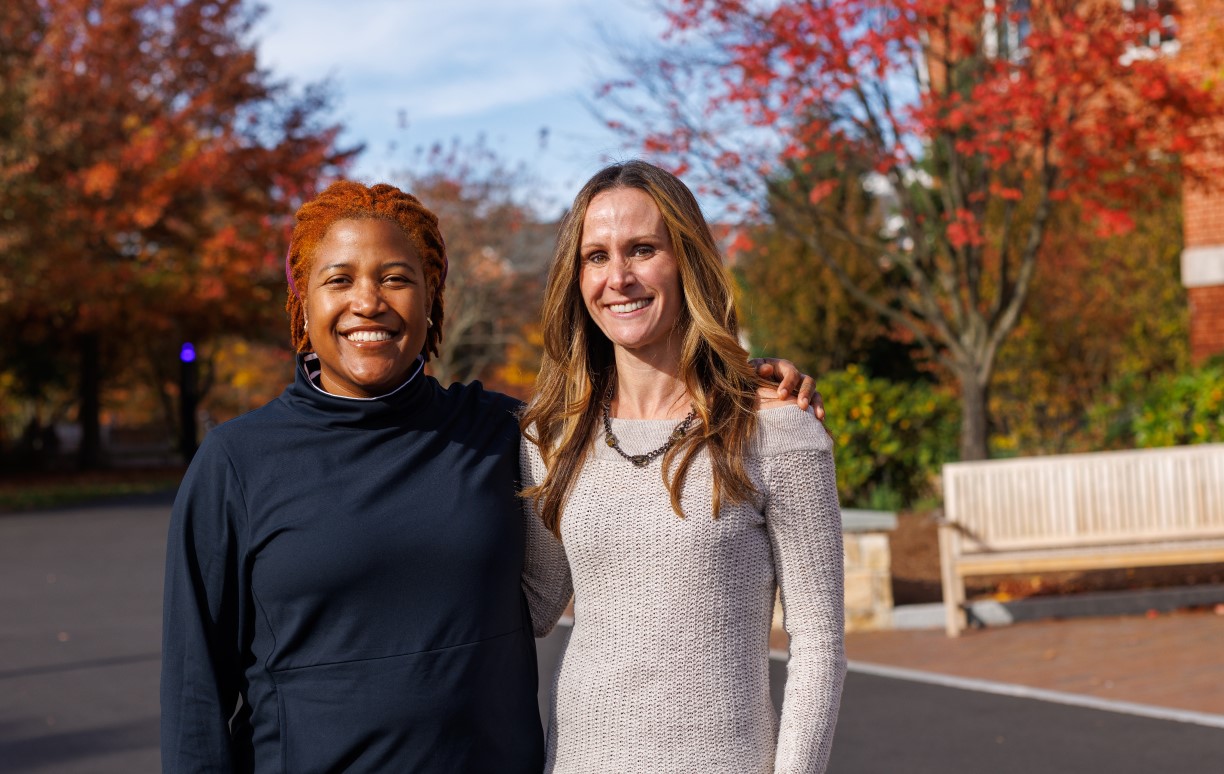 Alison Mariella Désir, left, with Professor Erin Flynn. (Photos by Kevin Maguire)
The murder of Ahmaud Arbery — a 25-year-old Black man who was shot and killed on February 23, 2020, while jogging near his Georgia home — shocked Alison Mariella Désir to her core.  
As a Black woman, the endurance runner, activist and mental health advocate says she's always been aware that "doing normal, everyday things could make [people who look like me] targets of police and vigilante violence." But Arbery's death hit her in a different, more visceral, way, as she had just given birth to her son seven months prior. "What separates me, and other Black mothers like me," she wrote in an op-ed for Outside magazine, "is that we are plagued by the question: At what point will a white person see my son as a threat and attempt to murder him … [for the] crime of jogging while Black?" 
Long before that fateful February day, Désir had been advocating for increased diversity in the running industry as the founder of several running col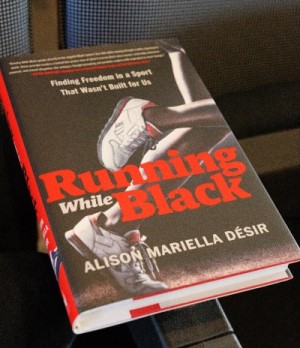 lectives — including Harlem Run and Run 4 All Women — that offer safe, inclusive spaces for women and members of the BIPOC (Black, Indigenous and people of color) community. But Arbery's murder provided the impetus for bringing her message to a wider platform, inspiring her to write her first book, "Running While Black: Finding Freedom in a Sport That Wasn't Built for Us," published this month. In it, Désir explores the history of running as a recreational activity in America and explains how systemic racism has created and perpetuated barriers that exclude BIPOC runners.  
On Friday, October 28, Désir came to campus to share these insights and more with the Bentley community. Nearly 100 students, faculty and staff attended the event, which was sponsored by the Office of Diversity and Inclusion, Marketing Department and Office of Sustainability. During the discussion, Désir spoke of her love for the sport, which she took up in 2012. "I had fallen into a deep depression," she shared, "but running brought me back to myself. It literally saved my life."   
Désir also spoke about the importance of increasing BIPOC representation, not only as recreational runners and race participants but also as corporate leaders in the running industry, which is currently valued at $36.8 billion globally and projected to reach $55.8 billion by 2027. Noting that industry leaders are "disproportionately white," Désir said "it's time [for businesses] to create space for other people" and employ people of color in decision-making positions. 
The running industry has a responsibility to ensure that everyone, whatever their race or ethnicity, has the opportunity to experience the transformative power of running.
As co-chair of the Running Industry Diversity Coalition (RIDC) — an organization that unites the running industry to provide resources, measure progress and hold the industry accountable to equitable employment, leadership and ownership positions and improve inclusion, visibility and access for Black, Indigenous and people of color (BIPOC) — Désir is working to do just that, in partnership with Bentley's own Erin Flynn, a lecturer in Marketing. 
An avid runner with 20 years' corporate experience in the running industry, Flynn is also an advocate for diversity, equity and inclusion (DEI) who served on Bentley's Racial Justice Task Force and is a facilitator of the university's Whiteness Accountability Group. Her industry experience and academic expertise stood out to RIDC co-chair Chris Lampen-Crowell, co-owner of Michigan-based Gazelle Sports, who tapped Flynn to lead the organization's research efforts. It's a role she relishes, as she shares the RIDC's commitment to holding the running industry accountable for advancing racial justice. "The running industry has a responsibility to ensure that everyone, whatever their race or ethnicity, has the opportunity to experience the transformative power of running," Flynn explains.  
One of the RIDC's goals is to ensure that BIPOC representation in running participation and in running industry employment, leadership and ownership aligns with national demographics. In order to track industry progress — or, as Flynn puts it, "to determine whether we're actually creating change, or just talking about it" — the RIDC first needed to establish some baseline measures. Flynn enlisted two of her students to help her collect existing data around racial diversity in running industry participation. The research team discovered a notable discrepancy: While statistics sourced from industry insiders (e.g., retailers, vendors, race directors and running clubs) identified just 14% of all runners as BIPOC, data from an independent national survey indicate BIPOC participation is actually 34%.   
Although running participation does not yet match national demographics — according to U.S. Census statistics, 59.3% of Americans self-identify as white/non-Hispanic and 40.7% as BIPOC — the discovery is significant. As Flynn explains, it indicates a disconnect between companies' understanding of their customer base and the racial diversity that actually exists among U.S. runners: "It highlights the whiteness of the running industry, that we're not creating an inclusive space for a significant portion of runners." Citing U.S. Census data that projects white Americans will constitute a racial minority for the first time ever by 2045, she says it's "imperative for the running industry to acknowledge that our country is becoming more racially and ethnically diverse every day. We need to create an environment that's welcoming for all runners, not just white runners."  
Currently, Flynn and her team are collecting data related to running industry employment, leadership and ownership, and have a second research study underway to identify barriers to BIPOC participation in trail and road running. RIDC will use findings from each to identify specific actions the industry must take to improve inclusion, visibility and access for underrepresented runners. 
Having a firm understanding of and appreciation for inclusive and equitable practices, strategies and mindsets in one of the biggest ways that we, as students, can be a force for good.
For Flynn's students — both of whom are participants in the Valente Center for Arts & Sciences' student research assistantship program — contributing to the RIDC's racial justice efforts proved eye-opening. "The lack of racial diversity in the running industry is staggering to me," says Rachel Donnellan '23, a Management major and Information Design and Corporate Communication minor. "I found the lack of available data about racial/ethnic identities within organizational leadership teams particularly shocking, as it's challenging to enact change if there's isn't a shared understanding of the starting point."  
That's why she and fellow research assistant Ramiro Aguirre '23, a Marketing major pursuing minors in both Finance and Psychology, are particularly proud of helping Flynn develop a comprehensive survey the RIDC is using to record and track racial diversity among employees for each of its brand partners. As Donnellan sees it, having a common measurement and data collection tool will help companies to "begin taking actional steps to dismantle the systems and leaking pipelines that have led to a lack of representation in leadership." 
Aguirre is similarly hopeful, although he cautions that achieving true equity is "a process that's going to take years if not decades." A former goalkeeper for the Bentley men's soccer team, the Guatemala native knows from firsthand experience what it's like to "become part of a group where everyone looks different than you" and believes athletes and administrators can and should do more to foster an inclusive environment for BIPOC teammates. Aguirre will be working full-time in sales for the soccer team New England Revolution after he graduates in December and is hopeful he'll have the opportunity to apply DEI insights gleaned during his time at Bentley. Ultimately, he says, "Sports has the ability to unite us in a way that few other things can and is therefore a powerful conduit for social change." 
Donnellan, who aspires to a career in management consulting, is similarly committed to racial justice beyond Bentley. "Working on projects grounded in DEI has given me an appreciation for how businesses can spark real change rather than engaging in performative allyship," she says. She credits the RIDC research with "opening my eyes to the power that marketing has in this world to connect people, bring justice to communities, share stories and enact change."    
Donnellan is grateful to Flynn and other Bentley professors for educating students about "ways to connect effectively and inclusively when working on a diverse team, how to bring all voices into a conversation and create spaces at the table for those not already represented, and how we, as individuals and communities, unknowingly play a role in upholding historically oppressive systems." In fact, she views DEI as an essential part of a Bentley education: "Having a firm understanding of and appreciation for inclusive and equitable practices, strategies and mindsets is one of the biggest ways that we, as students, can be a force for good." 
RELATED: Students gain experience as diversity consultants
RELATED: Course development grants support social justice in the classroom