Messaging
So much of the Bentley brand is communicated in our voice – what we decide to say with our spoken and written language. Below you will find the keys to our editorial approach that can guide you as you craft the voice of Bentley on the page, on the screen and in person.
Brand Personality, Voice and Tone
Personality
Our personality is at the intersection of leadership and understanding and drives us to be a force for positive change. Brand-Architecture-Guide.pdf

Voice and Tone
Our voice is born of our personality, blending leadership and understanding. It's how we communicate in a way that conveys we're a force for positive change. Our leadership qualities enable us to be a force and make a lasting impact, and our understanding nature allow us to do it in a positive, ethical and compassionate way.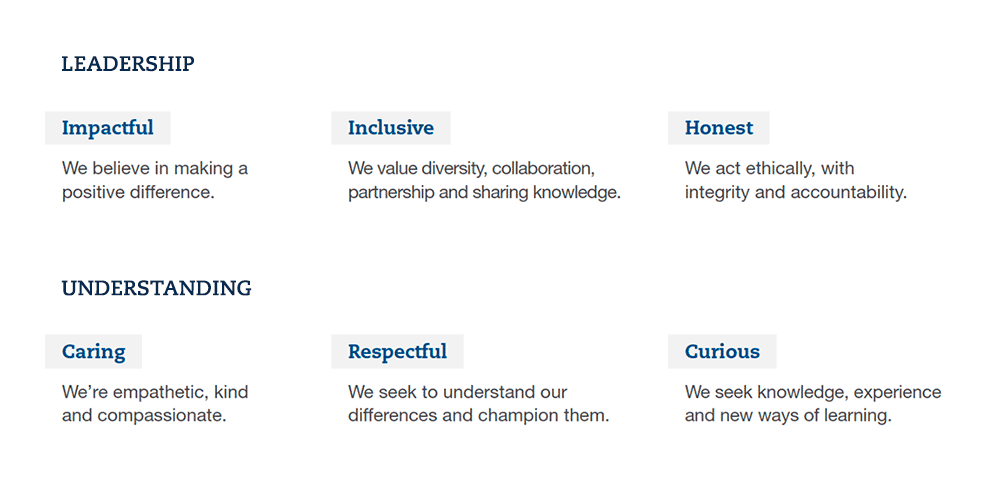 Download Our Brand Architecture Guide
How to Sound Bentley
When writing or speaking on behalf of Bentley, it's important to do so with a unified, consistent voice. While we tailor our content and tone to each audience, we are consistent with how we reference our values and touch upon our positioning and pillars - the things that make Bentley special and distinct in the marketplace. Here are some tips on "how to sound Bentley."
Use language that feels natural and conversational. A skilled collaborator is easy to talk to and avoids jargon or verbose explanations. 
Acknowledge diverse points of view. An effective leader proactively addresses the different needs of different people.
Communicate with optimism. Positive change starts with a hopeful outlook, which will inspire others.
Convey a sense of togetherness. Use language that unifies and aims to serve a greater good.
Speak to the audience's needs and prioritize them. Be proactive and acknowledge their perspective.
Allow a spirit of inquiry to come through. This genuine desire to learn drives all of us.

Use strong action words to make your writing lively and clear.
Messaging by Audience
Our Bentley Community
These are the key groups that make up our community who need to understand our brand, what it represents and what it can mean for them. Each audience is unique, so use these profiles to inform your approach and interactions with each of them.
Prospective Students
Goal: educate, inspire, support
An education at Bentley means the chance to transform business and the world for the better. You will be empowered to collaborate with others, develop your skills, build a successful and rewarding career, and become a powerful force in whatever field you choose.
Prospective Parents
Goal: educate, inspire, affirm
A student enrolled at Bentley will receive a transformative business education with a conscience. They will be empowered to become ethical leaders and find success in their careers and lives by making a positive impact in the world around them.
Undergraduate Students
Goal: empower, instill pride, prepare
To be empowered on an individual level while participating in the collective drive of an entire university, makes the Bentley experience unlike any other. Each and every student here can be more than just a force in business, they will be a force for positive change at Bentley and around the world.
Graduate Students
Goal: empower, instill pride, prepare
As business shapes itself to a changing world, the Bentley education adapts and transforms with it. Through continuous learning and a holistic approach, graduate students find the resources necessary to be an instant force as they move forward with their careers and lives.
Faculty
Goal: empower, instill pride, motivate
Our faculty are impactful leaders, empowering students to create positive change, inspiring new ideas among academic peers, and creating innovative ways to help move the business community forward.
Staff
Goal: empower, instill pride, motivate
Our staff remind us that positive change can be made in many ways and leadership happens on many fronts. Our staff unite us, propel us, and prove that when we support each other, we make a much greater impact.
Alumni
Goal: engage, connect, instill pride
As alumni, Bentley graduates continue to be a force in their careers and their daily lives as industry leaders, entrepreneurs and change-makers. Their appetite for lifelong learning keeps them connected to their Bentley family, which instills a sense of pride, keeps them engaged, and ensures a robust network to welcome and stay connected to the next generation of leaders.
Donors and Prospective Donors
Goal: engage, inspire, motivate
Bentley has always been a force for change. With the help of alumni and friends who attribute their success to their Bentley education, we will continue the spirit of reinvention to create the education that these times demand. Our donors will be investors in shaping the future of business education and will achieve a lasting impact on generations of future Bentley students.
Corporate Partners
Goal: connect, inspire, collaborate
By delivering a transformative business education, Bentley develops talent that actively reshapes the corporate landscape in positive, productive ways. This valuable network is ever growing and inspires connections that strengthen the business community, our community and society as a whole.
Boilerplate