Visual Identity
The Bentley University Brand Standards establish consistent use of typography, colors and logos. Together, these elements provide instant recognition while conveying a sense of Bentley's character and style — the Bentley brand. A comprehensive identity program maintains the integrity of the Bentley brand and promotes maximum recognition and awareness of Bentley University.
Here are our logos, fonts, colors and other design elements that express the visual communication of our brand, along with specific rules that ensure their proper use.
Bentley Zoom backgrounds now available!
The new logo system allows greater flexibility and hierarchy. Our most formal logo, the University Seal, is reserved for use by the Office of President, Office of the Provost and select communications and occasions. Our Primary Logo serves as our "everyday" logo and can be replaced by the University Wordmark when there are space constraints. Read on for more details about each element in the system.
University Seal
The University Seal comprises some of the distinctive things that make Bentley special: Our beloved falcon soaring high. The beautiful greenery of our campus. And, at the center of it all, our iconic clocktower, set at 19:17 in tribute to the year Harry Bentley's vision for a new kind of business education came to life.
Use of the University Seal is strictly limited to the Board of Trustees, Office of the President, Office of the Provost, University Police  and University Advancement. Any other applications such as formal events must be approved by the brand team by contacting brand@bentley.edu.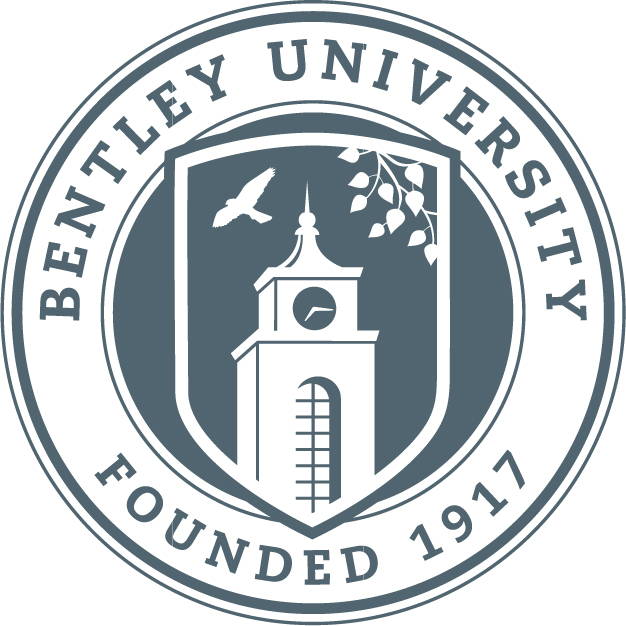 Primary Logo
Our Primary Logo serves more informal applications and can be used to create a fresher look with an accessible tone.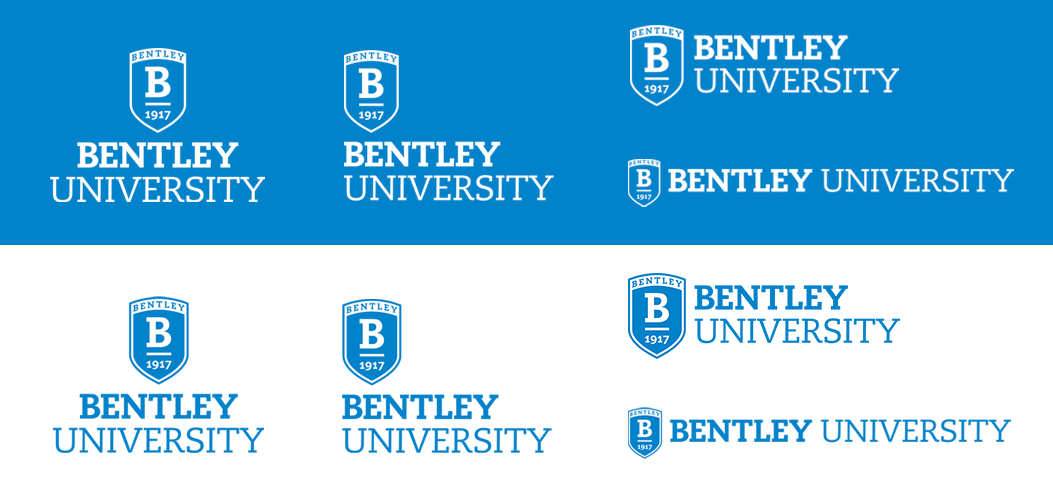 Logo Downloads
Below you will find logo downloads for our Primary Logos (including color variations) and the Watermark. The logos can be downloaded in EPS and PNG file formats- PNG files are for digital use and EPS files are higher resolution for print. The logos labeled "KO" are white logos with transparent backgrounds to be used over colored, textured or photo backgrounds. Right click to download the files you would like.

Bentley_Logo_Horizontal_Stacked_Blue eps  Bentley_Logo_Horizontal_Stacked_Blue_0.eps
Bentley_Logo_Horizontal_Stacked_Blue png Bentley_Logo_Horizontal_Stacked_Blue.png
Bentley_Logo_Horizontal_Single_Line_Blue eps Bentley_Logo_Horizontal_Single_Line_Blue.eps
Bentley_Logo_Horizontal_Single_Line_Blue png Bentley_Logo_Horizontal_Single_Line_Blue.png
Bentley_Logo_Vertical_Centered_Blue eps Bentley_Logo_Vertical_Centered_Blue.eps
Bentley_Logo_Vertical_Centered_Blue png Bentley_Logo_Vertical_Centered_Blue.png
Bentley_Logo_Vertical_Left_Aligned_Blue eps Bentley_Logo_Vertical_Left_Aligned_Blue.eps
Bentley_Logo_Vertical_Left_Aligned_Blue png Bentley_Logo_Vertical_Left_Aligned_Blue.png
Bentley_Logo_Horizontal_Stacked_KO eps Bentley_Logo_Horizontal_Stacked_KO.eps
Bentley_Logo_Horizontal_Stacked_KO png Bentley_University_Logo_Horizontal_Stacked_KO.png
Bentley_Logo_Horizontal_Single_Line_KO eps Bentley_Logo_Horizontal_Single_Line_KO.eps
Bentley_Logo_Horizontal_Single_Line_KO png Bentley_University_Logo_Horizontal_Single_Line_KO.png
Bentley_Logo_Vertical_Centered_KO eps Bentley_Logo_Vertical_Centered_KO.eps
Bentley_Logo_Vertical_Centered_KO png Bentley_University_Logo_Vertical_Centered_KO.png
Bentley_Logo_Vertical_Left_Aligned_KO eps Bentley_Logo_Vertical_Left_Aligned_KO.eps
Bentley_Logo_Vertical_Left_Aligned_KO png Bentley_University_Logo_Vertical_Left_Aligned_KO.png
These four colors from the secondary palette can be applied to the graphic line within the University Logo when the context calls for it.

Bentley_Logo_Shield_Only_Blue eps Bentley_Logo_Shield_Only_White.eps
Bentley_Logo_Shield_Only_Blue png Bentley_Logo_Shield_Only_Blue.png
Bentley_Logo_Shield_Only_Yellow eps Bentley_Logo_Shield_Only_Yellow.eps
Bentley_Logo_Shield_Only_Yellow png Bentley_Logo_Shield_Only_Yellow.png
Bentley_Logo_Shield_Only_Green eps Bentley_Logo_Shield_Only_Green.eps
Bentley_Logo_Shield_Only_Green png Bentley_Logo_Shield_Only_Green.png
Bentley_Logo_Shield_Only_Teal eps Bentley_Logo_Shield_Only_Teal.eps
Bentley_Logo_Shield_Only_Teal png Bentley_Logo_Shield_Only_Teal.png
Bentley_Logo_Shield_Only_Orange eps Bentley_Logo_Shield_Only_Orange.eps
Bentley_Logo_Shield_Only_Orange png Bentley_Logo_Shield_Only_Orange.png
Bentley_Logo_Shield_Only_KO eps Bentley_Logo_Shield_Only_KO.eps 
Bentley_Logo_Shield_Only_KO png Bentley_Logo_Shield_Only_KO.png
 

Wordmark

The University Wordmark introduces the brand simply and clearly. It provides flexibility when dealing with space constraints and can accommodate a wide range of uses and contexts.

 

Wordmark Downloads
Right click to download
Bentley_Wordmark_Stacked eps Bentley_Wordmark_Stacked.eps
Bentley_Wordmark_Stacked png Bentley_Wordmark_Stacked.png
Bentley_Wordmark_Stacked_KO eps Bentley_Wordmark_Stacked_KO.eps
Bentley_Wordmark_Stacked_KO png Bentley_Wordmark_Stacked_KO_RGB.png
Bentley_Wordmark_Horizontal eps Bentley_Wordmark_Horizontal.eps
Bentley_Wordmark_Horizontal png Bentley_Wordmark_Horizontal.png
Bentley_Wordmark_Horizontal_KO eps Bentley_Wordmark_Horizontal_KO.eps
Bentley_Wordmark_Horizontal_KO png Bentley_Wordmark_Horizontal_KO_RGB.png
Department Lockups
Department lockups are made up of the University Wordmark combined with the name of a department, office, center or program. This is the university-approved branding for all departments, offices and centers. Please see our FAQs or reach out to the brand team with any questions. 

You can use our new logo generator to create your department, office, division, program or center logo "lockup." Just type in your department, division, program or center name (no locations or contact information; not for personal logos or email signatures) and you will get .png and PDF files emailed to you in both color and white / knock out. You must log in with a valid Bentley email address to use this app.
Logo Usage
To ensure the correct usage of the logo and to be consistent with the brand, please do not alter the logo in any way. That includes stretching, distorting, changing the color or outlining the logo. Also avoid rotating the logo or altering the size or proportion of the shield.
The shield should not appear any smaller than .75" in print executions or 90px in digital executions.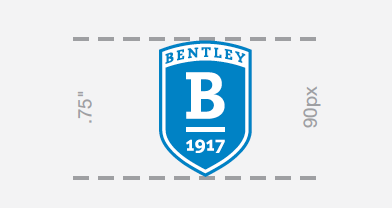 Download our logo usage cheat sheet
Athletics Logos
The graphic components of the Bentley athletic logo system are:
Athletic shield
Use of the athletics shield is restricted to Bentley athletics and cannot be used to represent an academic or administrative unit or in conjunction with the institutional and/or unit logos.
Spirit mark (Falcon) 
Our spirit mark is the most casual of our brand assets and while seen predominantly in athletics, it is available for use across the university to enhance spirit and pride. This mark should never be used in place of our institutional mark and is reserved for applications that support student life and athletics.
Athletic Shield: External Version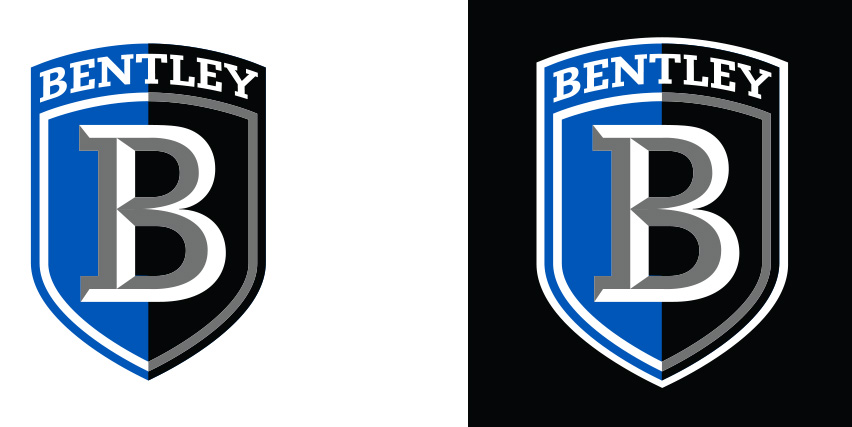 The external version (with the "Bentley" name at the top) is intended for broad public audiences or situations where the Bentley context has not been established.
Bentley_Athletic Shield External (Vector-based best for print and enlargement) 
Bentley_Athletic Shield External Screen Resolution (Best for digital applications such as the web, Word and Powerpoint)
Athletic Shield: Internal Version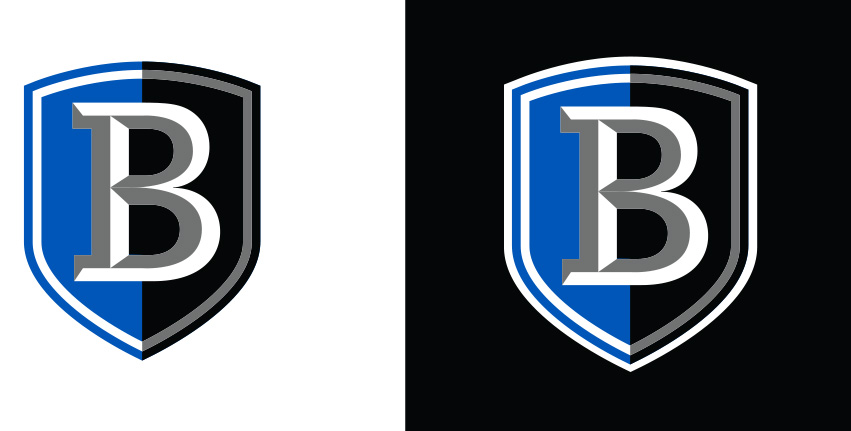 The internal version (without the "Bentley" name at the top) is intended for campus audiences or situations where the Bentley context has been established.

Bentley_Athletic Shield Internal (Vector-based best for print and enlargement)
Bentley_Athletic Shield Internal Screen Resolution (Best for digital applications such as the web, Word and PowerPoint)
Spirit Mark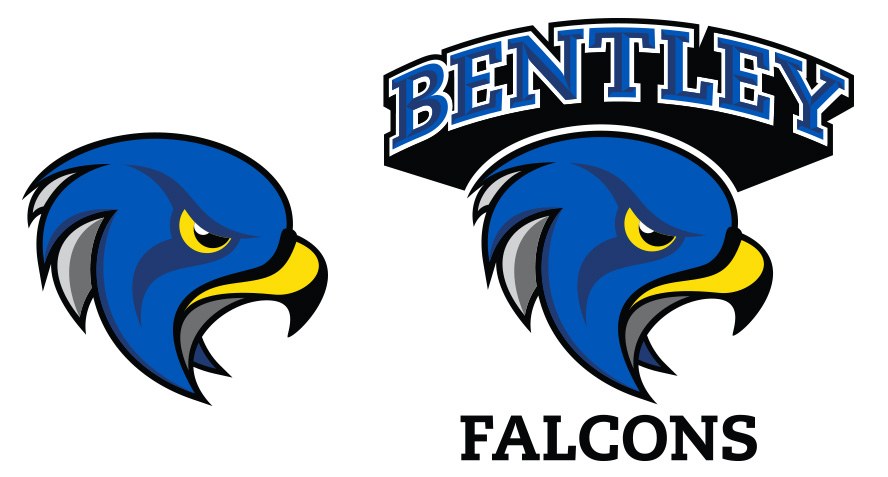 Bentley_Spirit Mark (Vector-based best for print and enlargement)
Bentley_Spirit Mark Screen Resolution (Best for digital applications such as the web, Word and PowerPoint)
The choice of fonts is a critical element in establishing our visual identity. Used together, these two official fonts or typefaces create a clear hierarchy while making content legible and engaging:
Helvetica Neue: Helvetica Neueu is our sans-serif family and a workhorse for our communications, performing well in longer-form text.The standard version of Helvetica installed on your computer is adequate for most projects.
Caecilia: Caecilia is our serif family and performs well at small sizes and doses.  
Contact us to request access to these fonts.

Primary Color Palette 
Use the following colors as a first choice when designing print or web assets to create a look that instantly and consistently aligns with our identity. 
PMS: 3005
CMYK: C100 M35 Y0 K0
RGB: R0 G117 B190
HEX: #0075BE
PMS: 295
CMYK: C100 M50 Y0 K40
RGB: R43 G69 B102
HEX: #2B4566
PMS: 7542
CMYK: C10 M0 Y3 K15
RGB: R179 G196 B204
HEX: #B3C4CC
PMS: 7406
CMYK: C0 M18 Y100 K0
RGB: R255 G204 B51
HEX: #FFCC33
Secondary Color Palette 
Use these accent colors sparingly as choices that complement the primary palette. As a reminder, always lead with a primary color before introducing a secondary color. 
PMS: 7545
CMYK: C15 M0 Y0 K60
RGB: R123 G133 B143
HEX: #7B858F
CMYK: C35 M5 Y100 K0
RGB: R178 G200 B53
HEX: #B3C642
CMYK: C70 M0 Y36 K0
RGB: R59 G138 B177
HEX: #42B7B0
CMYK: C0 M44 Y100 K0
RGB: R249 G159 B28
HEX: #F79E31
CMYK: C0 M72 Y78 K0
RGB: R255 G110 B74
HEX: #FD6F50
CMYK: C10 M90 Y90 K0
RGB: R211 G65 B53
HEX: #D0433A
CMYK: C47 M13 Y3 K0
RGB: R128 G188 B230
HEX: #82BCE5
CMYK: C5 M25 Y5 K0
RGB: R239 G236 B234
HEX: #EFECEA
CMYK: C30 M24 Y32 K0
RGB: R181 G180 B169
HEX: #B5B4A9
CMYK: C7 M0 Y9 K0
RGB: R235 G241 B239
HEX: #EBF1E7
CMYK: C63 M55 Y55 K30
RGB: R88 G88 B88
HEX: #585858
CMYK: C74 M65 Y58 K56
RGB: R47 G51 B56
HEX: #2F3338
Breakdown of Color usage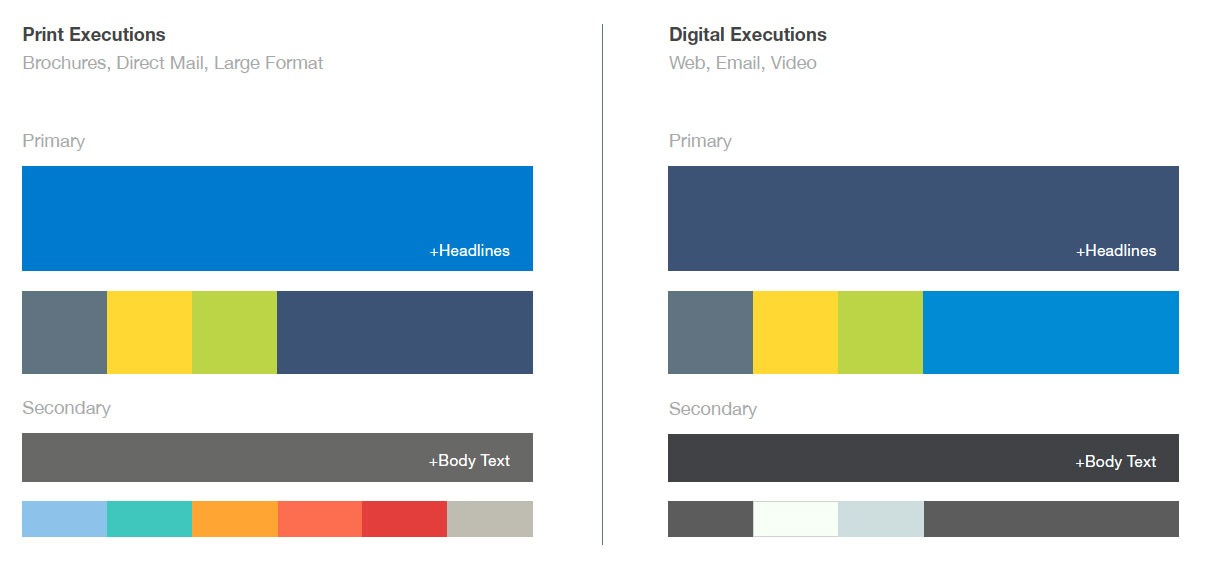 Our icons are simple, with smooth lines to make them easy to use across all mediums, yet recognizably Bentley.
Download MC.474.20%20Bentley%20Brand%20Icons%20for%20FC.pdf  BEN_Logo_Usage_One_Sheeter%5B5%5D.pdf
With a clear point of view, we can create imagery that represents Bentley in a way that consistently communicates what it means to be a force. Our approach to photography is an important part of how we express and reinforce our brand. It should capture real-life moments that are not staged and give you the feeling that you are looking into a moment. When appropriate, adding overlays can help make the photo more active and dynamic.
We've set out to create positive change in ways big and small – there's passion in that. So, we look to capture inspired moments that convey the personal connections that are unique to the Bentley community – our subjects are engaged, inspired and energized.
All photography applications should take diversity into consideration. While not every photo needs to be ethnically diverse, take time to review each body of work and strive to represent diversity without forcing it unnaturally. Social_Media_Guidelines.pdf