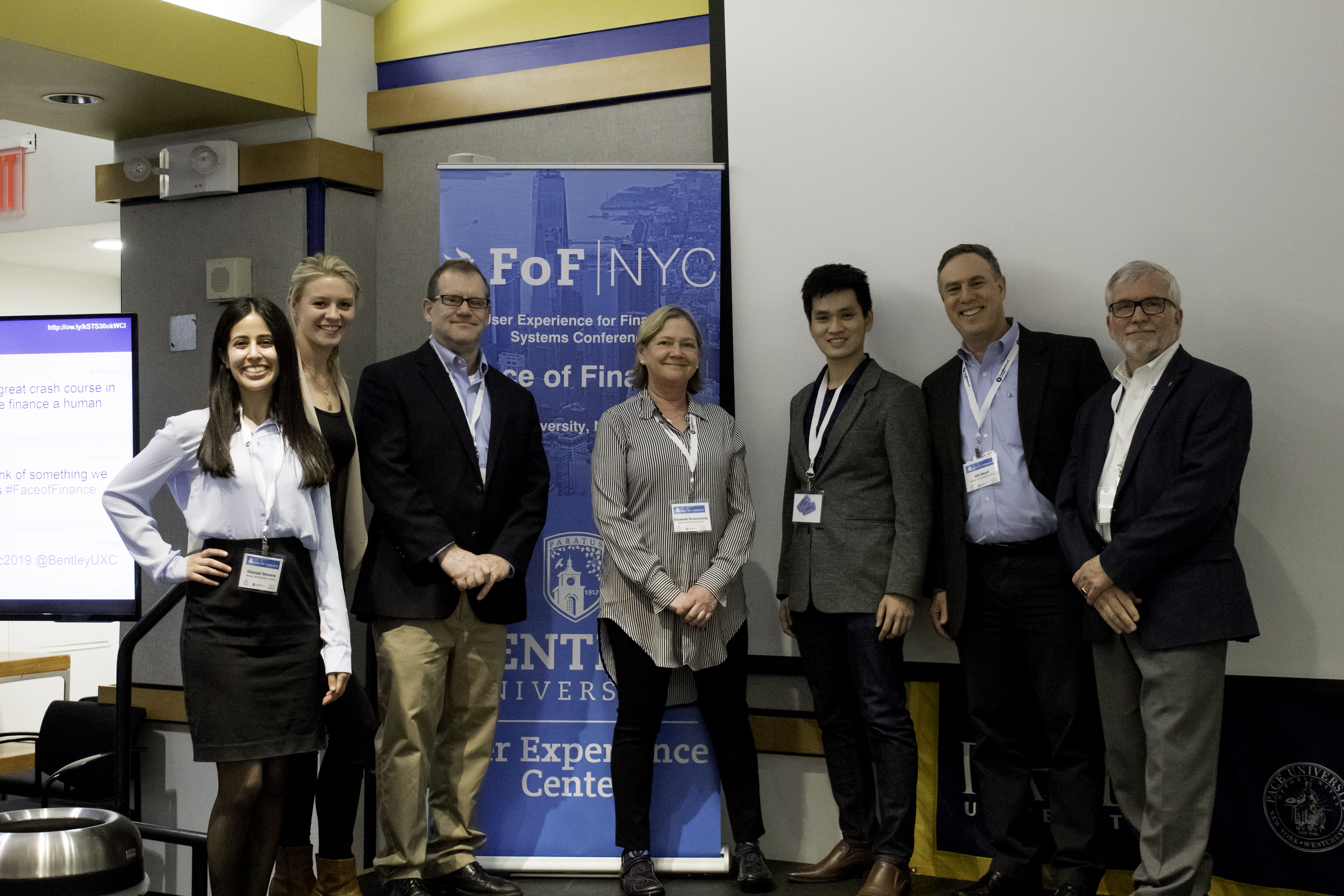 This year's Face of Finance conference, dedicated to the current trends, meaningful stories, best practices and key takeaways for User Experience (UX) professionals in the financial services industry, was a great success. Organized by the Bentley User Experience Center (aka, the "UXC" - see organizers at left) and hosted at Pace University, this event brought together a wide variety of UX practitioners. These included professionals from major financial institutions (e.g., Bloomberg, Mastercard, Goldman Sachs, JPMorgan Chase, TIAA, Fidelity); tech and FinTech companies (e.g., Google., Betterment, Avanade, Ellevest); and academia and agencies (Bentley UXC, the Plain Language Group, Pace University, Dan+Jason+Co). Fittingly, this full-day conference was held in downtown Manhattan in the Financial District of New York City. Right from the very start, the conference was sold out with a waitlist so it was clear that there was great demand to attend. Also, throughout the day, it was observed that the conference was trending worldwide on Twitter! Here are some highlights from the event: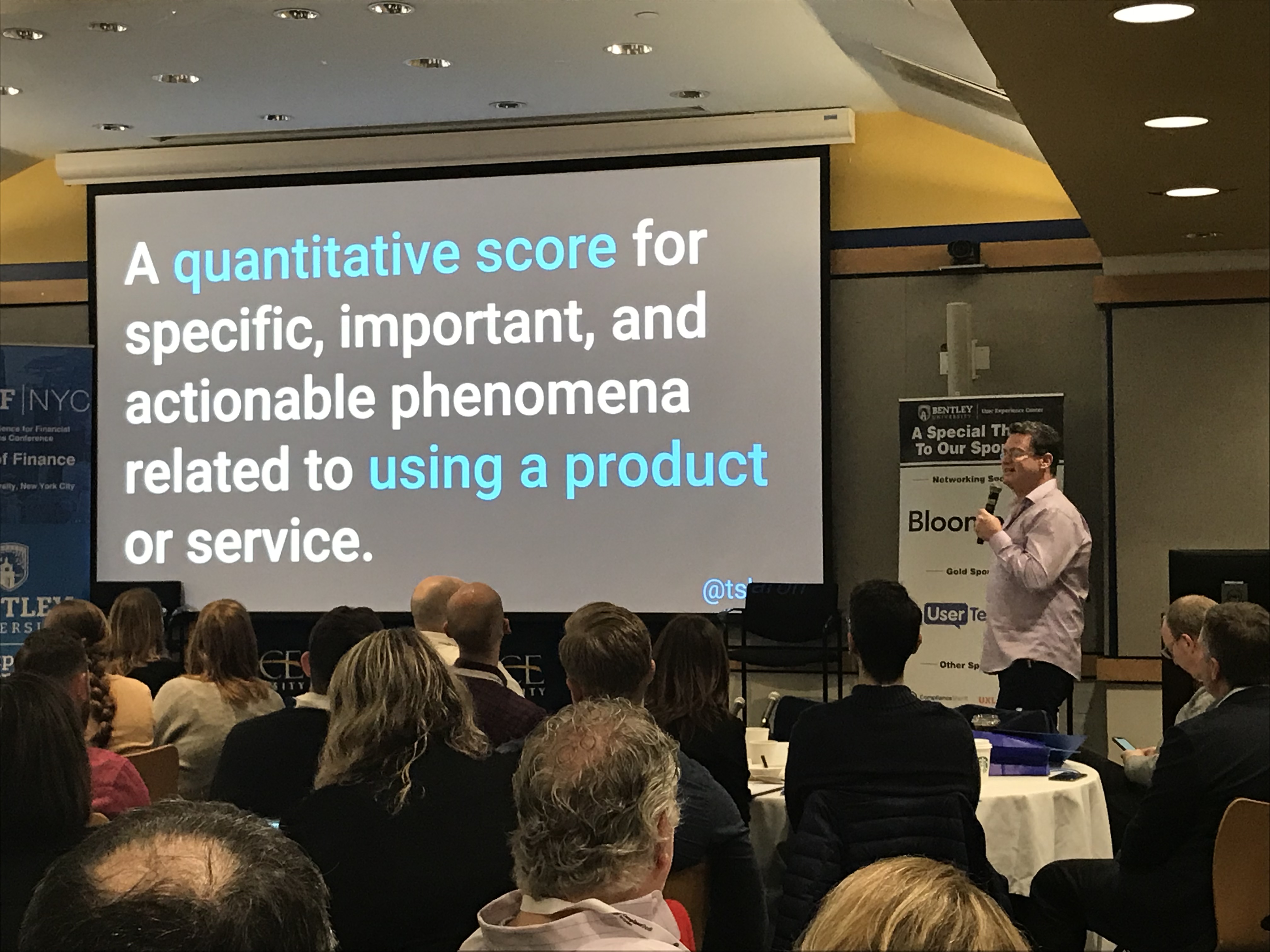 Keynote 
The conference opened with a keynote from Tomer Sharon, Managing Director and Head of User Research & Metrics at Goldman Sachs. Tomer's topic was "Key Experience Indicators for Product Management", and he discussed how the right experience indicators to measure the user experience are critical to drive business outcomes, make product roadmap decisions, and give insights into customers' experiences. Specifically, he elaborated on the importance of choosing the right metrics to measure the user experience. To do this, Tomer shared his HEART framework - a method of selecting metrics which are absolutely core to the user's experience. HEART stands for measuring Happiness; Engagement; Adoption; Retention; and Task Success. Of those, only Happiness would be self-reported, as Tomer asserted that what a user actually does is more telling than what they say.
Measuring Design: Minding The Gap In Our Skills And Behaviors
The next talk was delivered by Lawrence Lipkin, Executive Director and Head of User Experience Design for Treasury Services at JPMorgan Chase. He discussed the challenges of measuring experiences in financial services, mentioning that we have gotten good at measuring financial markets and products but are not as good at measuring the user experience related to those things. Part of the problem, he suggested, was the potential tension between data-based decisions (typically quantitative) and decisions based on user stories (typically more qualitative). Lawrence discussed how this dichotomy is a false one, and bringing together storytelling and data is actually the best tactic UX practitioners can use right now.
Panel: War Stories From the Front
This insightful panel brought together Karen Pascoe (Senior Vice President of Experience Design at Mastercard), Steve Turbek (Managing Director at Goldman Sachs), Miles Begin (UX Manager at Google), Melissa Cullens (Chief Design Officer at Ellevest), Jason Brown (Co-Founder of Dan+Jason+Co) and Mark Safire as the moderator (Team Lead, User Experience Research at Bloomberg LP). Each panelist started off by telling a "war story" - that is, a challenge or difficulty they faced while practicing UX in the financial service sector. During his story, Jason mentioned the Innovator's Dilemma - when a client wants to innovate and disrupt a market but wants to do so without harming or damaging his/her business (i.e., a paradox between the top line and the bottom line). After all of these stories, Mark mentioned how a common thread among all of them - and the key to a resolution of the difficult situations mentioned - was an ability to see the bigger picture and show how a UX practitioner could add value within their particular context.
Designing for Emotion
Mark Mulvey, the Creative Director at TIAA Digital Design, spoke right before the lunch
break about the importance of designing for emotion and putting user emotions first. He started off by sharing that everyone can think of products or services that they love or hate, and how that is indicative that everyone can consciously or unconsciously understand the importance of designing for emotion. However, while we may agree that designing for emotion is important, how does a UX practitioner actually do this? Mark broke it down into three simple steps; Interaction - Response - Emotion. He used the case study of the successful ad campaign #LikeAGirl by Always. This campaign was a series of Youtube videos which brought together vignettes of both stereotypical views of "Throwing a ball like a girl" and "Running like a girl", juxtaposed with empowering clips of young girls running fast and throwing hard and strong, "like a girl." Leveraging these cases as an example, Mark elaborated on a series of quick techniques to bring emotion into a design, stating that we should not underestimate the impact and business value of emotional design.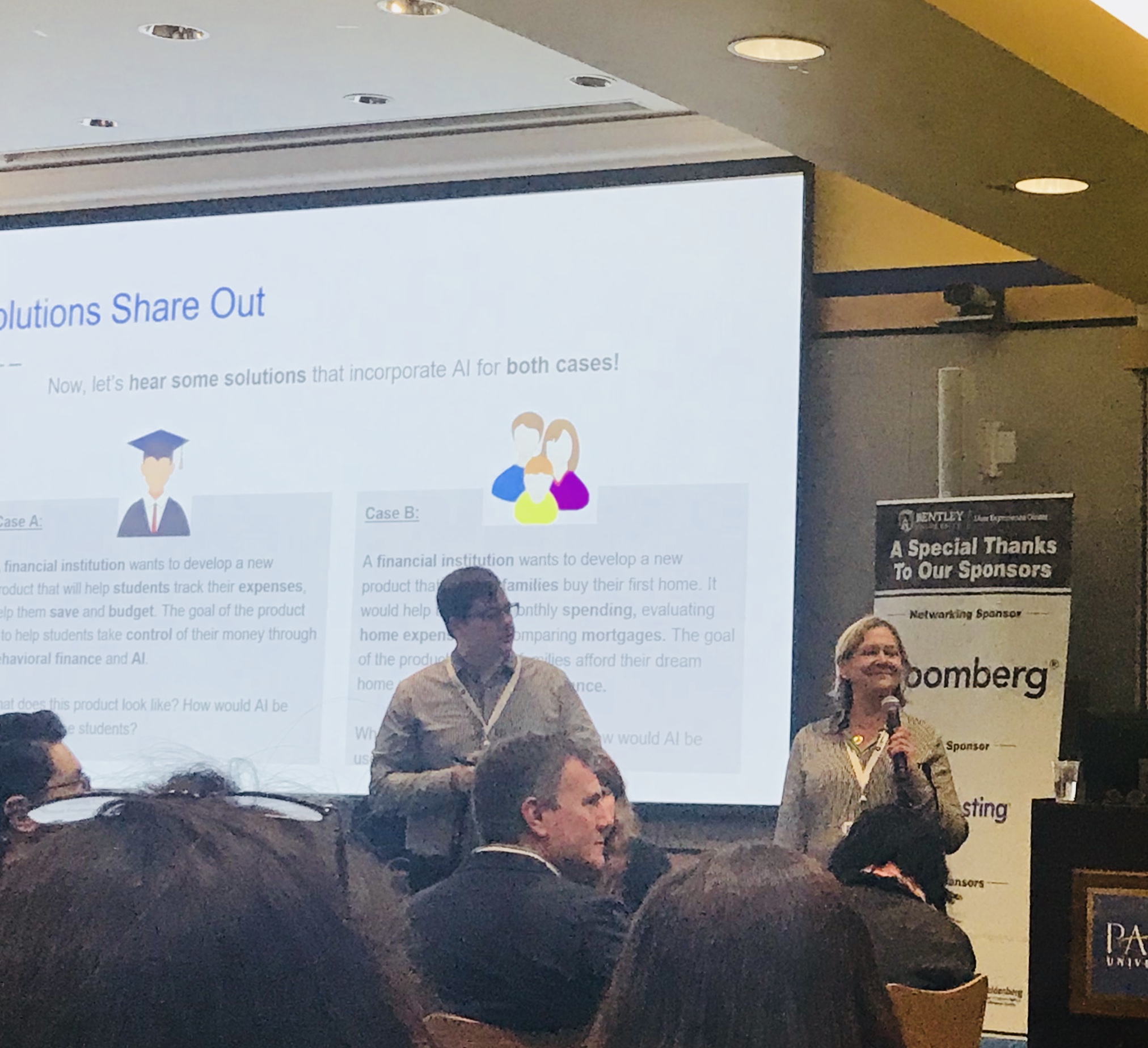 Interactive Workshop: AI, UX, and Financial Systems
After the lunch break, Elizabeth Rosenzweig, Principal Consultant at the Bentley User Experience Center, led an interactive workshop about Artificial Intelligence and User Experience in the financial Industry. She started the session by providing a general overview about AI and examples of AI technology in the financial sector, such as the virtual assistant Erica of Bank of America. After that, she ran an interactive workshop by introducing two challenges which each half of the audience designed one product concept for. The first challenge was: helping students track their expenses and control their finances; the second challenge was helping families plan their finances to buy their first home. The workshop ended with teams sharing out their creative ideas and outstanding concepts.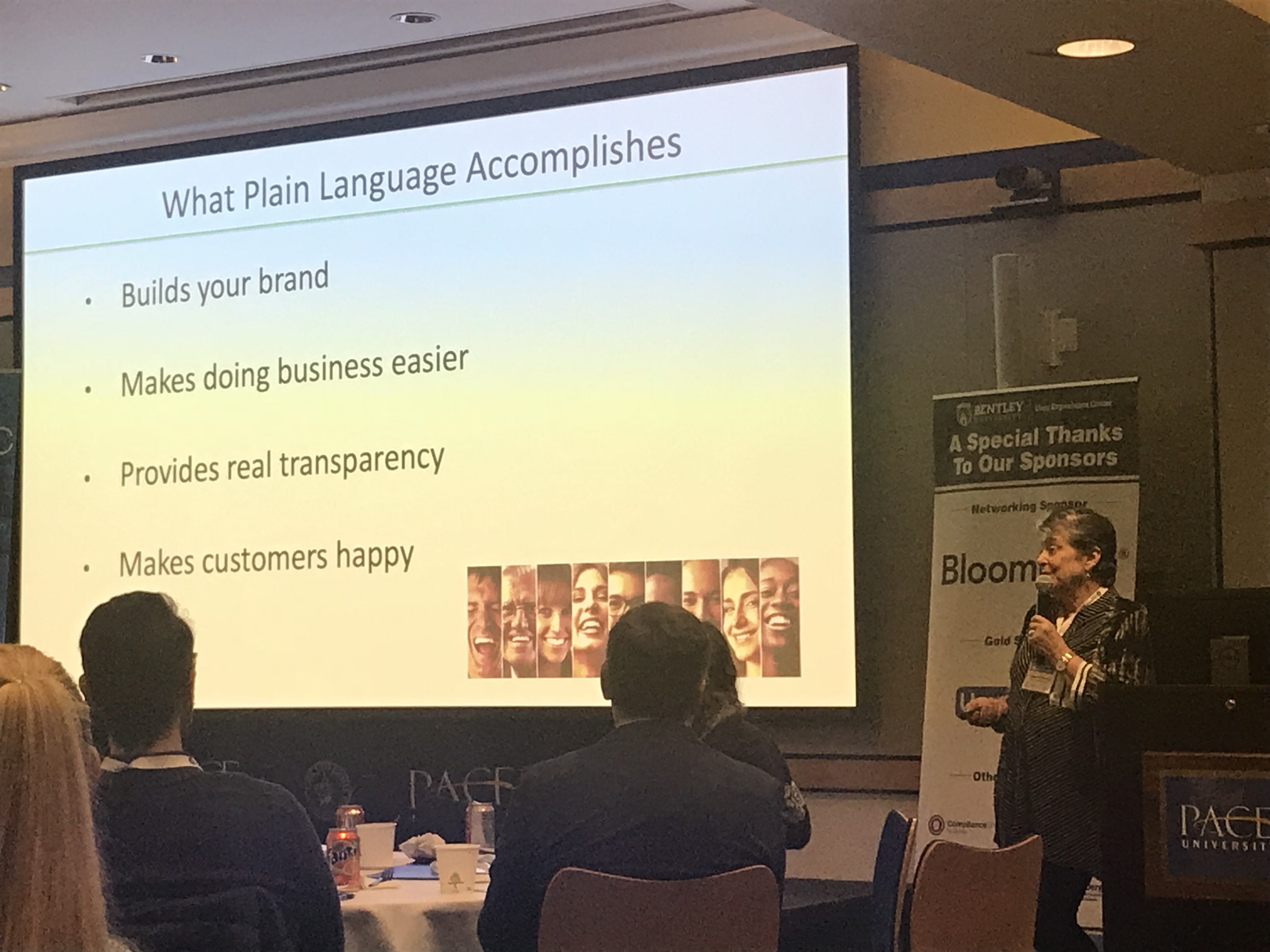 Plain Language in the Financial Sector
Deborah Bosley, Owner and Principal of The Plain Language Group, came back this year with fantastic presentation called "How to Meet Regulatory Requirements for Plain Language in the Financial Sector". In her talk, she mentioned how complicated and jargonized financial company's documents often are (for example, a bank's Consumer Privacy Notice). Users not only find those documents hard to understand but also tend to skip reading them most of the time, which could cause serious consequences later on. She also provided several examples of how complex documents could be substantially improved in terms of readability, by using simple language, changing format or layout, etc.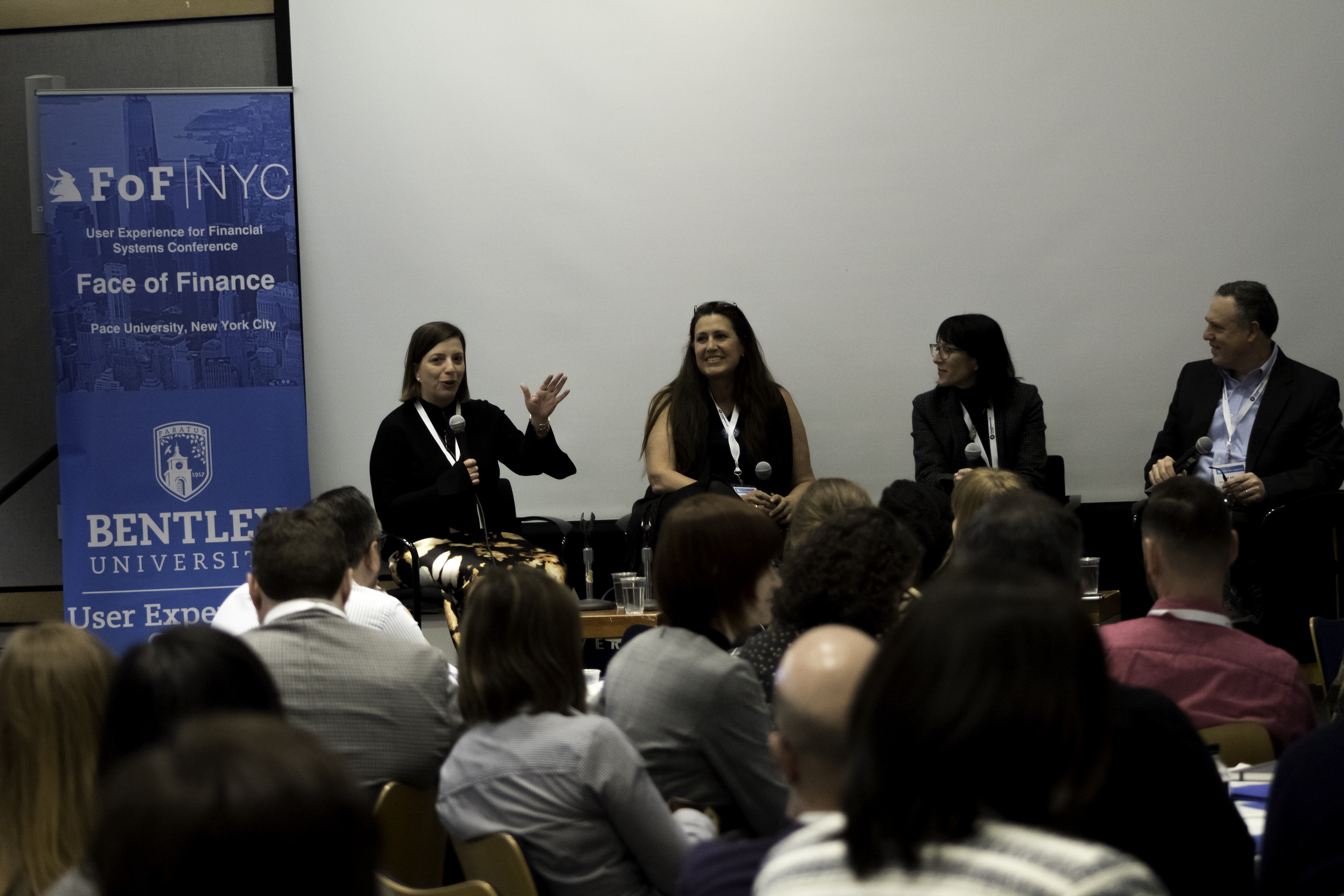 Career Panel: Navigating Your UX Journey
The Career Panel this year was presented by Stacy Sarris (UX Professor at Pace University), Jen Cardello (VP of UX Research & Insights at Fidelity Investment), Ellen Cowan (Digital Innovation Executive at Avanade) and moderated by Bill Albert (Executive Director of the Bentley User Experience Center). The panel shared great insights and helpful tips from the employer's point of view about how to find the right position and what candidates should prepare for in a job application in the UX field. Among all the qualities mentioned, the ability to work in a team, out-of-the-box thinking and self-motivation were key characteristics that a hiring manager typically looks for.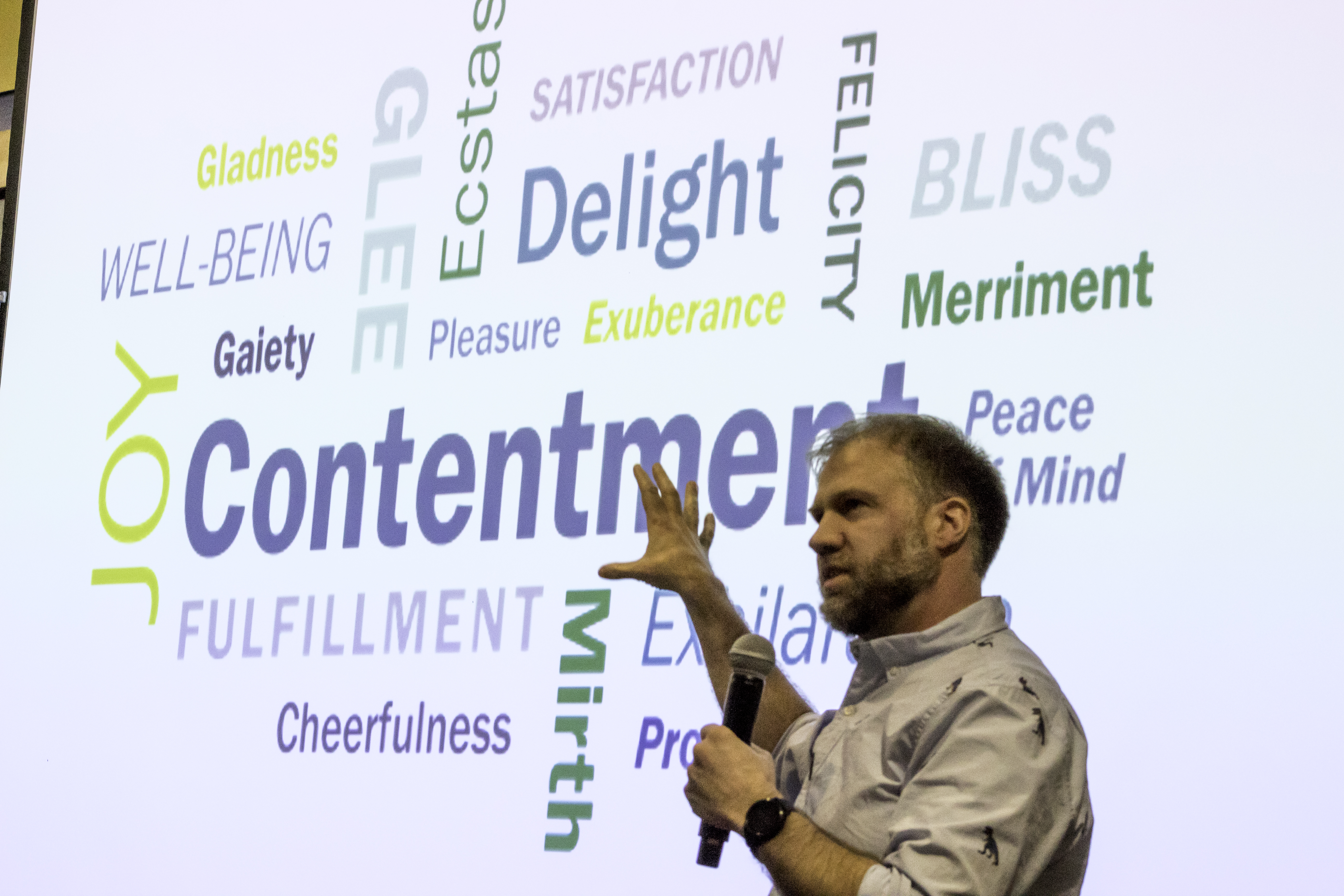 "Good" Behavioral Design
The conference came to a close with a presentation from Dan Egan, Director of Behavior Science and Investing at Betterment Investment Inc., about how to design better behavioral experiences and the challenges of designing good outcomes. He addressed the differences between behavioral experience design and user experience or interface design, which are differentiated due to the complexity and the time to see and measure the outcome. One of his pearls of wisdom for crafting better behavioral experiences was to do the exactly the opposite thing that your "evil-side" would do.
In sum, the Face of Finance NYC 2019 conference addressed a number of great insights about how important UX is in the world of finance through the talks and discussion of our fantastic speakers. Many financial institutions are experiencing a radical shift in technology and innovations in user experience plays a crucial role in paving the way for this rapid evolution.
The User Experience Center - a global UX research, strategy, and design consultancy located in Waltham, MA - would like to thank our speakers as well as the attendees at Face of Finance NYC 2019. Also, our event would not have become successful without the support from our sponsors and our hosts at Pace University, especially Stacy Sarris, Rick Kline, the rest of the advisory board, and all of the volunteer students. We look forward to next year's Face of Finance conference in 2020, which is sure to be just as successful as this year's. Look for an announcement with the date coming soon!
Elizabeth is a Principal UX Consultant at the User Experience Center. She has worked as a consultant and employee in several major corporations for more than 28 years. Her experience includes design and development, ranging from website and applications to hardware products and technology development. Elizabeth has completed projects for many major corporations and academic institutions. She holds four patents in intelligent user interface design.
Elizabeth is Founder and Director of World Usability Day, which she started in 2005 after her term as President of Usability Professionals Association was completed. World Usability Day has grown to include 44 countries with more than 180 events. Elizabeth was recognized for this work through the UPA Lifetime Achievement Award in 2009,
Elizabeth is the author of the book Successful User Experience: Strategies and Roadmaps published by Morgan Kaufman and frequently publishes in industry journals, has written chapters in three published books and presents lectures at conferences around the world.
Elizabeth holds a Bachelor of Arts in Fine Art Photography and Printing Technologies from Goddard College and a Master of Science in Visual Studies (User Interface Design and Computer Output) from the Media Lab at MIT.
Gitanjali is a User Experience (UX) Research and Design Associate at the User Experience Center (UXC). Prior to joining the UXC, she worked as a educator and instructional designer at schools in the Boston Area. She is passionate about researching and designing meaningful experiences, understanding users' mental models, and learning about their values. In addition, she is fascinated by the intersection between technology, ethics, and innovation.
Gitanjali holds a Bachelor of Arts degree from the University of British Columbia where she majored in International Relations and minored in English. She also holds a Master of Education degree from the University of Toronto. She is currently pursuing a Master of Science in Human Factors in Information Design at Bentley University.
Ryan Pham is a Research Associate at the User Experience Center. Prior to joining the UXC, Ryan had a co-op working as a User Experience Designer at State Street. In this role, he assisted team members to craft a number of design components, constructing a Design System for the corporation.
Ryan holds a Master of Business Administration with a concentration in Corporate Finance from Northeastern University. He is currently pursuing a Master of Science degree in Human Factors and Information Design from Bentley University.
Maka is a Research Associate at the User Experience Center. Prior to joining the UXC, in the last 3 years she worked as a User Experience Consultant in Chile, designing strategies and experience through research methodologies for clients of banking, insurance and retail industries. She's very passionate about innovation and how technology will shape the future.
Maka holds a Bachelor of Arts in Social Communications and a Master of Arts in Media, both from Adolfo Ibáñez University, Chile. She also holds a certificate in Information Architecture and User Experience from Universidad del Pacífico, Chile. She is currently pursuing a Master of Science in Human Factors in Information Design at Bentley University.
You can connect with her on Linkedin.
Let's start a conversation
Get in touch to learn more about Bentley UX consulting services and how we can help your organization.
Other UXC Blogs You Might Like