5 Things to Know Upon Arrival to Campus
We are thrilled to be welcoming new students from all over the world as they prepare to enter graduate school at Bentley University. If you're new to Bentley and familiarizing yourself with our campus and community, read more on five things to know upon your arrival.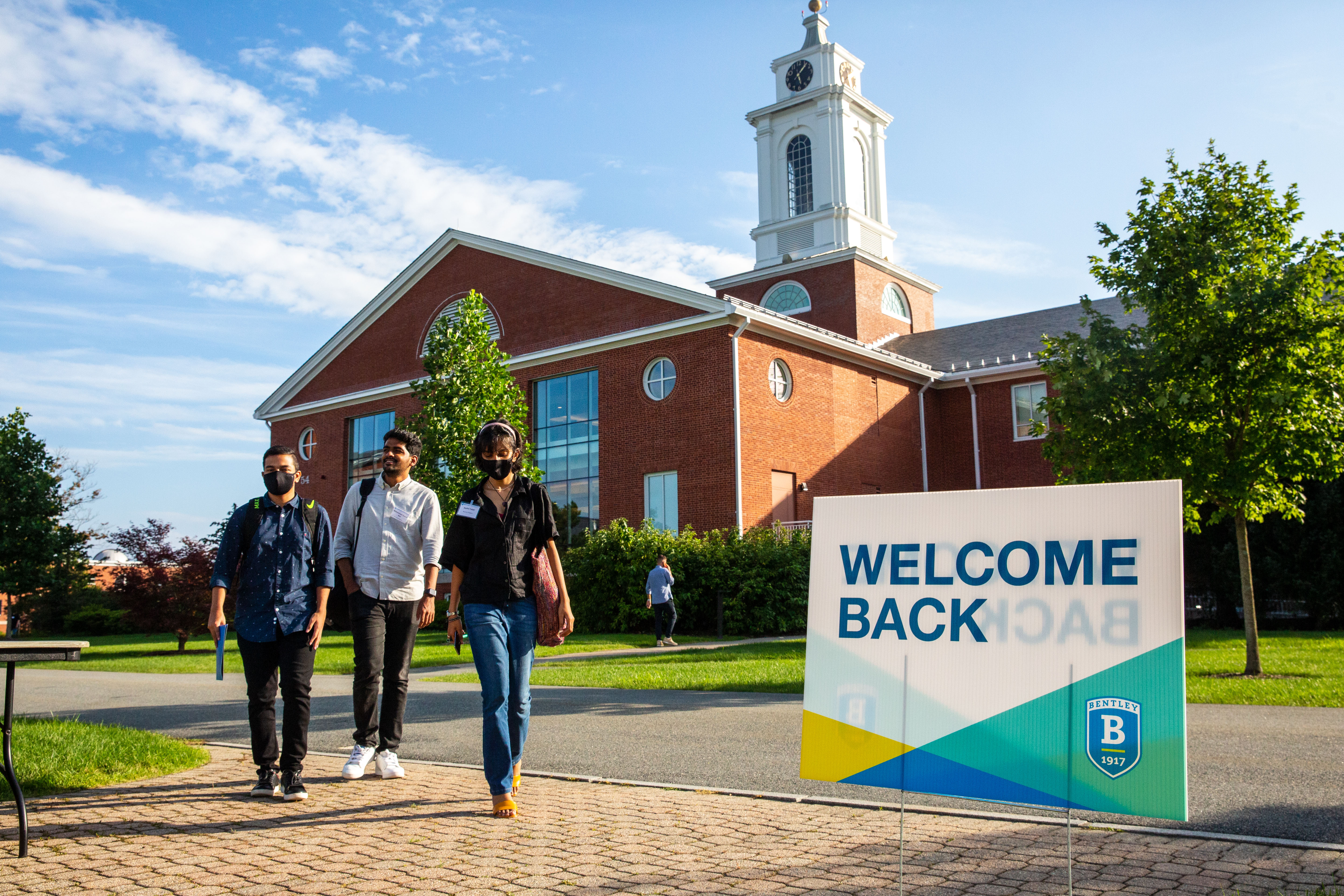 1. Obtain your Falcon Card. Your Falcon Card is key to accessing most services on campus. You must always carry it with you. To obtain your Falcon card, you need to visit the Card Office website. For all incoming students, new Falcon Cards are free of charge. Visit this link to upload your photo.
Photo tips:
The image must be in color and feature a clear, full-face view of only you.
You must be wearing normal street attire.
You cannot wear a hat or dark glasses.
The background must be plain white or off-white.
After the photo is submitted and approved, you can visit the Card Office (located in the University Police Station) during regular business hours to pick up your ID.
2. Learn new student technology. Within 48 hours of submitting your deposit, you will receive an email from the Bentley University Help Desk explaining how to set up your Bentley account. Once the account has been set up, you can log in here. Bentley provides all students with a license for Office 365. You can install the software and set up Wi-Fi after the account is established. After this step, you are able to complete Workday student onboarding tasks. Workday is the system you will use to view your class schedule and grades, enroll in classes, view your financial aid, and manage billing. It is also the system to apply for graduate student positions and submit your hours if you elect to work on campus.
3. Plan your classes with a Graduate Academic Advisor. It is always a good idea to plan early for your course selection. The Bentley advising team is here to help create the right personal degree completion plan for you. It is convenient to make an appointment via Workday. The office also provides students with drop-in advising options.
4. Understand Library resources. The Bentley Library is set to re-open in the fall semester. Library services will continue to be offered in-person and remotely to all Bentley students. As a result of the ongoing pandemic, the library will operate at 40% occupancy capacity according to the state's guidelines in addition to masks being required at all times. Conference rooms are available to reserve for up to two students and all feature hybrid technology for expanded collaboration.
5. Know the transportation options. Bentley University is located in Waltham and is just 11 miles from downtown Boston, which is a great advantage for our graduate students. Listed below are several transportation options available for you:
Bentley offers shuttle services for inter-campus and local travel. Detailed shuttle information about stops, travel times, and schedules can be found here.
You can drive to campus for class, and you will need to obtain a parking sticker for your car
Other options include carpooling with classmates, biking, taxi services, and public transportation.
Best of luck at the start of your Bentley graduate journey. Please don't hesitate to reach out if you have any clarifying questions.