New Students
Welcome to Bentley!  We are very excited that you have decided to attend Bentley University and look forward to meeting you when you arrive on campus. This page contains valuable resources to assist you during online orientation, registration, and your first year at Bentley University. 
Bentley University is committed to providing an accessible, equitable, and inclusive learning environment. If you are having difficulty accessing information and need this content in an alternate format, please contact Assistant Dean, P.J. Dickson at pdickson@bentley.edu or 781-891-2898.

TRANSFER STUDENTS: Click here for resources specifically designed for you. 
First Year Student Registration Webinar


See here for a recording of the First Year Student Registration Webinar from July 16, 2019.  We encourage all first year students to watch it if you were unable to attend. 
First Year Student Registration PowerPoint – You can view the presentation that was delivered in the webinar as a PDF file. 
Part 1:  Your First Year Classes
Part 2:  Utilizing Schedule Planner
Part 3:  Additional Resources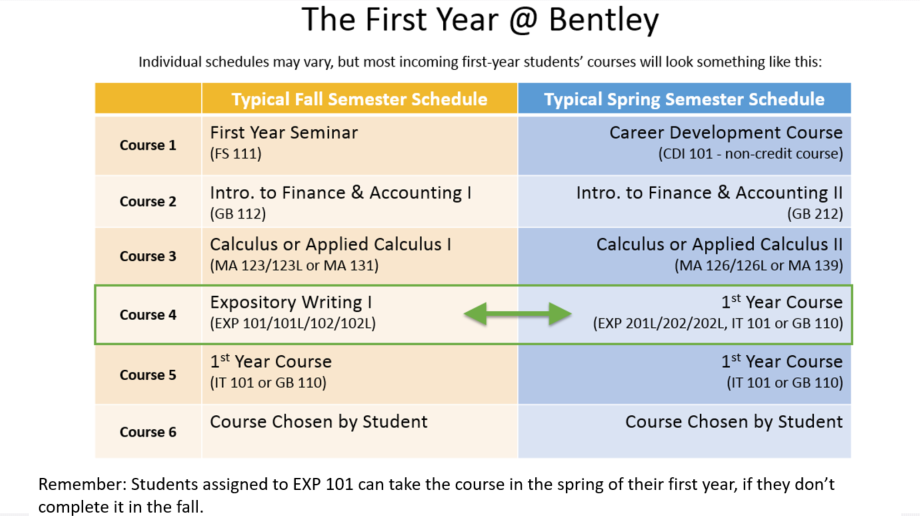 Resources
Advanced Standing Credit (First Year Students) - Use this link to learn all about what sort of prior credit you can submit to Bentley.  Remember to submit your official scores and transcripts to the Office of Undergraduate Admission as soon as possible!
AP Exam Equivalents - Refer to this list to ascertain the Bentley credit that is awarded for each AP exam.  
English Placement - Do you have questions about how Bentley determines your English placement? Here's a guide to understanding your personal placement.  
Honors First Year Courses (Honors Program Students Only) - See here for a list of Honors classes that are appropriate in your first year at Bentley. 
Information Technology - All students must satisfy the IT 101 requirement in their first year at Bentley. If you do not have prior credit for IT 101, see here for specifics on the different tracks and options for your IT 101 course. 
International Baccalaureate Equivalents- Use this guide to see how your IB credits transfers to Bentley.  
Math Placement - The Math Department examines your math background to determine your personal placement.  Here is a guide to understanding your math placement.  NOTE:  Students with prior credit for Calculus I & Calculus II will NOT have a math placement pre-loaded in the Schedule Planner tool.  Students who would like to continue their math studies may choose to take Calculus III (MA 233).  
Modern Language Placement - If you are interested in selecting Modern Language as a course option for the fall, see this helpful guide to self-selecting the Modern Language level that is right for you.  
Transfer Credit (Transfer Students only) - Transfer students should refer to this page for policies and procedures regarding credit that may be awarded for prior coursework. 

Resources: 
Registering for Fall Classes – View this step-by-step guide for building a schedule in Schedule Planner and registering for classes in Workday Student.
Adding Courses to Complete Registration - This step-by-step guide will walk you through adding courses to complete your schedule. 
Academic Calendar - See here for information on the semester schedule, holidays, and when classes are not held.
Academic Labs and Learning Centers - Explore this page to learn about all the great places on campus where students can receive academic support.  
Advising Directory - Have a question for another department? See here for email and website information.
Bentley Abbreviations - Use this guide as a reference for department abbreviations, building codes, days of the week, and more.   
Block Schedule - Grid showcasing the Bentley Block Schedule; specifically; days and times of all classes.  Most day classes meet twice a week.  Evening classes, double block classes, and Saturday classes meet once a week. 
General Business Core - See this introduction and flowchart to better understand our GB course structure and the intended timing of each course.  
Liberal Studies Major (LSM) - The LSM is an optional second major that can complement your business program at Bentley.
Undergraduate Catalogue  - Official current catalogue for the university that contains information such as course descriptions, degree requirements, program information, and policy and procedures.
Tuition Insurance - See here for information on protection your tuition investment. 
Want more information?
You are welcome to explore our comprehensive website! Simply use the navigation menu at the top of the webpage to learn more about our curriculum, academic policies, and resources.
Can't find what you are looking for?
You can send us an email at Academic_Services@bentley.edu.  Please allow 2 business days for us to respond. You can also call us at 781-891-2803 between the hours of 8:30 AM and 4:30 PM Monday - Friday.