If you are experiencing academic difficulty in a course, there are many support services available to you. We suggest that you take the following steps:
Make an appointment with your instructor to discuss your status in the course, to develop a realistic assessment of how you are doing, and to begin outlining a plan to improve your performance.

Meet with an advisor to discuss the concerns raised by your faculty, gain valuable insight into the how's and why's behind the concerns , and get information about existing resources that are available to you. You may also want to discuss whether the issues that are surfacing in one course exist in other courses to get a greater understanding of individual strengths and weaknesses and how to best address the areas of concern.

Depending on your area of concern, seek out assistance through the Counseling Center, the Multicultural Center, the Center for International Students and Scholars, or the Athletics Center.

Seek out help through Bentley's Academic Resources.

For those of you who would like to discuss your academic concerns or would like additional  help in sorting out your academic needs, you are encouraged to meet with Leslie Doolittle, Assistant Dean/Director of Academic Support Services. To schedule an appointment with Leslie, please call the Office of Academic Services at 781.891.2803 

If you are debating whether or not to withdraw from a course, be mindful of the University's deadlines (which can be found on the Registrar's web site), and discuss the pro's and con's with your advisor. Remember the following considerations:
To maintain full-time status, you must be registered for a minimum of 12 credits.
International students must be registered for a minimum of 12 credits to maintain visa status. (If there are extenuating circumstances, you should contact the Center for International Students and Scholars, in Student Center 350, to discuss obtaining special permission to drop below the minimum.
If you drop below 12 credits, financial aid, on-campus housing, and health insurance coverage may be affected. You should check with the Office of Financial Assistance, the Residential Center, and your health insurer to ask about implications.
Pre-requisite satisfaction and course registration for subsequent semesters may be affected.
ACADEMIC RESOURCES
Faculty Office Hours
The majority of Bentley faculty hold weekly office hours, which are listed on the course syllabus and posted in the department. If you cannot meet with the instructor during posted office hours, please call the department (see Advising Directory) to make alternative arrangements.
Office hours are a great opportunity to talk with your faculty member one-on-one. You can utilize office hours to discuss difficulty you're facing, questions about an assignment or grade, or to build a relationship with your faculty.  
 
Learning Centers
There are a number of learning centers available on campus, which provide resources and assistance available to all Bentley students. We encourage you to use the appropriate Learning Center in addition to utilizing your faculty during their office hours.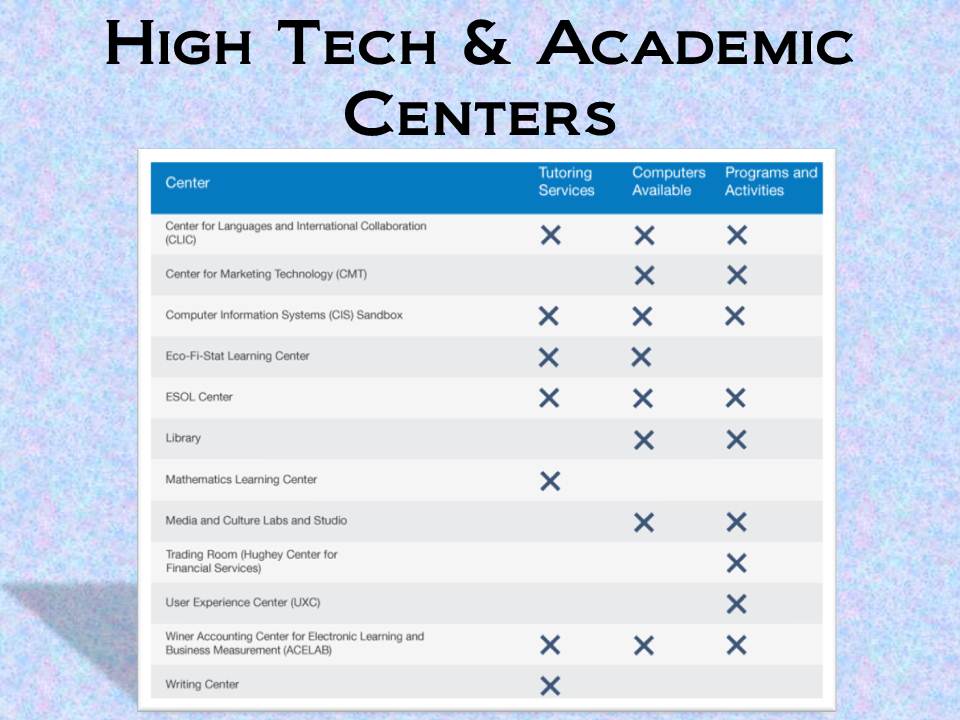 Struggling in GB 112, 212, or your upper-level Accounting courses?
Visit the ACELAB (Accounting Center for Accounting Learning and Business Measurement) located in Lindsay 21. Head to the ACELAB website for hours and additional information.
At the ACELAB, students can work on accounting tutorials or state-of-the-art software programs such as SAP or ACL. Many of the top accounting majors at Bentley work in the ACELAB, providing individual tutoring services. Students can also get hands-on experience with a variety of commercial accounting software packages. Case work enables students to improve communication skills so that they learn how to develop and communicate meaningful accounting information through presentations and reports.
Having difficulty with EC 111, EC 112, GB 210, GB 213, or an upper-level Economics or Finance course?
Visit the Economics-Finance-Statistics Learning Center, located in Adamian 122. Check out the following website for hours: Economics and Finance Learning Center
The Economics-Finance-Statistics Center provides a place for students to study and receive help from qualified tutors in economics, finance and statistics. The tutors are able to provide help with 100, 200 and 300-level courses in all three areas. A number of currently used textbooks, study guides and solution manuals are available. There are three computers and a laser printer which can be used by students for homework, under the supervision of a tutor. Private tutoring is also available.
The Economics-Finance Club meets in the learning center. Roundtable discussions about current economic issues are also held. The EFS Learning Center is directed by a full-time faculty member of the Department of Economics. 
Need extra help in your Math course?
Check out the Mathematics Learning Center, located in Jennison 218. 
This center provides drop-in tutoring to all students enrolled in mathematics courses at Bentley. The goal is to have students leave a tutoring session with increased understanding and confidence in their own ability to do mathematics. The center is directed by a full-time faculty member but is staffed entirely by Bentley undergraduates. Throughout the academic year, the center is open most days and evenings. During all hours of operation, students may get help with all first-year mathematics courses. Computer assistance as it relates to a mathematics course is also provided.
Having trouble in your Modern Language course?
Visit the Center for Language & International Collaboration (CLIC), which is located in Adamian 162.
The CLIC lab offers Modern Language tutoring services and the opportunity to integrate course content with technology. Live video conferencing, a multimedia library of instructional materials for language and cultural learning, and access to international satellite broadcasting are some of the technical resources available at the center that make authentic exposure to language, countries and cultures possible.
Do you struggle when it comes to writing papers?
Get help from peer tutors by visiting the Writing Center, located on the Ground Floor of the Library. Check out the Writing Center website for more information or to schedule an appointment online!
Few students find it easy to do all the writing required of them in college. Forms of writing assigned in college often differ from those assigned in high school, and college teachers' standards are often higher than those of high school teachers. The Writing Center offers one-to-one assistance with writing skills. It is staffed by a writing instructor and by peer tutors, and offers guidance at all stages of the writing process, through tutoring, writing workshops, diagnostic testing, and self-paced instruction.
Is your first language a language other than English? Are you looking to improve your English skills?
Visit the ESOL (English for Speakers of Other Languages) Center, located on the Ground Floor of the Library. Head to the ESOL Center website for more information or to schedule an appointment.
Bentley students whose home language is not English are invited to take advantage of the free tutorial services offered by Bentley's ESOL Center.  English Department faculty members who specialize in teaching English to speakers of other languages (ESOL) provide support to help students achieve success in their courses across the curriculum.
One-on-One Tutoring
So you've visited the Learning Center and gone to office hours, and are still struggling in a course? Ask your professor for a tutor referral, and head over to the Office of Academic Services. You will meet with the tutor assignment coordinator Amy Weber or Assistant Dean Leslie Doolittle who will work to find you a tutor. Please keep in mind that you will only be eligible for individual tutoring if you have regularly utilized your professor's office hours and the appropriate Learning Center. Visit the Academic Services website for more information about the office.
Academic Programming
Need help managing your time or developing study skills? Have questions about major selection or the wide range of academic opportunities available to you at Bentley? The Office of Academic Services and Academic Advising Center offer a wide-range of programs each semester. Check out the following link for an up-to-date list of programs offered.