GlobAL Grants for Faculty
The Cronin Office of International Education and the Office of the Provost announce a new grant opportunity for full-time faculty to advance Bentley's transformative education and the Falcons Forward 2030 strategic plan. GlobAL Grants enable faculty to develop a new graduate or undergraduate course that uses action learning to meet interdisciplinary and global student learning outcomes. GlobAL grants can be used to develop courses to be delivered in 2025. 
Develop a New Global Action Learning Course
Application OPEN - Apply by January 31st, 2024
Propose a Faculty-Led International Course
The Cronin Office of International Education seeks globally minded and culturally engaged full-time faculty members to lead a Faculty-Led International Course or Global Business Experience (GBE). These intensive 3-credit courses take place overseas during semester breaks, and typically run for 8-14 days. International course proposals should demonstrate strong alignment of course content with destination and activities, and strong emphasis on hands-on learning and guided reflection.  Our team can offer plenty of guidance, as well as recommend many custom program providers who can assist with designing itineraries, arranging relevant company/organization visits, travel logistics, and risk management. Please submit your proposal by January 31st, 2024. 

Propose an international course for one of the following terms: 
Winter break in January 2025 
Spring break in March 2025

Summer break in May 2025, after exams
You may want to review examples of this year's undergraduate and graduate courses offered by your colleagues across A&S and Business departments. 
Please follow these steps to propose a course: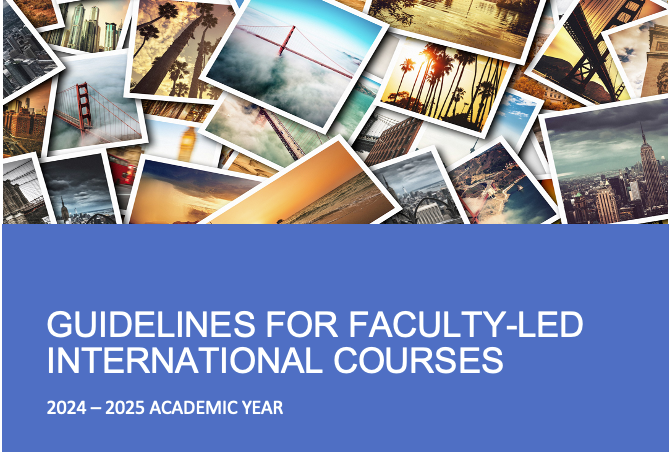 Begin by reviewing the Guidelines for the faculty-led courses 
We suggest you use the course syllabi template which will assist you in writing the document 
Meet with your Department Chair to review the course proposal process and receive approval 
Meet with Study Abroad Director Sandonei Chiodini to discuss your proposal and submit to schiodini@bentley.edu.
Faculty Development Opportunities
Fulbright Scholars Program
The Fulbright Scholar Program offers resources to a variety of applicants, from U.S. scholars seeking grants to go overseas, to Visiting Scholars looking for opportunities to do research in the U.S. and opportunities for U.S. institutions to engage in international education. Click here to read more about the many Fulbright programs available.
Marion and Jasper Whiting Foundation Fellowships
Marion and Jasper Whiting Foundation Fellowships
The Whiting Foundation provides fellowships to faculty to enable them to study and pursue research off-campus, including abroad.  The foundation's aim is to stimulate the and broaden the minds of teachers so as to improve and "enhance the quality of their instruction," including research that achieves this goal.  Most grants are primarily for travel and related expenses and not for salary substitute, equipment or materials. In 2021, the foundation received 63 applications and made 30 awards averaging $5,410 per fellowship. In 2021, the 30 winners came from 16 different New England Schools. There is no specific limit to the number of winners from any particular school.
The foundation employs an electronic submission process. The guidelines are attached, but please note the key requirements below:
All materials, including letters of support, must be submitted via one email with a single pdf attachment

Project narratives cannot exceed three pages

Curriculum Vitae and detailed budget for estimated travel expenses

Two letters of recommendation, one of which must come from the appropriate dean or department chair; both letters must be on official letterhead

A brief "candidate information form" attached
If you plan to apply, please contact Sue Richman, Director of Foundation Relations and Sponsored Programs: srichman@bentley.edu
Workshop on International Skills Enhancement and Conference (WISE)
WISE is the premier conference for faculty leaders, program coordinators, and administrators to develop the knowledge and skills needed to help students advance their intercultural skills and awareness during their abroad experiences. Please visit the WISE conference website to learn more. The Cronin Office of International Education encourages full-time Bentley faculty members to consider proposing a conference session, or to attend the conference. Some funding is available to defray conference costs.
SIT Faculty Seminars abroad
SIT's Faculty Seminars Abroad offer deep engagement in a topic through lectures, site visits, and connections to local academics, researchers, and other sources. Faculty will examine topics through multiple, nuanced perspectives, benefitting from SIT Study Abroad's experiential learning approach. Faculty are encouraged to review the SIT Faculty Seminar page to learn more.
Carnegie African Diaspora Program (CADFP)
The CADFP offers short-term fellowships to African-born academics residing in the United States and Canada. Selected Fellows collaborate with African universities on projects of 14-90 days in the areas of curriculum co-development, graduate student teaching/mentoring and research. Projects are completed in Ghana, Kenya, Nigeria, South Africa, Tanzania and Uganda. Scholars who meet all eligibility requirements can sign up to be on the roster of qualified academics. Scholar applications are accepted on a rolling basis. To learn more, please visit the program website and/or email program staff.
Greek Diaspora Fellowship Program (GDFP)
Similar to the CADFP, the GDFP is a short-term faculty exchange program for Greek-born academics residing in the United States and Canada. Fellows have the opportunity to engage with Greek universities for one project visit of 14-60 days. Activities for this program are curriculum co-development, graduate student teaching/mentoring and research. We are always accepting scholar applications to our roster of qualified academics. To learn more, please visit the program website and/or contact program staff.
Please contact Sandonei Chiodini in the Cronin Office of International Education with any questions.
Partner University Teaching and Research Opportunities
WU- Wien University of Economics and Business
Location: Vienna, Austria
Faculty/Department: Business
Teaching/Research Opportunities: International Summer University
Details: Guest lecturers invited for one of two sessions (3 weeks each)
Timeframe: July or August session (3 weeks each)
Contact: Marlene Wuerfl, Program Manager - marlene.wuerfl@wu.ac.at
Copenhagen Business School
Location: Copenhagen, Denmark
Faculty/Department: Business
Teaching/Research Opportunities: Summer University Programme
Details: Guest lecturers invited for a four-week session
Timeframe: late June-late July
Contact: Dr. Sven Bislev, Academic Director - sb.msc@cbs.dk
John Cabot University
Location: Rome, Italy
Faculty/Department: Various
Teaching/Research Opportunities: Various departments for summer courses
Details: Summer teaching opportunities
Timeframe: Summer 1 (June) or Summer 2 (July)
Contact: Mary Merva, Dean of Academics - mmerva@johncabot.edu
Grenoble Ecole de Management
Location: Grenoble, France
Faculty/Department: Various
Teaching/Research Opportunities: Festival of Geopolitics 
Details: Participate in conferences, debates, round tables, papers, etc. - More Info
Timeframe: Takes place in March, apply by October 31
Contact: Claire Mourre - claire.mourre@grenoble-em.com
AUDENCIA Nantes School of Management
Location: Nantes, France
Faculty/Department: Business
Teaching/Research Opportunities: FEBS conference (Financial Engineering and Banking Society)
Details: Annual call for presentations, due late February
Timeframe: June
Contact: Desi Schmitt, Director of International Relations -  dschmitt@audencia.com
CIEE International Faculty Development Seminars
Location: Worldwide
Faculty/Department: All
Details: Small grants available for full-time Bentley faculty to participate in an International Faculty Development Seminar aimed at deepening a faculty member's regional knowledge and network- More Info
Timeframe: Anytime throughout the year
Contact: Natalie Schlegel - nschlegel@bentley.edu
CIEE Program Site Evaluation and Development Team Member
Location: Worldwide
Faculty/Department: All
Details: Participation as a team member evaluating a current/future site for study abroad
Timeframe: Anytime throughout the year
Contact: Natalie Schlegel - nschlegel@bentley.edu