Featured Faculty: Professor Jane Fedorowicz
Biography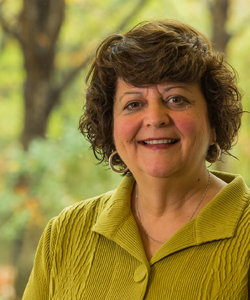 Jane Fedorowicz, the Chester B. Slade Professor of Accounting and Information Systems, holds a joint appointment in the Accountancy Department and the Information and Process Management Department at Bentley. Professor Fedorowicz earned MS and PhD degrees in Systems Sciences from Carnegie Mellon University. She was principal investigator of a National Science Foundation project team studying design issues for police and government agency collaboration using public safety networks. She also served as principal investigator for the Bentley Invision Project, an international research team housed at Bentley College examining interorganizational information sharing and the coordination infrastructures supporting these relationships in supply chain, government, and health care.
Professor Fedorowicz has published more than 100 articles in refereed journals and conference proceedings, and is a past recipient of the Bentley Scholar of the Year designation. She has served in a governance capacity for a number of professional associations, including the Association for Information Systems (AIS), the American Accounting Association (AAA) and the Institute for Operations Research and the Management Sciences (INFORMS). She is a past President of the international academic professional society, the Association for Information Systems and will co-chair their International Conference on Information Systems in 2019 which will be held in Munich, Germany. The Association for Information Systems recognized her contributions to the Information Systems field by naming her an AIS Fellow and a member of the College of Senior Scholars, and in 2018, bestowing their most prestigious lifetime achievement recognition, the LEO Award. Bentley University awarded her the Mee Family Prize in 2016 in recognition of her lifetime scholarly achievements.
Visit our Faculty page for interests, awards, honors and publications
How did you get started teaching in the graduate Accountancy program?
My first teaching assignment at Bentley was to teach the undergraduate "Accounting Information Systems" course. Once I became tenured and was awarded the Rae D. Andersen Chair, I was asked to specialize in the graduate version of AIS, entitled "Business Processes and Systems Assessment," which is my current teaching focus. I make changes to the course every year, to keep students aware of the control challenges auditors face when new technologies change clients' business processes.
What changes have occurred in the accounting industry that led Bentley to launch a master of science program in audit analytics (MSAA)?
The accounting industry has been quick to explore and adopt new technologies in recent years, such as data analytics, AI, blockchain, Internet of Things, and XBRL. They must also be able to assist and audit their clients who incorporate these new capabilities in their own business processes. As a result there is high demand for staff who can work in these areas both within public accounting and in industry — anywhere where large amounts of data is collected and awaits analysis and interpretation. New hires will need to come in with extensive skills to fill these new roles, where analytical expertise coupled with deep domain knowledge is requisite.
What are some specific roles that graduates will be prepared to fill within organizations and what skills will they bring to their teams?
Most students in the MSA program seek jobs in public accounting, especially as auditors. Those who find my course appealing may become IT auditors or focus on risk assessment and management. Many students in the MSAA program will also seek jobs in public accounting, especially as analytics experts who participate in audits. They might also become "big data" consultants within a public accounting or consulting firm, or focus on fraud detection or risk assessment and management within public accounting. There will also be plenty of jobs in the internal auditing or business analytics areas of large corporations.
MSAA students will have the perfect combination of business, accounting, IT and analysis skills to provide immediate value wherever they land. All courses span more than one of these areas, giving students the knowledge of what data is needed, where to find it, how best to analyze it, and then how to produce effective visualizations of their findings. The courses they will take combine to prepare them to locate, extract, clean, analyze, evaluate data, and then communicate findings with clients, auditors, technologists and other analysts.  
What educational background will be most helpful to students coming into your program?
An undergraduate accounting degree would give students the best foundation for an MSA or MSAA. Students without this degree will be asked to take pre-program courses to give them the background they need to succeed in the program.
What's your favorite thing about working with Bentley graduate students?
Bentley's graduate students are willing to work hard and invest in learning not only the course material, but also the skills and mannerisms needed to succeed in a fast-paced career. Those who come prepared to excel in life usually do!
What was your first job after grad school?
My first job was Assistant Professor of Accounting and Information Systems at Northwestern University's Kellogg Graduate School of Management. I taught their Management Information Systems required course, and a course on Data Base Management. I've come almost full circle as I now hold a joint appointment in Accountancy and in the Information and Process Management Department. My dual identity continues!
What excites you about the research you're working on?
I enjoy working on real world problems that transcend traditional academic disciplines. Currently, I am working with Professors Christine Williams of the Global Studies Department and Jennifer Xu of Computer Information Systems to study how police use social media to improve relationships and communication with their community. It is exciting work, as we are interviewing police officers from several cities in the US and also capturing tweets and Facebook posts from these departments and their followers to identify best practices in reaching different audiences within the community. The departments really appreciate the research results and they are able to put our findings to work to make a difference in public safety.